Uphill task for second-term county chiefs eyeing MP seats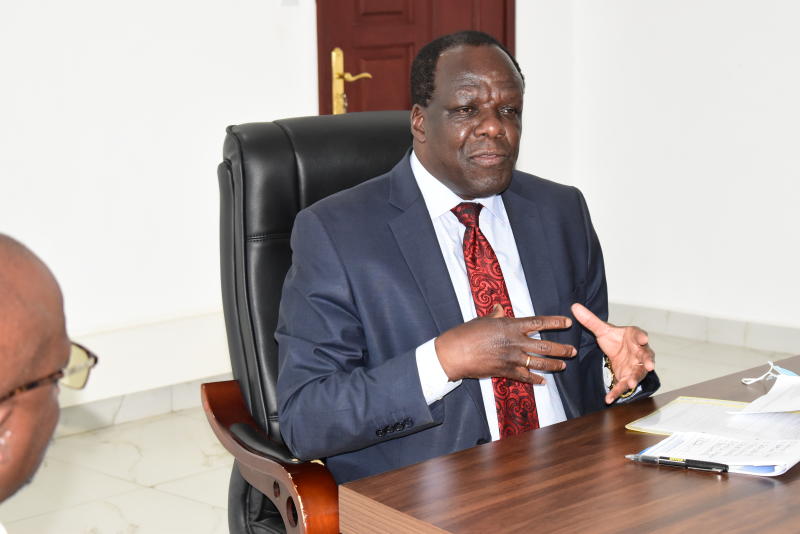 It won't be smooth sailing for the second-term governors eyeing parliamentary seats in next year's elections.
Governors Wycliffe Oparanya (Kakamega), Sospeter Ojaamong (Busia) and Cornel Rasanga (Siaya) have hinted they could vie for MP positions when their terms expire.
In northern Kenya, reports indicate Mandera Governor Ali Roba, who has unveiled a new party, could contest for the Mandera East parliamentary seat.
At the Coast, ODM deputy party leader Hassan Joho's allies want him to vie for his former Kisauni parliamentary seat or Nyali seat following his move to abandon his quest for the party's presidential ticket in favour of former Prime Minister Raila Odinga.
Twenty two governors are serving their second and final terms. According to the Constitution, the county chiefs cannot seek re-election.
The governors boast of strong campaign machinery and financial might that some political players claim could push their opponents off-balance in the fight for the parliamentary seats.
But as the county chiefs flex their muscles in readiness to clinch seats they once held, they face an uphill task of battling it out with the incumbent MPs determined to keep their seats at all costs.
Their track records as governors are under scrutiny, with their opponents digging into some of their failures to counter their onslaught.
Teso South MP Geofrey Omuse (Orange Democratic Movement) and his Butere counterpart Tindi Mwale (Amani National Congress) have dared Ojaamong and Oparanya to bring on the fight.
Tough duel
Omuse has indicated that he will ditch ODM and defend the seat on a different party ticket. His supporters argue that the MP's chances of winning the Orange party ticket against Ojaamong, a close ally of Raila, are slim.
"We welcome Ojaamong and other competitors out to challenge us at the ballot. Let them brace for a tough duel, but they should play clean politics devoid of dividing our people along ethnic lines," said Omuse.
Ojaamong will also face off with former Teso South MP Mary Emase, who lost to Omuse in the last elections.
Emase, the only woman who has declared interest in the seat so far, has warned her competitors against writing her off just because she lost in 2017.
In Butere, Mwale vowed to teach Governor Oparanya a lesson if he opts to run for the MP seat.
"You are my uncle, and I would not wish to shame you. The people of Butere want you to continue scaling the heights in your political career, not moving backwards," Mwale told Oparanya at a funeral
In Siaya, Rasanga is also eyeing a parliamentary seat amid stiff opposition from his opponents.
Last week, the governor claimed he is still too young to retire and will wear a different political "shoe".
He has started campaigns in earnest under the disguise of pushing an intense voter registration exercise.
His goals, however, do not augur well with a section of Alego Usonga residents, including MP Samuel Atandi and some clans.
Alarmed by the developments, elders from one of the majority Kakan clan, appealed to Rasanga to abandon his mission, arguing that he would be stooping too low. The clan wants him to back Dr Kut Ochogo.
Led by Okoth Oluoko, the elders argued that people from Kakan had supported Rasanga for the governor position in 2013 and 2017, and it was his time to support their son for an MP position.
Atandi told Rasanga to brace for a stiff competition. The two will battle it out for the ODM ticket, in what is likely to give the party leadership a headache.
Eala MP Oburu Oginga denied he had endorsed Rasanga for the seat and said they were all strong members of the party. This came days after Oburu, who is also keen on the Senate seat, attended a joint rally with Rasanga in Alego.
Political analysts interviewed by The Sunday Standard said the governors would easily win the parliamentary seats if they so wished.
"We are talking about governors who have been controlling huge sums of money, including unaccounted levies. Remember, counties accounts have been audited just once in about 10 years ," said political commentator Barrack Muluka.
According to Muluka, the governors' financial muscle could guarantee them victory.
"They have money to buy the voters, compromise election officials and manipulate security agencies. To them, it is not about leadership but their selfish gains," he argued.
Muluka said the governors seeking lesser seats are obsessed with public office and care less about what people would say. "They cannot imagine life outside power. These people are getting out of the space of desperation.
Muluka believes the governors hope that the constitutional changes would happen to guarantee them a chance of being named into the Cabinet.
Muluka also believes internal party contests will shape the 2022 elections. "I don't think parties will be a major factor in 2022. The political formations are more or less shopping baskets, those involved in politics can easily abandon one basket and pick another one so long as it serves the purpose," argues Muluka.
Martin Oloo, a lawyer-cum-political pundit, argues that no political and legal framework allows the appointment of Cabinet ministers from among MPs.