Will PAA party fly? Amason Kingi has big task to win hearts at Coast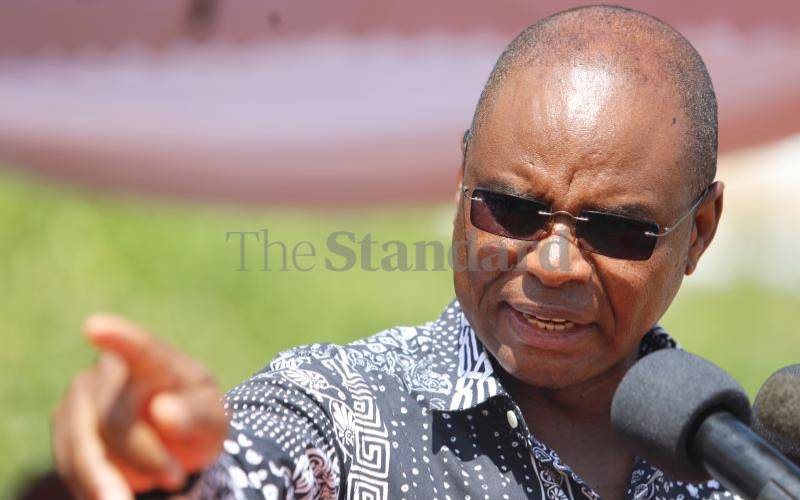 Kilifi Governor Amason Kingi's political vision of uniting over 1.8 million voters at the Coast is being put to test amid reports that he has been isolated by his erstwhile political allies.
It has also emerged that his Pamoja African Alliance (PAA) is reaching out to officials of the defunct Republic Congress Party of Kenya of Tourism Cabinet Secretary Najib Balala.
Out of the 38 elected MPs at the Coast, PAA has so far received the support of only Magarini MP Michael Kingi, who is the governor's brother.
In 2013, Najib Balala, now the Tourism minister, entered into a formal merger with Jubilee Alliance that comprised then The National Alliance (TNA) and United Republican Party (URP), and hence he cannot revive it.
Kingi has opened PAA headquarters in Nyali, Mombasa, in his quest to meet the Political Parties' requirement of having offices in at least 24 counties.
Kingi's efforts appear to face similar obstacles that other Coast parties have failed to surmount in the past.
Political analysts say Kingi appears to be drifting away or isolated by his erstwhile political friends such as Mombasa Governor Hassan Ali Joho. For the last nine years, the two called each other brother.
Joho, who has stuck with ODM, has often branded those pushing for the coast-centric political outfit as selfish people out to auction the region to the highest bidder.
Meanwhile, Kwale Governor Salim Mvurya, who early this year stated that he will hold talks with Kingi to agree on how to unite the Coast under a party, has gone mum.
In March, Kingi and Mvurya held day-long secret meetings in Kwale which reportedly touched on the idea of having such a party.
At his home county, a number of Coast MPs, members of county assemblies and other politicians are either stuck with ODM or gravitating towards United Democratic Alliance.
The hurdles facing PAA appear to have mounted after Kingi declared that the party will not field a presidential candidate in the 2022 election and instead will support ODM's Raila Odinga.
His critics are drawing parallels with events of 2006 when the then minister Chirau Ali Mwakwere and Morris Dzoro walked out of Party of National Unity, to unite Coast under Shirikisho.
After a few months, ahead of the 2007 election, Mwakwere and Dzoro took Shirikisho to PNU and threw their support behind former President Mwai Kibaki.
Like in 2006, Kingi's declaration that he will support Raila is said to have sparked questions on his sincerity and generated mistrust among the leaders who had earlier shown interest in supporting PAA.
Kwale County Woman Representative Zuleikha Hassan, a close ally of Raila, opposed the suggestion that Kingi or PAA should negotiate a coalition with ODM.
"If Kingi and his allies want to be close or associated with ODM, they should abandon their plan and rejoin the Orange party as members," said Zuleikha
She claimed Kingi and his team wanted to take advantage of all the efforts and resources ODM had used to build the party and piggyback on the party to gain power.
"PAA people want to attach themselves to ODM to suck blood from us and leave us emaciated. Their intention is to kill ODM in the Coast," she said.
Mr Michael Kingi has since indicated that PAA will go for a coalition with ODM and back Raila as the presidential candidate. He said PAA was set for the official launch this month.
Malindi MP Aisha Jumwa, Kilifi North MP Owen Baya and Kinango's Benjamin Tayari once pushed for the formation of a Coast party or coalition but later joined Ruto's UDA and are his leading lights in the region.
Matuga MP Kassim Tandaza said governor Kingi and his team may face headwinds for failure to consult with other leaders and residents.
"The idea of coming up with a political party is good but governor Kingi should have consulted widely to amass support and to rally the region behind the party," said the ANC legislator.
Political analyst and lawyer Yusuf Abubakar argued that Kingi was trying to exploit the fluid political situation in Coast to build a party, even as he stays close to Raila.
According to Abubakar, Kingi is better of maintaining political links with Raila than running into Ruto's camp following the strong ties the ODM leader has sustained with a majority of the coastal people.
But Abubakar said time should not be a major obstacle for the new party, saying the current interest generated by PAA in the region could work to its advantage.
Pwani university lecturer Rocha Chimera noted that governor Kingi was playing politics of survival "which is okay in this game as it can propel him to become Coast kingpin."
Former Republican Congress Party secretary general Ibrahim Babangida said all allies of the former Balala party were now in PAA and fully behind governor Kingi.
Babangida dismissed claims that PAA was planning a coalition with ODM. "We have not yet reached that stage (of negotiating a coalition). We are open to talks. But backing ODM or any other partner will come once we decide that we will not field a presidential candidate".