Youths block Wanjigi's motorcade in Siaya 'demanding handouts'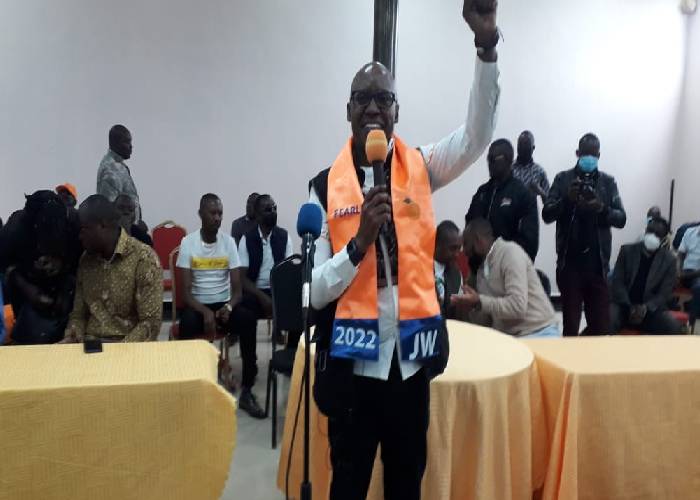 Police were on Saturday forced to lob teargas at rowdy youth after they blocked presidential hopeful Jimmy Wanjigi's motorcade along Siaya-Kisumu Road 'demanding handouts.'
Wanjigi had just finished addressing ODM delegates at Siaya town when the youths blocked his motorcade chanting "give us something" before riot officers arrived and restored order.
Wanjigi's motorcade sped off as the youths scampered for safety during the melee.
Unlike his Migori tour, Wanjigi's Siaya County was peaceful with ODM supporters turning in their large numbers to listen to him.
Siaya county is the home of ODM leader Raila Odinga who despite having not declared his candidature, has hinted he would be vying in 2022 polls.
Wanjigi who has declared interest in the ODM presidential ticket has been traversing the country and meeting ODM delegates in preparation for the 2022 General Election.
While addressing the ODM delegates in Siaya town, Wanjigi said that he was among those who stood with Raila during and after the 2017 General Election.
He said he was not at war with Raila and stated that he has stood with him during his difficult political moments.
Wanjigi told the delegates that he was the only politician from Mount Kenya who had supported Raila during the last general election.
He dismissed calls for a coalition between ODM and other political parties saying ODM was strong enough to form the next government.
"I am confident that ODM will form the next Government. I ask all of you to support me to be the Presidential candidate. I have supported Raila before and now it is my time to enjoy his support and that of his people. I have the capability of changing your lives and Kenya's economy," he said.
Wanjigi told the delegates that in the next two weeks, he will send a team to distribute to them free BT cotton seedlings.
"I have heard your cries and I will bring free seedlings for BT cotton to do a pilot scheme for a cotton project. Do not allow your local politicians to frustrate this cotton project because this is time to improve our economy," he said.
Delegates who attended the meeting asked Wanjigi to invest in Siaya town so that the youths can get jobs
Letter from New City, Nyeri County
New City and its surroundings is a transition zone as you shift from the well-watered highlands to the arid and semi-arid Laikipia plains.