Governor Waiguru: EACC summons a political witch-hunt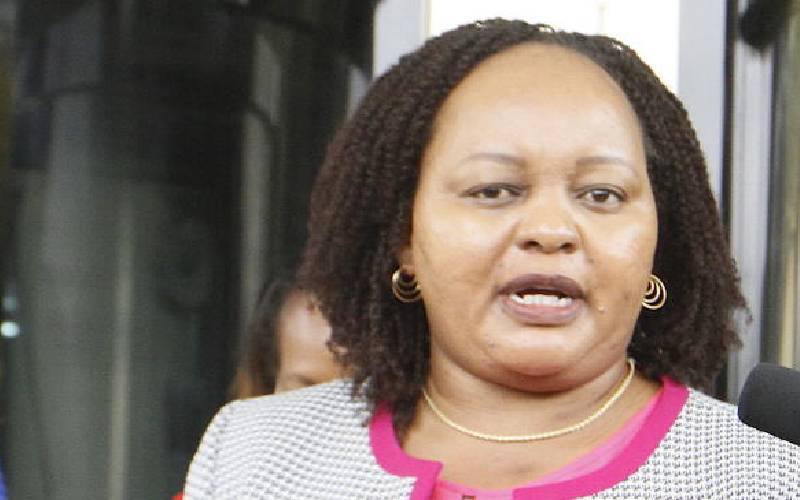 Kirinyaga Governor Anne Waiguru has said the summons by the Ethics and Anti-Corruption Commission is ill-timed and politically instigated.
She said it has nothing to do with the purported investigations on the misappropriation of funds.
The governor was today questioned by the anti-graft agency over a Sh52 million pending bill in her county which she approved for payment.
The county boss has since linked her woes to politics on her reconsidering Jubilee Party.
On Tuesday, Waiguru said it is too early to determine whether she will remain in Jubilee or cross over to Deputy President William Ruto's United Democratic Alliance (UDA) ahead of the 2022 General Election.
Speaking on Spice FM, Waiguru hinted that her decision to either stay or leave Jubilee will depend on "how the ground looks like".
"I can't say I would, I can't say I will not," she said.
At the EACC's offices, Waiguru came out claiming she was innocent of any wrongdoing and putting it down to politics.
She said the South Ngariama land was originally and formally vested into trusteeship of the now-defunct Kirinyaga county council in 1965.
The defunct local authority contracted Geo-acre surveyors to subdivide, allocate and do cadastral surveying on November 22, 2006.
"In so doing, the contractor was to assign land for public utility, for wetland including riparian and the rest to the rightful private owners."
The contract sum was Sh74 million of which the county council i.e the contracting party only paid Sh21 million, leaving an unpaid balance of Sh52 million.
In the last financial year, the assembly allocated Sh52 million to offset the outstanding amount and secure the release of the survey maps and completion of the titling process.
Waiguru, in a statement today, said of the Sh52 million, no shilling has been paid and therefore no money has been lost.
She added that it is the role of the county assembly to approve the allocation of various development expenditures with due consideration of the best interests of the residents.
Waiguru said the latest summonses were issued immediately after she made a comment about her political move.
"It's now obvious the EACC is being used to intimidate us to remain silent even when our political careers are on the line and our supporters tell us otherwise."
She said the summons is a witch-hunt driven by people who are trying to influence the 2022 elections in Kirinyaga and succession politics.