Raila: I will resign if my presidency is a failure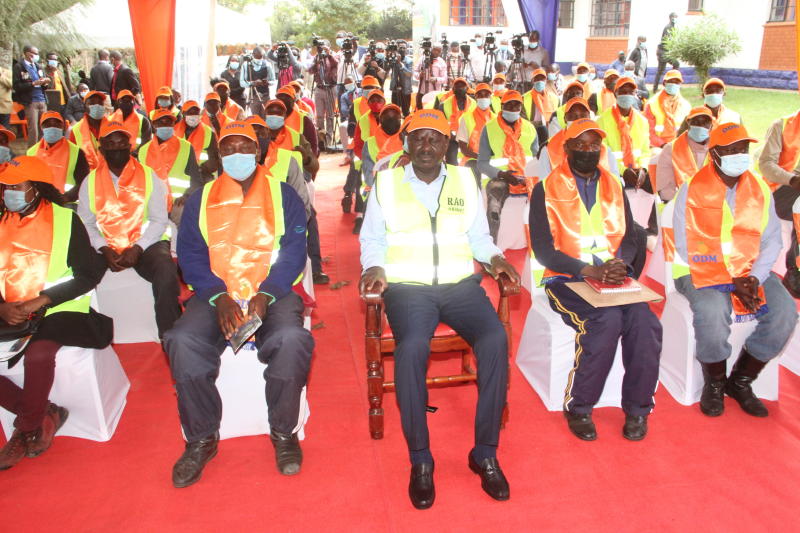 ODM leader Raila Odinga has declared he would resign should he fail to deliver on his promises if he is elected as the president next year.
In remarks confirming his resolve to contest for the presidency for the fifth time, Raila said he would follow in the footsteps of founding Tanzanian President Julius Nyerere and quit for not delivering on his pledges.
He made the commitment on a day he tore into Deputy President William Ruto's "hustler narrative" and the bottom-up economic model.
He asked the youth to reject wheelbarrows during this "era when nations are sending their sons and daughters to Space."
"In this regard, there is a commitment I can give the youth of Kenya today," said Raila said yesterday during a public lecture at the University of Nairobi (UoN), and added that he would not behave like other politicians who move goal posts after failing.
"In the event that I fail as a leader to deliver what I promise, I will not invent excuses. I will not move the goal posts. I will do what Mwalimu Nyerere did in Tanzania. I will admit that my experiment and dream failed and I will let somebody else try."
Nyerere became president in 1964 and served until 1985 when he resigned and handed over power to Ali Hassan Mwinyi.
Raila's latest remarks suggest he has made up his mind to be on the ballot.
Raila first contested the presidency in 1997, but did not run in 2002 but ran in 2007, 2013 and 2017 when contested the results.
He challenged the outcome at the Supreme Court in 2013 and 2017, with the latter petition ending in the nullification of the presidential election.
He did not participate in the repeat polls.
Raila, perceived to be President Uhuru Kenyatta's preferred successor – discredited Ruto's "Kazi ni Kazi" slogan terming it an attempt to hold back the youth from attaining their full potential in the digital era.
He said he would ensure the youth land decent and well-paying jobs and participate in the digital and information economy as equal players with their counterparts in US, Korea, China and Japan.
"I do not subscribe to the idea of Kazi ni kazi. My nature has always been to explore new frontiers, to test new limits, to keep pushing and knocking doors of possibilities and opportunities for people and youth of Kenya," he said.
"…I want to prepare Kenyan youth for jobs of the future, not jobs of yesterday. I want to focus the youth on where the world is going, not where the world is coming from."
The former prime minister said it was demeaning for some politicians to offer "tools our great, great ancestors used in the pre-historic age" as a solution to current challenges.
"That is an attempt to hold people back. It's neither my nature nor my wish to hold back the children of Kenya. I want to bridge the digital divide between urban and rural areas. I want to position Kenya as a hub for information and communication technologies and E-commerce," he said.
He added that the youth who were promised digital jobs and double digit economic growth by the Jubilee administration are now being offered wheelbarrows and told "Kazi ni Kazi". He termed the change of tune by Ruto fraudulent, vowing not to take that route of lying to the youth.
He sought to demonstrate his ability to achieve what he promises by highlighting achievements of the grand coalition government under retired President Mwai Kibaki and himself as the prime minister.
"We laid the ground for fiber optics to go across Kenya for faster, cheaper and reliable internet connectivity. We came up with Konza City to drive our digital dreams.
"With Kibaki, we laid the ground for all Kenyans to access cheap bank loans. In fact, that was the era banks hawked loans," said Raila.
He also revisited the need to fight corruption while describing the corrupt as economic saboteurs.
Recently, Raila listed affordable healthcare, education and housing as some of his priority areas. He regretted that many families have been impoverished by medical bills, citing instances where bodies have been detained by mortuaries over outstanding bills.
In a 15-point agenda, he shared what he believes of a country with a firm foundation for rule of law and resting on efficient government structures.
To ensure massive investment in manpower development, he pledged to ensure universal access to quality education.