Edwin Sifuna warns against backing politicians 'because they are from your community'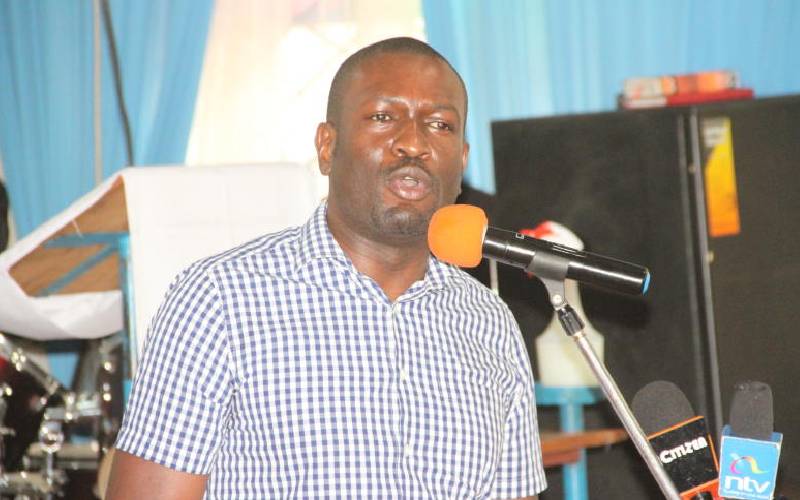 ODM secretary general Edwin Sifuna has warned the electorate against following a leader solely because they are from their community.
Speaking at the PAG church in Karen today, Sifuna drummed up support for party leader Raila Odinga, saying he offers quality leadership.
"If you question him [Raila] on the matters he raises, he will give you answers. The same cannot be said for his competitors."
Sifuna called on his Western counterparts to back leaders with their interests at heart.
Politicians from Western Kenya want more locals to register as voters, as the clock ticks towards the 2022 General Election.
ANC party leader Musalia Mudavadi and Ford-Kenya's Moses Wetang'ula told mourners at the burial of ANC supporter Macleans Sloya in Mbale, Vihiga County, that the next General Election will be determined by numbers.
The politicians reckon that a solid bloc and a huge voter turnout would dramatically alter Kenya's political landscape in the favour of their preferred presidential candidate.
"Many Kenyans are yet to register as voters. Let us embrace the mass voter registration that will start soon and come out in large numbers," he said.
Mudavadi has maintained that he will be on the presidential ballot, and is banking on the Luhya vote to propel him to State House.
"We have the capability of carrying the day, but it will be much easier if we had millions of our youth who have identity cards to register as voters," he said.
According the Kenya National Bureau of Statistics figures, the Luhya community with a population of 6.8 million is the second-largest ethnic group after the Kikuyu.