Raila Odinga's burden of history and lessons on 'Project' tag he must shed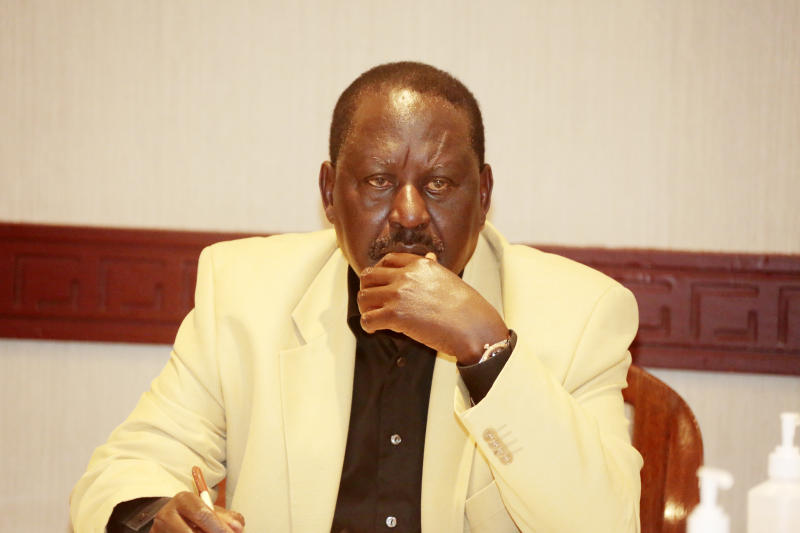 Raila Odinga remembers the fiasco that was the 2002 Uhuru for President Project, even as he steadily moves towards embracing what looks like President Uhuru Kenyatta's "Raila Odinga for President Project," 20 years on. President Uhuru is understood to be keen on the ODM leader succeeding him, and has been working round the clock to get the One Kenya Alliance, in formation, to support Raila's bid next year.
The president has been working, for a while now, to rally behind Raila ANC's Musalia Mudavadi, Wiper's Kalonzo Musyoka and Moses Wetang'ula and Gideon Moi of Ford Kenya and Kanu, respectively. Difficult closed-door meetings have been held, with little success so far. Mudavadi and Kalonzo are said to be especially difficult, worried about losing grassroot support in their own backyard, should they drop their own presidential bid.
The Raila 2022 Project evokes memories of the failed 2002 Uhuru Project. Also evoked are lessons of how the Kenyan political class seems to learn little from past mistakes. From Uhuru to Raila and from Mudavadi to Kalonzo, history uncannily repeats itself. As the clock ticks toward 2022, they all seem to be in the grip of the same miscalculations of the past, and with the promise of the same costly outcomes.
Their flaws range from meddling with the "project" tag, to hesitation and rank indecisiveness. The "project" tag, perhaps more than anything else, cost Uhuru the presidency in 2002. It suddenly catapulted Mwai Kibaki from a shadowy and uninspiring campaign, alongside Wamalwa Kijana and Charity Ngilu, to a commanding victory in the presidential race, under the National Rainbow Coalition (Narc).
That eventful season is pithily captured in Raila's 2013 autobiography, The Flame of Freedom. It is recalled how President Daniel Arap Moi, at a public meeting in Kapsakwony in Mt Elgon, suddenly declared that Uhuru was his preferred successor. The announcement shook Kenya and rocked Kanu. It has left the independence party staggering, 20 years on.
In Raila's recollection, Uhuru's 2002 debacle was a factor of being seen not just as a project, but also as a puppet. Raila would later write in his autobiography, "The young Kenyatta was not known for his political expertise. He had stood for election in his father's old Gatundu South parliamentary seat in 1997, losing miserably to the little-known Moses Mwihia and thereafter reportedly deciding to leave politics altogether."
Raila believes that the Uhuru Project targeted him personally. "Moi had other plans," he writes, "Several of his confidants, presumably wary of my growing influence, clearly wanted to ensure I was stopped in my tracks – and they decided Uhuru was the man to do it. The would-be politician's sponsors were William Ruto, who had come to prominence as treasurer of the movement Youth for Kanu '92, in the process becoming very wealthy and successfully contesting the Eldoret North Constituency seat in 1997."
National unifying factor
Apart from Ruto, Raila has named other owners of the 2002 Uhuru Project as "Moi's close friend and aide, Joshua Kulei, Moi's nephew and Co-operative Bank of Kenya Chairman, Hosea Kiplagat, and Moi's son, Gideon."
While Moi marketed his 2002 project as a national unifying factor, Raila thought otherwise. "Having neutralised me, so he thought, Moi's elevation of Uhuru was part of a new plan by the 'professor of politics' to bring Kikuyus onside and ensure the continued marginalisation of Luos from the centre of mainstream politics."
In a mirror image of 2002, President Uhuru is sponsoring a possible Raila presidency as a national unifying effort, which he seeks to rank high as part of his legacy. The president is also wary of leaving the country in the hands of people he has said could raid the national coffers for their own benefit. "I cannot leave the country in the hands of thieves," he declared early last year.
Interestingly, the notion of leaving the country in the wrong hands featured in 2002. The thinking in the political opposition, as Raila observes, was that Uhuru was supposed to protect bad old money. "Moi planned Uhuru's ascendancy to the presidency because he believed Uhuru was so green, and . . . he would be able to manipulate him.
"And there was more. During the rule of Uhuru's father, the Kenyatta family had acquired vast wealth in terms of property and land. It has been estimated that the land in their possession amounts to half-a-million acres ... The Moi family (and to a lesser extent the Kibaki family) have wide-ranging and extensive land and family holdings."
According to Raila, it was concern about the safety of this wealth, which, his book says, "was obtained irregularly," that birthed the 2002 project. "Naturally, the rather opaque nature of many of these acquisitions needed protection. Moi, looking ahead to the future of his family once he retired, no doubt saw his elevation and subsequent control of Uhuru Kenyatta as vital, if they were at all to protect everything they owned."
Raila discounted himself as a possible Moi stooge on account of his brand of politics. This begs the question of what Uhuru's agenda for a Raila presidency would be, and whether the fears of two decades ago have since been laid to rest. For, Raila concludes on old money and the old fears in the political establishment, "In any case, (they saw it) far better (to have) an agreement among fellows who understood each other than to countenance ceding control to the son of a firebrand fighter for the landless, Oginga Odinga."
Two decades later, Raila is himself beginning to be at once touted and taunted as Uhuru's project, even as the authenticity of his allegations on the past and the need to protect it remains unclear. If indeed the old political establishment nursed such fears in gone times, it is possible that the handshake between Uhuru and Raila has now addressed them. The only remaining concern would seem to be how to rally OKA leaders behind Raila and how to manage the "project" tag.
If the grain of history should return to inform the way ahead, then Raila could be walking on a slippery path, for Kenyans have not embraced previous presidential succession projects. In 2013, President Kibaki had a soft spot for Mudavadi. He left no doubt that this was his preferred successor, even as he pulled him away from Odinga and ODM. Trappings of power and royalty were thrown around him, complete with a top-of-range motorcade, protection by a beefed up elite GSU squad at his homes and properties, and the opportunity to deputize for Kibaki at official events and to introduce him at national functions, roles then reserved for the Vice President and heir apparent.
Political soft spot
Mudavadi featured poorly in the March 2013 election, despite Kibaki's political soft spot for him. He returned a humble third place, behind Uhuru and Raila. But, separately, Mudavadi also recalls the Uhuru Project and how it buried his political fortunes. So, too, does Kalonzo, in his Against All Odds biography. In the story Soaring Above The Storms of Passion, Mudavadi recalls how he was passed over in Kapsakwony, and how his indecisiveness, amidst pressure from the political establishment, cost him dearly.
About the announcement in Kapsakwony he recalls, I suspect that Uhuru, William Ruto and maybe the president's son, Gideon, knew what was happening and the bombshell that was about to drop ... I was shocked, but not surprised when Moi announced that he was proposing Uhuru to succeed him." Like Mudavadi in 2013, "Uhuru had been at one gathering after the other . . . with the facilities of the Presidential Press Service. This was completely out of both protocol and character. Nobody walked outside Moi's shadow in such a manner," Mudavadi writes.
In the end Mudavadi dithered. He left Kanu, but retreated. The indecisiveness cost him a five-year term outside Parliament, till 2007 when he returned on the ODM ticket. He was appointed Minister for Local Government and Deputy Prime Minister. Since 2013, however, he has operated on the rocky ground that is the political opposition outside Parliament. Like fellow presidential election losers who nonetheless stay in politics, he has had to fend for himself, paying every bit of the way from his own pocket.
Yet, it is also apparent, Mudavadi, like Raila and Kalonzo, is eager to be Uhuru's nominee for president. Like the other three, he remains very cautious in any criticism directed at the government. Like Odinga and Kalonzo, he finds Ruto a softer target when the failings of the Jubilee government should be pointed out. Uhuru is too costly a target for those who would be his projects.
Next year's election places Mudavadi delicately on the firing line. He cannot afford to miscalculate this time round, for it could very well mark the end of his political road. But equally in the same docket are Raila and Kalonzo. They are the generation that was skipped over by a younger UhuRuto generation. If they do not redeem themselves next year, it could be goodbye for good. They are, therefore, walking a very delicate tightrope.
Like 2002, the OKA leaders and Raila seem to be unsure of who among them should carry their flag against a runaway Ruto. While Mudavadi and Kalonzo have been emphatic that they will not back Raila again, they remain wary of caving in for one another, for fear of backlash from their ethnic support bases. In the end, they might all be on the presidential ballot paper. In this case, they could once again run away with significant swathes of their ethnic communities. However, that is likely to be just that. They are likely to return to eat humble pie by negotiating with either Raila or Ruto in a likely rerun.
The Raila Odinga Project is certainly on, with the risks of being rejected by a public that could overwhelmingly vote for a besieged and battle hardened Ruto. As in the past, Raila has himself abandoned and been abandoned by his former political allies. He hopes to appeal directly to their strongholds, an assignment he tried before in the Rift Valley – with disastrous outcomes. For their part, OKA leaders are dithering about flag bearing, even as time rolls on in the face of fierce competition from the Raila Project and Ruto. And each hopes to be President Uhuru's project, despite harsh lessons from the past.