Plans for Uhuru succession: Why the opposition is no longer at ease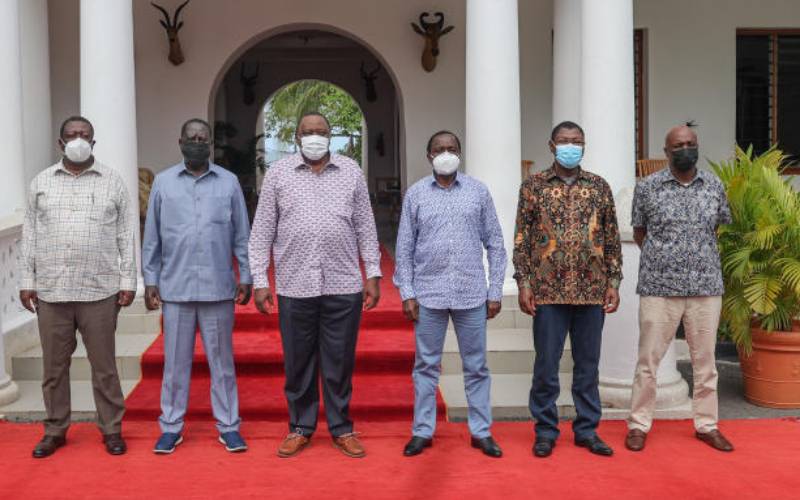 Deputy President William Ruto has clearly stated that he is man "on a mission" who neither has space "to retreat" nor "luxury to surrender". And while these sentiments may have been in reference to President Uhuru Kenyatta's call on him to resign, this position epitomizes the DP's resolve and enduring quest for the presidency to execute his "bottom-up economy" approach for Kenyans.
Having diplomatically but firmly told off his boss, the next team that stands in the way of Ruto's set goal comprises political bigwigs ODM party leader, Raila Odinga and One Kenya Alliance (OKA) leaders Kalonzo Musyoka of Wiper Party, Musalia Mudavadi (Amani National Congress) Gideon Moi (Kanu) and Moses Wetang'ula (Ford-Kenya). They appear fractious and tattered, yet reluctant to unite and reenergise their power quest.
With Raila engrossed in the slippery Building Bridges Initiative (BBI) process, and OKA leaders seemingly united against the former PM but stuck at striking an agreeable formula of identifying a flag bearer in next year's presidential poll, the opposition looks utterly weak.
And with a spirited Ruto seeking to replace Uhuru, pundits opine the opposition figures may be scripting their own political obituaries. Or are they unknowingly playing into a net scripted by the powers-that-be to keep them asunder and politically vulnerable?
Reached for comment, the ANC leader curtly responded that the mood on the ground had changed, and that "this time around our people (voters from his western Kenya backyard) are insisting that our numbers must count."
Pressed for details, Mudavadi instead referred this writer to his party officials. However, Wetang'ula sought to reassure restless supporters that all was well.
"We are in the process of getting there (unity), but we must first build a strong coalition with a shared vision, philosophical and ideological principles. We have good chemistry as OKA and we are certain we will not disappoint," said the Ford-Kenya leader.
The Bungoma senator revealed that the team had set a timetable to guide them towards realising political cohesion amongst members. The group, he said, also had an open-door policy to accommodate friendly partners.
"We do not wish to negotiate from the rooftop because it is dangerous as one can miss a step and fall. So we are going about this slowly but cautiously," he told The Standard.
OKA is considered by some as a mere holding ground for other political leaders to poach from. Alternatively, the OKA leaders are likely to break up and individually run for the presidency owing to the hard positions separately projected by their followers.
With the Kanu party leader and his Ford-Kenya counterpart said to be open to political compromise, insiders reveal that the real headache revolves around former vice presidents Kalonzo and Mudavadi. Supporters of the Wiper leader, who consider him politically senior to his ANC counterpart in terms of experience and even age, maintain that Kalonzo will go it alone if he fails to clinch the ticket within OKA.
"There is a huge set of Kenyans who are uncomfortable with both Raila and Ruto, owing to their abrasive style of politics. We must give this lot an alternative choice in the name of Kalonzo," Makueni MP Dan Maanzo told The Standard.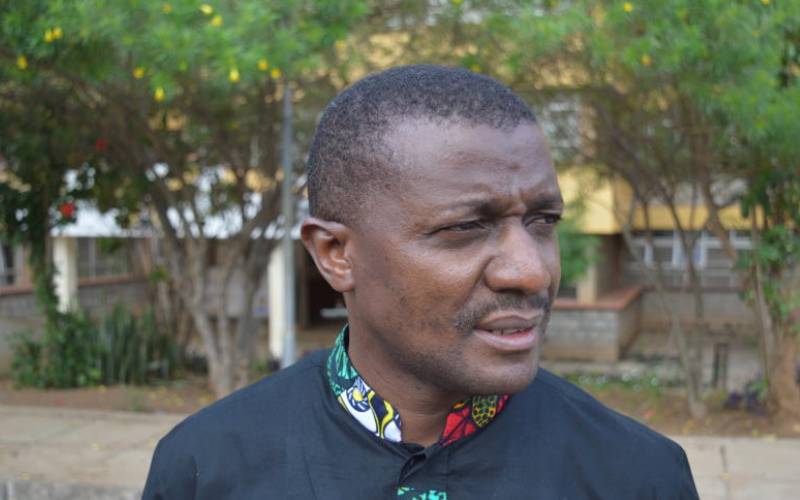 On the other hand, backers of Mudavadi are banking on the Luhya voting bloc and his good governance record over the years. Referring to Mudavadi as "a safe pair of hands," Lugari MP Mr Ayub Savula singled out his financial muscle and close ties with the President as additional factors that favour Mudavadi's candidature.
"He is the best compromise candidate owing to his acceptability across the country, and will be on the ballot whether or not he gets endorsement from OKA or any other political formation that may come up," says the ANC deputy party leader.
And although Maanzo is optimistic the OKA leaders will build consensus among themselves, the competitive nature within does now allow room for inclusion of a player from Mt Kenya. This could impede OKA's efforts to tap into the vote-rich region and therefore deny the coalition a chance to make a credible stab at the top seat.
In the meantime, Savula is concerned that going by the current situation, the opposition leaders stand little chance of beating Ruto, who is associated with the United Democratic Alliance (UDA) party: "Tukiendelea tu hivi na hii mchezo, huyu jamaa atatubwaga (If we continue with such a casual approach to the elections, he will beat us hands down)".
Even "more scary" for these politicians is the possibility of the President abandoning them after fruitless efforts of uniting them, and the president opting to look elsewhere, including in Ruto's direction.
"Nothing stops him from changing tact. After all, politics is all about interests and if the president strikes a deal with Ruto to safeguard his interests, then we are doomed. That is why we must agree on one amongst us immediately," says Maanzo.
The MP stresses the need for political players to up their game without banking on Uhuru, who is soon exiting office: "From our observations, he is not going to turn over the Mt Kenya region numbers to anyone or with the so-called 'system'. And the earlier these political bigwigs appreciate this the better."
The DP has poked holes in the president's efforts to reportedly unite the opposition, whom he describes as "some four of five confused fellows, unable to agree on anything because of personal greed."
According to the DP, Raila, Kalonzo, Musalia and Wetang'ula should focus on an issue-oriented campaign and sell their policies to the electorate instead of "merely uniting to stop an individual from becoming president."
That the opposition politicians are coming up against formidable force in the name of Ruto is not in doubt. He is an indefatigable politician who hit the campaign trail much earlier than his rivals and is considered by many as the frontrunner in the presidential race at the moment.
The notion of other competitors uniting against Ruto is a reality persuaded by several factors, including his agility and political strength and that at 54, he is the youngest aspirant, meaning his win would most certainly hand him 10 years at the helm and thereby condemn his aging opponents to political oblivion.
And thanks to the apparent elusive unity among his opponents, Ruto can afford a smile – at least for the moment. Maanzo additionally attributes the DP's assumed fear of persecution locally and internationally over myriad of alleged malpractices to the drive behind his spirited pursuit for the presidency.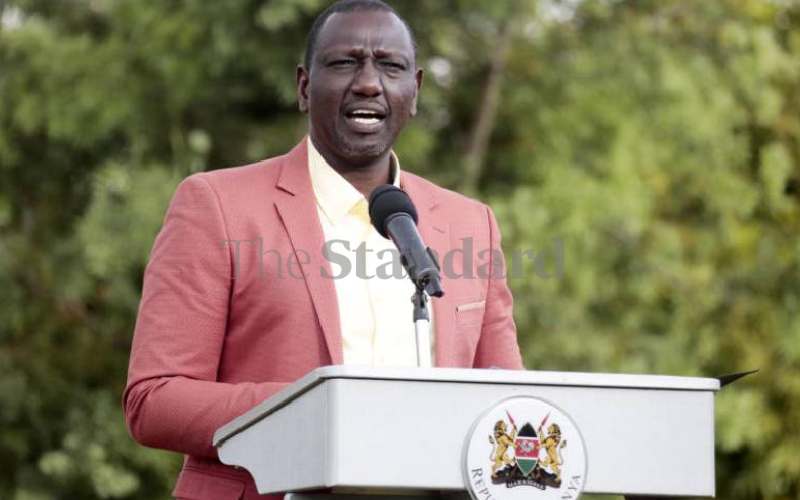 Maanzo, who does not rule out the possibility of teaming up with the ODM leader, however, accuses operatives in the Orange party of poisoning working relations with probable coalition partners, through attacks targeting party leaders.
In defence, ODM Secretary General Edwin Sifuna maintains that he has nothing personal against anybody, including party bosses Mudavadi, Wetang'ula, Moi and Kalonzo.
"I am just doing my job and as stated in the Bible, there is a season to scatter and a season to gather and when I am finally advised to team up with these gentlemen, I will apply the same vigour I may have used to scatter them to gather and unite with them," Sifuna told The Standard.
According to Maanzo, only two things must happen to save the fractious opposition – someone must forfeit his political ambition, or some major event happens that triggers the unity of the OKA and ODM chiefs.
"If these gentlemen do not unite, Ruto will oversee their individual destruction one by one. Hard as it may, they have no choice but to do just that, even for their own selfish interest," says the Makueni MP, who founded the Kalonzo-led party, initially registered as ODM-Kenya.
Savula as well lists "only two plausible options left" – to unite behind one candidate or retreat back to tribal and regional cocoons and seal off their respective regions. This, according to the MP, will enable them to force a run-off, where they can then rally behind the best candidate.
However, Prof Peter Wanyande, who teaches political science at the University of Nairobi, says there is little to worry about the apparent slow pace of coalition building.
"These are normal political activities that take place during an election calendar. Sooner than later, they will find their level because those involved are not ignorant enough not to be alive to the political threat ahead."
Prof Wanyande further argues that the president is not an important equation in the campaign process ahead of next year's elections. Noting that incumbency comes with heavy political baggage, the UoN don states that few "serious" presidential aspirants will wish to be associated with Uhuru during his last term.
However, Wetang'ula maintains their supporters' expectations are legitimate: "But as leaders, we must lead and explain to them the painful decisions and sacrifices we have make for the good of our country."