PNU, DP and Safina form coalition ahead of 2022 election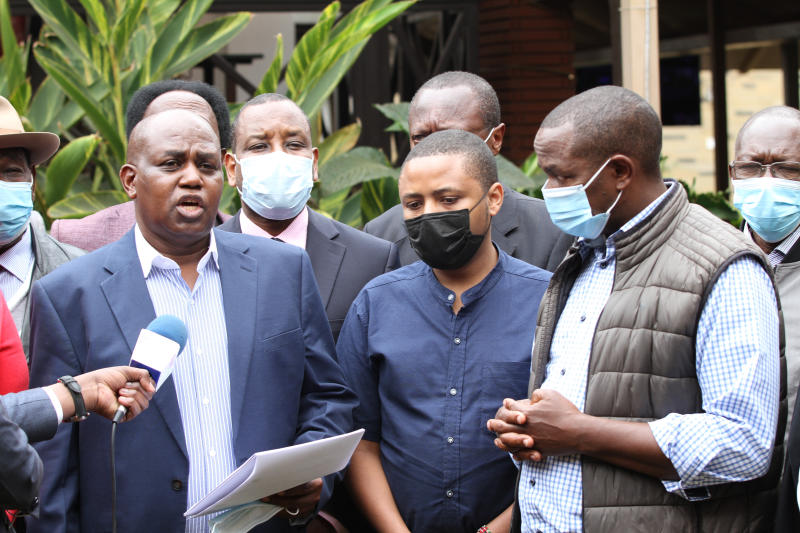 Three political parties have formed a coalition ahead of next year's elections. The Party of National Unity (PNU), Democratic Party of Kenya (DP) and Safina came together in what their leaders termed move for a better Kenya.
The leaders met at a Nairobi hotel and vowed to work towards economic reforms which once thrived under PNU leader, former president Mwai Kibaki.
PNU chairman David Kamau credited then President Kibaki with reviving the economy and initiating major projects.
The party, which took a low profile after the end of Kibaki's tenure, is planning a major political comeback.
Party leaders said Kibaki's legacy was stabilising the economy which was facing myriad problems stemming from mismanagement and corruption.
Kamau said the economy moved up to 7.1 per cent from 0.6 per cent after Kibaki assumed office in 2002.
He said PNU is well-positioned to stabilise the ailing economy. "I cannot talk much about what the party has done. It's something witnessed in the country and needs no introduction. We all know what it can do to reform this country," he said.
Kamau added they will unveil the 2022 road map on Saturday, in Nairobi so that the three parties can work together.
"We have formed a nine-member committee from all the parties to come up with a coalition," he said.
He vowed to prioritise reforms in governance structures and social-economic programmes.
Laikipia Governor Ndiritu Muriithi said the new coalition will represent the face of Kenya and discuss a better future for the country beyond next year's elections.
He explained PNU does not need to introduce reasons after it produced the third Head of State who is remembered for improving the economy and the 2010 Constitution.
Mr Muriithi insisted the new coalition is willing to work with other like-minded parties.
"The management teams of the coalition will sit down and discuss whom to partner with based on whom we see is best for our reform agenda," he said.
This comes after various Mt Kenya parties and leaders embarked on plans to come together to form a coalition as their best bet for next year's polls.
The leaders dismissed claims that this is the first time the mountain is divided during an election, arguing that residents just like any other region, have always had the right to vote for whom they want.
DP deputy party leader Stephen Karu said: "The mountain has not always voted as a bloc. From 1992 to date they have always voted for people due to their values, not affiliations. During that year, the people voted for Kanu, DP, and Safina," he said.
He said they are not done with Building Bridges Initiative (BBI) no matter the Court of Appeal verdict on Friday.
"Whichever forms it takes, we must get a system of governance that includes everyone so that it will no longer be a matter of life and death on who becomes president," he said.