John Mbadi faults tycoon Jimi Wanjigi over early campaigns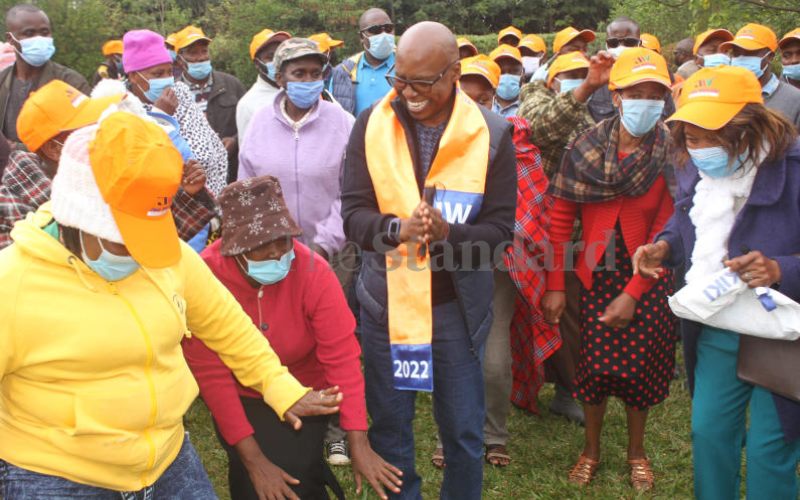 ODM has accused businessman Jimi Wanjigi, who is hoping to run on the party's ticket in next year's presidential election, of jumping the gun by launching campaigns.
Chairman John Mbadi on Monday dismissed meetings the tycoon has been holding with people he said are delegates of the Raila Odinga-led party saying the party's election's board is yet to ratify the list of the representatives.
On August 8, at Aberdare Country Club in Nyeri County, Wanjigi met a group of people who described themselves as ODM delegates. After the meeting, the group announced it was supporting his presidential bid.
Mbadi said the group could have been ODM members or Wanjigi's sympathizers but not party delegates.
He urged Wanjigi to wait until the party announces the legitimate delegates before he embarks on presidential campaigns.
"The party's election board has not ratified the common and authentic list of delegates for those who wish to contest the presidency on an ODM ticket. The board will announce the time for campaigns," Mbadi said.
He called on those seeking the party's ticket to wait until the list is out as this will also save them from falling prey to conmen. "Let them wait so they can seek the support and votes of authentic delegates," he told The Standard in a telephone interview.
Mbadi faulted Wanjigi for embarking on campaigns prematurely in a move that appears to have rattled some ODM stalwarts. "It is not yet time for campaigns. The ODM elections board is in the process of harmonizing the list of delegates before embarking on grassroots election across the country."
Mbadi, a key Raila ally, was also uncomfortable with Wanjigi's move to open ODM party offices. "He should first consult with the national party officials to avoid confusion and disorder."
Wanjigi, who was a key financer of ODM leader Raila Odinga's campaigns in 2017, tried to open an ODM officer in Kenol town, Murang'a County, but his plan was stopped by police who said they had not been informed prior.
Murang'a South Police Commander Alex Shikondi said Wanjigi's team promised to follow to laid down procedures and open the office at a later date.
"We had issues with the plan. They had not notified us of their plan and when Wanjigi's team came, we advised them to follow the process and that is where we left it," Shikondi said.
However, Mbadi said Wanjigi was opening an ODM office in an area the party already has one, questioning the businessman's intentions which he said were likely to stir controversy and cause confusion in the party.
"We have a procedure of opening party offices and we have made formal communication that all ODM party offices must be directly under the guidance of the secretariat since ODM is a party. We have put procedures in place to get rid of a mentality by some individuals who think they own a party," he said.
He added: "Even Migori Governor Okoth Obado tried to open an ODM office in hi is county but the party denied him the permission so he doesn't think he owns the party."
"There are people who masquerade as sponsors of ODM and this as has only given the party a bad name."
Raila's point-man in Mt Kenya region Kamau Mweha termed Wanjigi a political greenhorn whose activities are bad for ODM as they are likely to disrupt the party's agenda.
"He wants to destroy our party. He is a busy body and a political novice. Raila has nothing to do with his ambitions. How can he purport to meet delegates and he does not even know who they are? As a matter of fact, no one knows who the delegates will be because that list is not ready," Mweha said.
But Wanjigi maintained that Raila and his Nasa allies should return the favour after supporting them: "If they refuse, I shall leave them, lesser, politically.
"I will do my battle from within. I will put on an orange cap and battle it out with other candidates. I'm coming with a big force called Mt Kenya, they better give it (the ticket) to me since they don't have a formula. If they don't, we shall leave them at a disadvantage. I sacrificed for them against my own community," Wanjigi said.
He cautioned leaders who have been dismissive of his presidential bid saying he has the formula of winning the presidency.
"We have been kingmakers because we know the formula. We don't gamble. But since I have helped Odinga who did not make it, it's now the time for him to support me. It is time for him to retire," Wanjigi said.