It is race against time as Kenya enters bruising 365-day poll year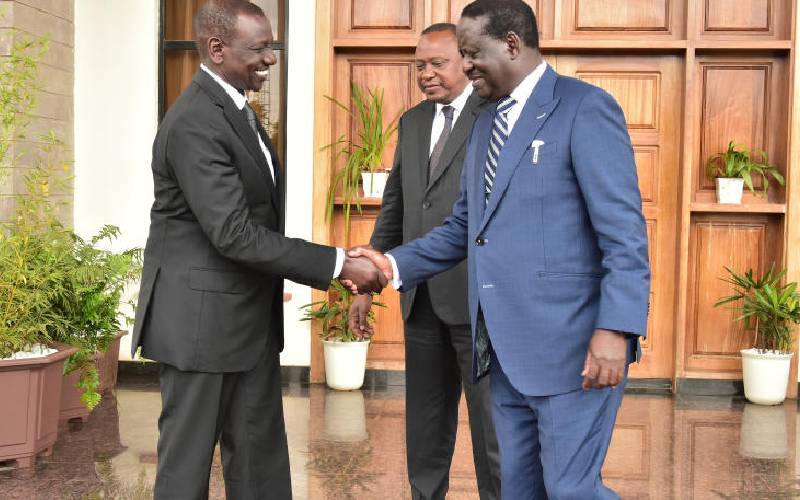 The next General Election is exactly one year away today.
On this day next year, the theme will be, "Kenya Decides." President Uhuru Kenyatta will complete packing up his bags, ready to hand over State House to Kenya's fifth president, possibly one of the six men who have dominated the political space besides him during his now nine-year period in office.
Kenya has, accordingly, just entered what promises to be a bruising 365-day period. Eyes will be keenly trained on Deputy President William Ruto, ODM leader Raila Odinga, Kalonzo Musyoka (Wiper), Gideon Moi (Kanu) and ANC's Musalia Mudavadi. Also starring will be Ford Kenya's Moses Wetang'ula and Maendeleo Chap Chap's Alfred Mutua.
In the supporting cast will be retiring governors Hassan Joho (Mombasa), Wycliffe Oparanya (Kakamega), James Ongwae (Kisii), Salim Mvurya (Kwale), Amason Kingi (Kilifi), Kivutha Kibwana (Makueni) and Martin Wambora (Embu).
While they are in their first term, Charity Ngilu (Kitui), Anne Waiguru (Kirinyaga) and Lee Kinyanjui (Nakuru) will also be critical voices to watch.
Senator James Orengo will be key where electoral legal matters come in, especially with regard to the now ill-fated Building Bridges Initiative (BBI) referendum, and whether it goes on or not. Other legal debates are likely to be about whether the elections can be placed on hold or not, pending further constitutional changes, and watching the impact of the new coronavirus on the country.
Kenya's sister states of Uganda and Tanzania have had elections in the Covid-19 period. Pushing the postponement button is, therefore, likely to kick up a storm that should still see the elections being held on schedule, regardless. It is unlikely that those posturing for State House will want to wait a day longer. The "move the date squad" is, therefore, likely to find itself in a lonely corner.
Observers are also going to be keenly looking at the two speakers of Parliament – Justin Muturi of the National Assembly and Kenneth Lusaka of The Senate. Senior Cabinet Secretaries, among them Fred Matiang'i (Interior), Peter Munya (Agriculture) and Ukur Yatani (Finance) are also likely to feature prominently. Interior Principal Secretary Karanja Kibicho will continue to excite passions, with the self-effacing Joseph Kinyua pulling strings silently, out of sight.
The Independent Electoral and Boundaries Commission (IEBC) will be at the centre of the drama, acutely conscious of Kenyans' unhappiness with its previous performance. As things stand, IEBC is still precariously placed. President Kenyatta has only recently appointed four new commissioners to complete the constitutional arithmetic. The names are now before Parliament for vetting and approval.
Hopefully the rest of the IEBC composition process will be smooth. Already, there are concerns about the gender question, as only two out of the seven commissioners will be women. The constitutional expectation is that not more than two thirds of one gender shall populate such an entity. It should therefore not be surprising to see someone in court. This could compromise the elections timetable.
The commission has heavy procurement business to undertake, civic education, training of staff, as well as recruitment and induction of temporary personnel. It also has a delicate public relations assignment to restore voter confidence badly jarred during the 2017 presidential election. If Kenyans will have sufficient confidence in the electoral body, then much of the work towards a peaceful General Election is done.
Nasty past experience will keep both Kenyans and the international community on alert. Security apparatus are expected to be vigilant while also remaining impartial. Their performance in recent by-elections in parts of Western, Rift Valley and Central have been worrying by virtue of what some have seen as lopsided and unjustified brutality. All eyes will be on the police for the next 365 days, and a little beyond.
Political parties, especially, must be confident that the electoral authority can deliver a free, fair and believable election at various electoral levels. But, equally in these prisms will be the national security apparatus, led by Hilary Mutyambai, the Inspector General of the Kenya Police Service. It is not clear whether Interior CS Matiang'i will be running for office. Regardless, he will be one person to watch given his present powerful tenure in the country's internal security.
The media is expected to get busy with coverage of political activities, with public eyes focused on fair coverage for all competitors, and especially within the top cream. But how the political class and the security people handle journalists will also be in both local and international crosshairs.
Yet it is the political class, especially, that will hog public scrutiny. Kenyans are likely to hear a lot more of the vexed questions of campaign agenda by political parties, and formation of alliances. Already, there is confusing excitement about Ruto's bottom-up economic model, the 'Hustler' nation agenda and converse trickle-down economics.
The race is so far defining itself as a two-horse race between Ruto and Raila. The rest might end up as co-stars, or also-rans. While the NASA team was campaigning for the 2017 election, Uhuru and Ruto crisscrossed the country with the mantra of "10 years for Uhuru and 10 for Ruto." The echo of that mantra still resonates in many minds in Jubilee zones. In the wake of the now messy situation in Jubilee, Uhuru will have to, over the next 365 days, bend backwards to undo his soundbite of "10 for me, 10 for Ruto."
Ruto is, however, aware of this and he has pushed his boss on the backfoot. He is casting himself in the image of a betrayed person who delivered his part of the deal, only for his partner to run into the enemy camp with all the benefits. A few weeks ago, when President Kenyatta advised the NASA team to unite so that he could support them next year, Ruto was unrestrained. He confronted Uhuru on Twitter, asking him whether there was not a single person out of the 8.4 million who voted for him that he found worthy of his support.
It was at once a logical and emotional argument that still resonates with many of their supporters, including upwards of 100 MPs. As the animosity in the Presidency scales up, UhuRuto will wrestle for ultimate separation and control of the legislative class. Ruto has signaled that he will cast Uhuru as the past and himself as the future. After the recent by-election, he celebrated the UDA victory in Kiamba Constituency with the message that the electorate had chosen the future. At the same time, he said that the Muguga Ward electorate had chosen the present. It was a polite way of saying "the past."
The antagonistic relations can only be expected to escalate. Ruto is throwing vicious blows and they are landing squarely between the eyes. He has distanced himself from Uhuru's performance in the second term, saying in a radio interview that he is not the substantive deputy president. He has scoffed at some of the ongoing projects, and accused UhuRaila for derailing the Jubilee Big Four Agenda. Then in a show of defiance, he has hosted a UDA 100-Plus-Man strong Parliamentary Group meeting at the DP's Karen residence. And Ruto went on to tell Uhuru that he was not his guest in the Jubilee Government. He would not, therefore, cave in to pressures that are calculated to make him resign.
It is going to get worse as the usual election fever and bravado catches on. Uhuru will possibly consider falling behind another leader from the Mt Kenya region, to counter the well-calculated Ruto incursion. For if Ruto, with all the carefree bravado, should continue to be seen as the future, UhuRuto MPs are likely to panic, with many defecting to the Ruto camp.
The Mountain will, meanwhile, need to get its act together, before it can meet the rest of the country. The emerging divisions between Mt Kenya East (read Embu, Meru, Chuka, Tharaka and Mbere) on the one hand, and Mt Kenya West (read Kikuyu) on the other hand, will occupy significant space as the country edges towards the decisive moments.
Like Ruto, Speaker Justin Muturi has taken off, having been recently crowned by a caucus of elders as the regional spokesperson, a coronation that met instant resistance from a section of the local political class. He does not, however, have the countrywide networks that Ruto and Raila boast of. He will probably be preparing to be a running mate to either of the two. He will also be looking for blessings from Uhuru.
Whoever Uhuru supports in his backyard will, however, possibly also give the president an escape route from Opposition chiefs who are presently thronged around him, angling for endorsement. He is likely to ask them to negotiate with the future leaders and, thereby unburden himself of the challenge of choosing one of the former NASA principals. Muturi is by all probability positioning himself for such a role.
For their part, Mudavadi, Kalonzo, Moi and Wetang'ula have the daunting task of cobbling up a new alliance and marketing it. For a start, they have put together a team of politicians to mull on the way ahead and advise them on their One Kenya Alliance (OKA), which they say is open to receiving Raila, but whom they have abandoned and accused of untrustworthiness. The OKA squad have to agree on complex cooperation issues that have destroyed previous coalitions, key among them questions of trust and of flag bearing. They will be talking about regional votes that they expect to bring to the table, taking it as a matter of course that their ethnic communities will go along with them, wherever they choose to go.
The biggest challenge for is going to be how to market whoever they settle on as their presidential candidate. For, their communities expect them to get to the wire. They are each surrounded by iron curtains of ambitious politicians from their backyards, urging them to get to the finishing line, for what look like selfish reasons. They know that they can ride on the presidential candidate's crest and win their own seats, regardless of what becomes of the candidate.
Mudavadi, especially, has the added complication of the ANC Party constitution that does not allow him to cede the ground to anyone else, in the event that the party goes into a coalition with another party. He enters the One Kenya Alliance dialogue from a hardcore position, therefore. If he changes, he steps down for someone else. If he amends the constitution, he will be seen as weak.
Raila, Kalonzo, Mudavadi and Wetang'ula also enter the race fully aware that the people presently in office are younger than them. In a sense, therefore, they were scooped by a new generation.
The fate of BBI will rest with the courts for a while. Regardless of the Court of Appeal's decision on August 20, the process will remain in those corridors to Raila's detriment.