Come clean on Museveni links, ODM leaders tell deputy president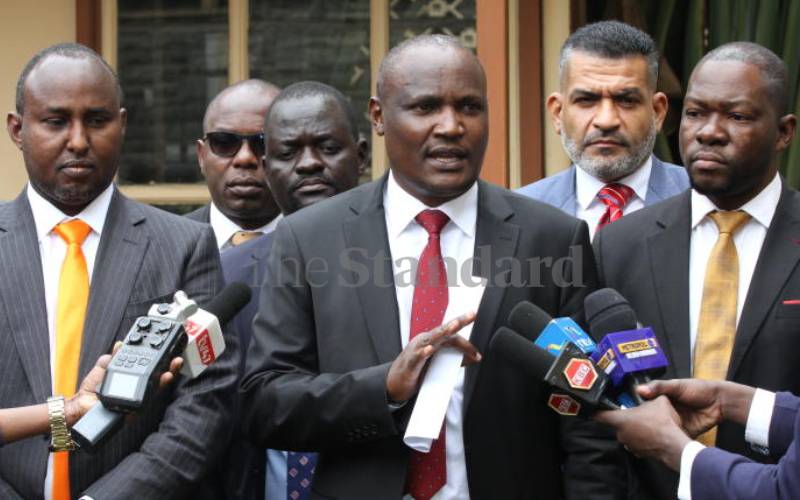 Some ODM lawmakers yesterday asked Deputy President (DP) William Ruto to "come clean" on his relations to Uganda's ruling party, National Resistance Movement (NRM).
The MPs, who spoke at Parliament Building, yesterday accused Ruto, without evidence, of planning to employ guerilla tactics in his quest to seize the country's leadership.
They also alleged that the DP, in his bid to succeed President Uhuru Kenyatta, intends to forge a lifetime presidency.
Led by ODM Chairman John Mbadi and Director of Elections Junet Mohamed, the MPs added that Ruto piled a flurry of misdeeds they accuse the NRM of facilitating, associating them with what they allege he plans for the country.
They were responding to claims that the DP aborted trip to Uganda to visit President Yoweri Museveni to draw lessons from the NRM for his United Democratic Alliance (UDA) party.
"The NRM record on human rights is not worth borrowing from. The NRM record on democracy is not worth borrowing... even worse, the NRM is a party of lifetime presidency," Junet read a joint statement by the MPs, terming Ruto's recent travel embarrassment a "sympathy seeking circus".
"NRM is a party that has kept someone in power for 30 years," added Junet.
Ruto was scheduled to travel to Uganda on Monday but was reportedly stopped from flying out at the Wilson Airport, kicking up a storm.
While his backers have been sympathetic to the DP, his detractors see no good in his trips to Kenya's neighbour.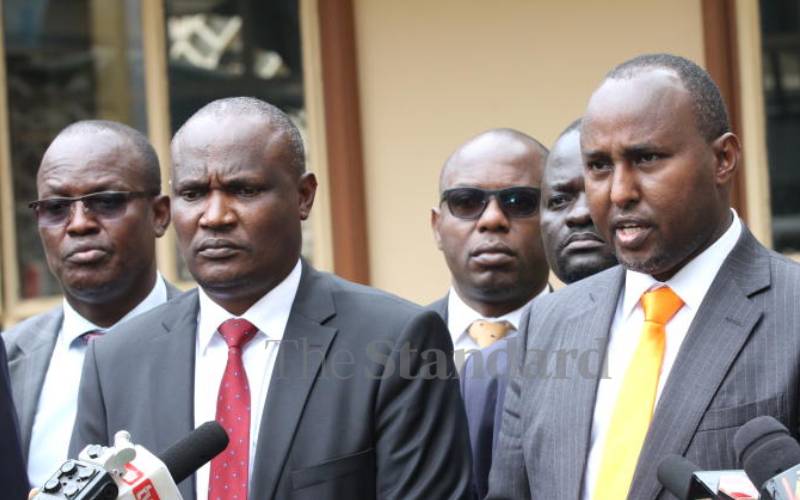 In the wake of his flopped flight, Ruto's allies had claimed that he had planned to carry out some agriculture business.
Others reportedly said the DP planned to employ top NRM honchos to join his campaign team. The ODM leaders took issue with what they claimed was a contradiction, asking Ruto to clear the air on his links with Museveni.
In a radio interview yesterday, the DP said that he was friends with the Uganda president, adding that he how admired Museveni transformed Uganda from a "food-deficit country into a food-surplus country".
He also referred to previous instances that saw him and Kenyan opposition leaders campaign for Museveni's re-election in separate occasions.
"Is it only right for Museveni to be friends with all these people and not with me? Am I not entitled to making friends?" posed Ruto, adding that he had planned to travel to the neighbouring country with businessmen who were also investors.
However, Kitui Governor Charity Ngilu questioned the DP's sincerity of providing employment to Kenyan youth if he was helping investors set up industries in foreign countries.
"Ruto claims that with a phone call, he helped a foreign investor get funding of Sh15 billion from a Kenyan bank to set up investment and create jobs in Uganda. In Kenya he is peddling wheelbarrows to our youth as a form of economic empowerment," she said. "Bottoms up indeed."
Former Mukurweini MP Kabando wa Kabando however said the tribulations of Ruto and his allies should not be celebrated.
"Not everyone in Jubilee 2013-17 supported excesses of the regime. Not everyone in ODM is supporting impunity of regime since the 2018 Handshake. Cord/Nasa was terrorised. Ruto/Tangatanga is being harrased. Those who cheered are victims now. Those cheering now will be victims tomorrow," said Kabando.