Uhuru drops erstwhile loyalists as Raila joins kitchen cabinet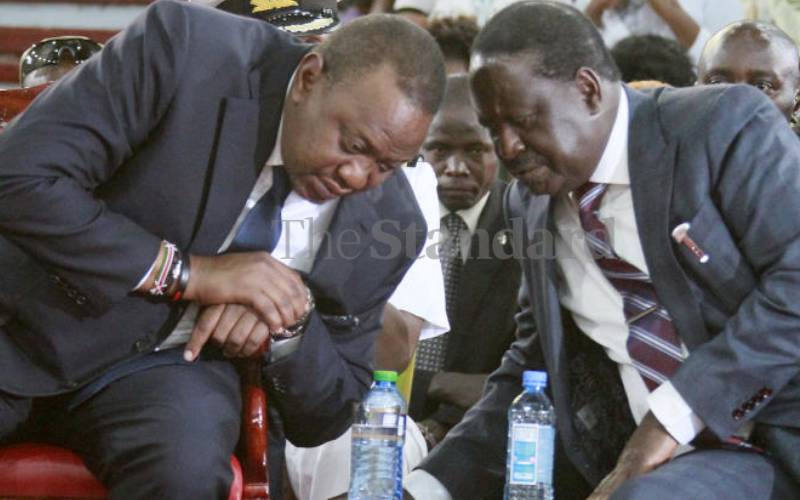 With just one more lap to go before he hangs up the presidential gloves, President Uhuru Kenyatta has rejigged his kitchen Cabinet, the coterie of advisers fixing his legacy.
It is change that has been most subtle, with erstwhile loyalists dropped and their enviable places quickly taken up by others. To put it bluntly, the tables have turned.
In other cases, those who were watching on the sidelines have leapt into the centre of things and are now defining the president's last moves in a way they never thought was possible.
The grand victim of this rearrangement is Deputy President William Ruto. Except for the occasional bump-ins on public events, Ruto has been a no-show near President Kenyatta of late. Gone are the days he could drive into State House for engagements with the president and hobnob around him in private events.
Ruto has only stepped into State House for a public event once this year. This despite the president hosting 45 public events at the country's seat of power.
Among the high profile events Ruto has missed at State House are the State visit of Tanzanian President Suluhu Hassan, Ethiopia's president Sahle-Work Zewde and visits of Foreign Affairs ministers from UK, Japan, Egypt and Saudi Arabia.
The only event he has attended at State House this year was a February 25 Cabinet meeting where he sat to the right of the president opposite Head of Public Service Joseph Kinyua. On February 18, Ruto missed a meeting of senior executive officials to discuss government priorities for the year. He has since missed, among others, the swearing-in of Chief Justice Martha Koome and a meeting of all diplomatic corps serving in Nairobi.
"State events are usually hosted by State House. They are better placed to say the number of occasions the DP has been invited. I can confirm he has attended all those that he's been invited to," Ruto's spokesman Emmanuel Tallam told The Standard.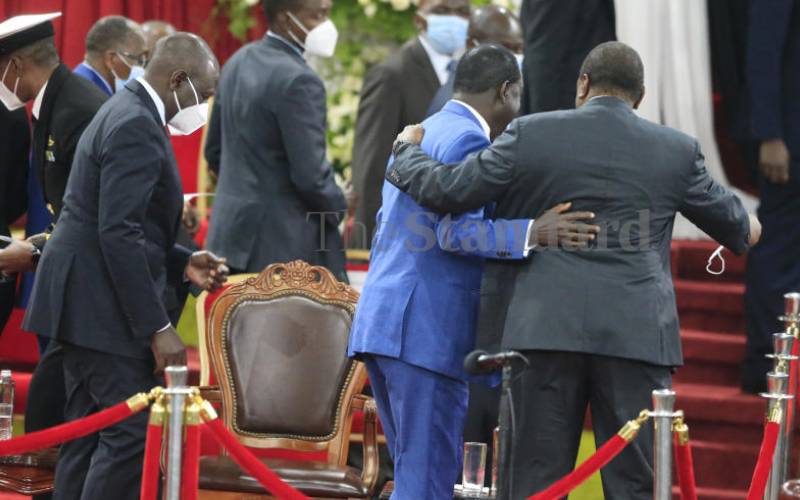 Mr Tallam, however, confirmed that Ruto has never missed a Cabinet meeting. "Cabinet is not Cabinet without the DP unless he's out on official function or indisposed."
During Suluhu's visit, he said the DP was not invited. "I can confirm that there was no invite."
Ruto's meetings with the president have been reduced to events. And these, too, are now far in-between. This year, they have met at the burials of Mzee Simeon Nyachae, Senator Yusuf Haji, the national prayer breakfast, and the Madaraka Day event in Kisumu.
In contrast to DP's rare State House visits, ODM leader Raila Odinga has visited the house on the hill at least four times. On the only day Ruto made a public visit to State House this year, Raila led a brigade of BBI top leaders in meeting the president.
He visited again during his city walk-about with Uhuru on April 1 and on May 28 when he led Luo Nyanza leaders for a consultative meeting.
It goes without saying that Ruto's troops who would accompany him to those meetings were equally dropped. Key among them is former Majority Leader Aden Duale (National Assembly) and Kipchumba Murkomen (Senate) as well as former Deputy Speaker Kithure Kindiki.
The "sky-team" trio was purged out of Jubilee's top leadership during the now-famous party fumigation presided over by the unrelenting Vice Chair David Murathe.
At the beginning of Jubilee's reign and all through the first half of Uhuru's second term, National Assembly Speaker Justin Muturi was an undisputed member of the Kitchen Cabinet.
By and by, however, he began to lose his place as the president shifted attention from Parliament to real politics. He found himself being kept waiting on his presidential appointments, usually taking Bills for assent into law.
Muturi did not wait to be told he's out. Mid last year, he read the writing on the wall and started to organise himself politically. Recently, Muturi was controversially crowned Mt Kenya spokesman in a move that has left a bitter taste in regional politics.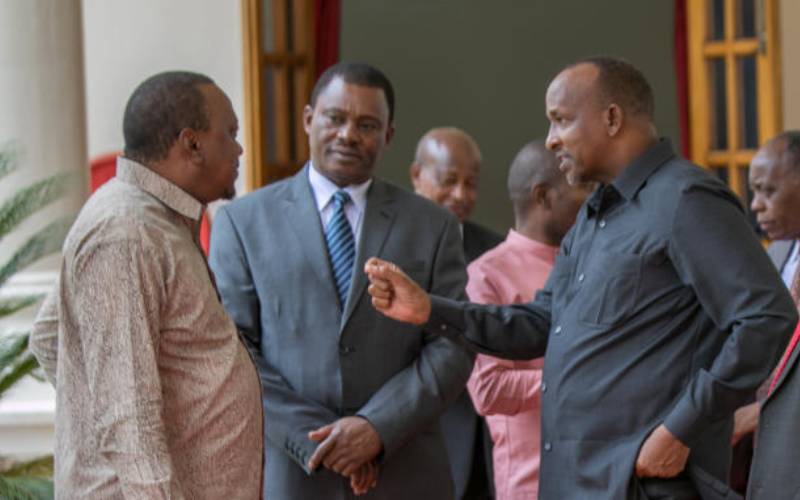 His other namesake, Njee Muturi, has been on the president's side for as long as the Kenyatta scion has been in politics. Njee was Uhuru's right-hand man throughout his turbulent period as official opposition leader between 2002 and 2007.
He crossed with him when he became Deputy Prime Minister, and to the Treasury as Finance minister to 2013 when they joined State House. He was appointed Solicitor-General in Uhuru's first term, but was moved to State House as Deputy Chief of Staff in charge of legal, constitutional and legislative affairs in 2017.
However, at the beginning of 2018, Njee's shine in government began to ebb away, inexplicably. He was no longer at the centre of things and operated mostly in Parliament. Njee has nevertheless managed to maintain himself as an able hand to the president owing to their long history.
The president's own kin, Jomo Gecaga, is the other casualty in the new order at State House. In the beginning of Uhuru's term, Jomo was always besides the president, sometimes holding the briefcase for him at local and international engagements as private secretary.
A constant feature in presidential events, Jomo, without notice or change of title, disappeared from the public limelight sometime in late 2019 shortly after a tongue-lashing in Namibia.
"I have a very long-serving PA with me here, and he's just looking at me and looking at his watch," the president complained over his aide's failure to make notes during his engagement with Kenyans in Windhoek.
And although he remains listed as the president's private secretary, nobody appears to know exactly where he is operating from at the moment. Unconfirmed accounts placed him at the Ministry of Health. "I haven't seen or talked to him for over six months. I am not sure of his whereabouts. Not unless I ask some of our colleagues," a government official formerly in his circles told this writer.
When Nzioka Waita was poached from telecommunication giant Safaricom in 2015, he effectively signed away the comfort of corporate world and opened himself up to the hard knocks of public office.
Heading the Presidential Delivery Unit (PDU) at the time, Nzioka did quite well in those days, earning himself a promotion as Chief of Staff of State House in 2018 after successfully purging the president's office of campaign allies.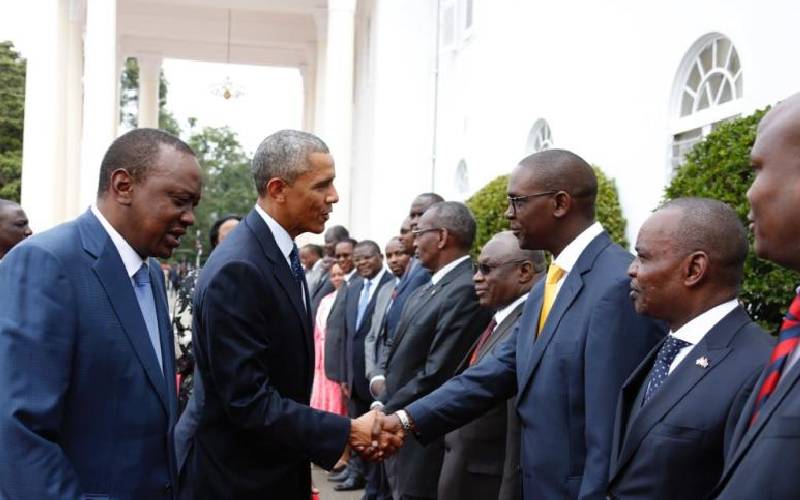 It is during this period that avid blogger Dennis Itumbi was sent packing alongside James Kinyua, David Nzioka and Eric Ng'eno while Munyori Buku's contract was not renewed.
But soon thereafter after doing the president's bidding, his influence began to wane. Sources say he sometimes learns of meetings when they are going on or other times after the fact.
With Kinyua's shadow looming large in State House, and Jasper Mbiuki, the secretary, legislative affairs and regulatory compliance eating into his space, Nzioka was increasingly pushed to the periphery of State power.
"I used to talk to His Excellency directly, not through intermediaries. Therefore I cannot say I am aware that His Excellency had a kitchen Cabinet," former Majority Whip in the Senate, Irungu Kang'ata, told The Standard when asked who he dealt with during the Jubilee purge last year.
Raila is said to have filled the void left by Ruto, and is often consulted on important matters of State by his "brother", President Kenyatta.
Raphael Tuju, the only Cabinet Secretary without portfolio and Jubilee Party secretary-general took up the combined positions left by DP's zealous supporters, Duale, Kindiki and Murkomen. He reportedly wields considerable confluence power of his party office, Cabinet posting and sharing a region with Raila.
"In the president's last term he has no friends or allies other than former PM, HE Raila Odinga. The president is a master tactician and has perfected the art of separating friends from politics," State House director of political affairs Machel Waikenda told The Standard.
"This is the time to deliver to Kenyans, not to carry excess baggage," he added.
Other members of the kitchen Cabinet include the reclusive Nancy Gitau, the brains behind the BBI juggernaut, Muhoho Kenyatta, the president's brother and by extension, Murathe.
The latest entry into this club is "tyranny of numbers" proponent Mutahi Ngunyi who has stomped back to the centre where he's taken charge of the president's political communication.
And while Uhuru has an able cast of CSs, none of them has penetrated the enviable wall to enter his kitchen Cabinet. Neither Interior CS Fred Matiang'i nor his Health counterpart Mutahi Kagwe can confidently boast of being "insiders".