Bring it on, Ruto challenges Raila and Kalonzo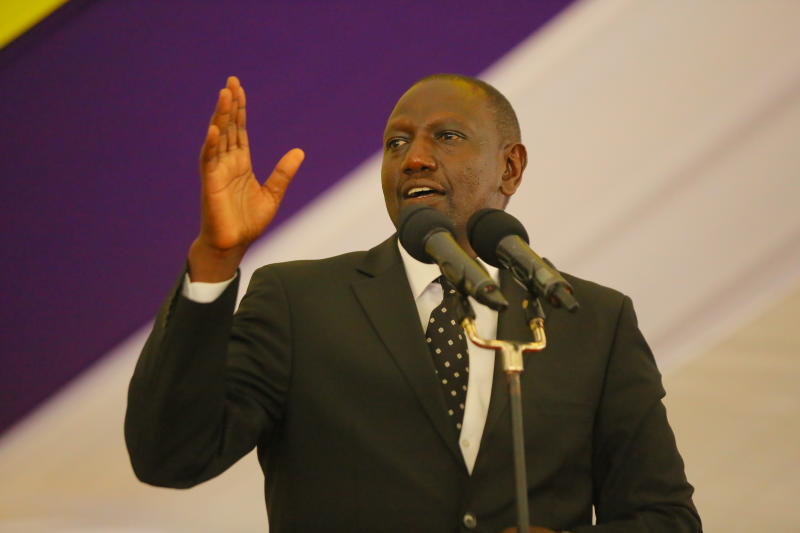 Deputy President William Ruto yesterday challenged ODM leader Raila Odinga and Wiper leader Kalonzo Musyoka to unite and face him in the next General Election.
Ruto, who was in Tala, Kangundo Constituency a day after Raila and Kalonzo said they would unite to thwart his bid to succeed President Uhuru Kenyatta, said he was eager to face their united front at the ballot.
The DP faulted Raila and Kalonzo for being motivated by the desire to see him losing, rather than to actually lead the country.
"You heard them yesterday saying that if they don't unite, this hustler will defeat them.
"I think uniting is a very good idea. If they will have tribal parties they will still lose," said Ruto.
During the burial of former Kibwezi MP, Kalembe Ndile in Mbui Nzau, Makueni County, Raila, Kalonzo and Kitui Governor Charity Ngilu made a case for unity of the Opposition.
Raila said he had come a long way with Kalonzo, and would not make the mistake of separating with him.
"Kalonzo and myself, we cannot separate. We will unite and bring true redemption to Kenya."
Kalonzo said Nasa was still alive, and One Kenya Alliance (OKA) was also on the cards.
He said he would not run alone, but on an alliance ticket that would 'sweep the country clean'.
"We are very much aware that not one of us can run alone and win. But we have allowed every one of us to show their ambition, including governors Kibwana and Mutua.
"However, when the trumpet is sounded, you will see them standing behind me," Kalonzo said.
But Ruto questioned their motivation in running for office, wondering what agenda they would sell to the public.
"Uniting to defeat someone will not help the people. They should unite and come up with an agenda for Kenya.
"You cannot just unite merely because you want to defeat somebody. What if you don't defeat him?" he said.
The DP also contrasted his 'hustler movement' to the plans his challengers had, saying that under his movement, the country had an agenda for positive transformation, unlike his opponents who were driven by tribalism and economic exclusion.
"We are changing our economic model so that it no longer trickles down where a few people benefit, but an agenda that makes sure every ordinary citizen either has a job or runs a business," said Ruto.