Murathe: Uhuru still Mt Kenya spokesman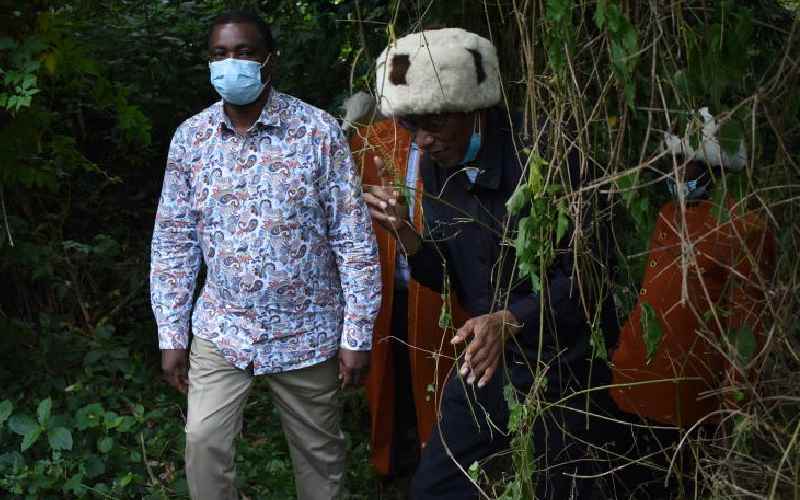 National Assembly Speaker Justin Muturi was yesterday facing headwinds ahead of his planned coronation as Mt Kenya spokesperson today.
The event expected to be held at the Mukurwe wa Nyagathanga shrine in Murang'a County has elicited heated political debate with divergent camps emerging and standing their ground.
Whereas one faction has vowed to block the ceremony, another maintains that it must go on, leaving the mountain divided on who will succeed President Uhuru Kenyatta as its kingpin when he leaves office next year.
Leaders from the region have also waded into the succession politics, setting the stage for a fierce contest.
Jubilee Party vice chair David Murathe yesterday criticised the coronation ceremony, hinting that Muturi was using it as a stepping stone to his presidential ambitions.
"You cannot have another spokesperson when President Kenyatta is already there. Muturi was in the Sagana meeting where the whole community agreed that whether the president is in office or not, he will remain the spokesman of Mt Kenya," stated Murathe.
"Muturi could be nurturing certain ambitions and if he comes to us and says what he wants, we are happy to listen. I think what is informing Muturi's moves at the moment is the feeling in Mt Kenya that we are all lining up to be running mates of either Raila Odinga, William Ruto, Musalia Mudavadi or Kalonzo and so forth…," he added.
Mathira MP Rigathi Gachagua opposed the planned fete, terming elders steering the plans as mere brokers.
"Those elders that are going to coronate Muturi are the same ones that went to coronate Raila," he said on Crossfire Show on KTN NEWS.
"They are just brokers for hire. If he (Muturi) wants to be anything in Mt Kenya, he must forget those elders. He must come to the people and speak out on the issues affecting our community especially when there is trouble. There is no leadership that will be given by elders but the people."
Kirinyaga Governor Anne Waiguru also said that without consulting the leaders and people of Mt Kenya, the "enthronement" of Muturi would have little impact politically.
"Ultimately Speaker Muturi and others seeking votes from Mt Kenya and elsewhere will have to seek votes from the only legitimate determinants of leadership, the people," she said.
"In the meantime, it must be remembered that as a political community, our leader, H.E. President Uhuru Kenyatta has not vacated his seat and culturally, we don't inherit one when they are still alive."
A group of leaders from Mount Kenya East led by Meru Governor Kiraitu Murungi, however, supported the coronation of Muturi, noting that despite the huge population, Mt Kenya region has lost its voice and political strength and there was need to capture it back through Muturi.
"We feel the Mt Kenya region is becoming politically marginalised and disadvantaged despite our overwhelming numbers in terms of population. We are not getting the space that we should be getting at national level," said Governor Murungi.
"We recognise President Uhuru Kenyatta as the regional leader and he is also the national leader. But because of those two roles, the president cannot come out strongly to support regional interests because he has to take care of the interests of the entire country," he added.
They are concerned that the region's political punch had grown weak and hold that Muturi is best placed to remedy this.
"Our elders on the other side of the mountain (west) should support us. I don't think it's asking too much. We have traditionally supported them."
On plans to block the coronation, Murungi said: "I am surprised by those saying that Muturi cannot be appointed as spokesperson as he is an Embu and not Kikuyu. We are one people."
The sentiments came as drama ensued in Murang'a yesterday when MCA Habile Chege, two journalists and several youth were arrested during a press conference to condemn the planned coronation of Muturi.
More drama could be witnessed today as leaders allied to Muranga Governor Mwangi wa Iria have vowed to stop the ceremony by blocking access to the shrine.
Governor wa Iria opposed the ceremony and banned any political activities at the shrine.
He stated that the shrine was protected and 'not a place where leaders take their sideshows.'
"The shrine is under our custody and we shall ensure it is protected and nobody will be allowed in because we are not going to let it be turned into a political stadium," stated the governor.
Consequently, area MCAs led by Stephen Chege (Nominated) have maintained that elders only go to the shrine when "the community is under siege either from a pandemic or when there's a major issue."
"Muturi is supposed to approach the elected leaders and the elders of the Agikuyu because we are not aware of what is happening as we speak.
"The national chair Wachira Wakiago and Governor Wa Iria are not aware and we want to send a clear warning to him,"Chege said in Murang'a.
"We have always had others trying to do the same and they haven't ended up with a very good story."
On his part, Muturi – who just concluded a 10-day cleansing ritual ahead of today's ceremony- says that he is ready to take up the mantle as the region's spokesman and succeed Uhuru as the area's kingpin.
"I am ready for the task ahead and for the advice that will be given by the elders. I am ready to carry on with whatever responsibilities the elders will bestow on me on behalf of the region," said Muturi.