Bonchari, Juja by-elections in limbo as AG heads to Court of Appeal
Two by-elections that are to be conducted next week may not happen following yesterday's High Court's verdict that Independent Electoral and Boundaries Commission (IEBC) has no quorum.
While pleading with the High Court judges to suspend their finding on the IEBC's quorum for at least 14 days, IEBC lawyer Eric Gumbo argued that the electoral agency was handicapped and that the by-elections in Bonchari and Juja constituencies may not happen next week.
"On behalf of the IEBC, we have a unique concern that cannot wait. Because the court has touched on the quorum of the IEBC, the IEBC is put in an awkward position because of a by-election slated for Monday in Juja and another by-election in Bonchari," the lawyer argued. He added that the Constitution required the commission to conduct a by-election within 90 days.
"The timelines within which the by-elections must be conducted have been defiled and are cast on stone. Because of that unique concern, if we will wait for the formal application, substantial prejudice will be prejudiced," he said.
The decision by the five-judge bench not only affects the two by-elections, but they also have an implication on other by-elections conducted by the current commissioners.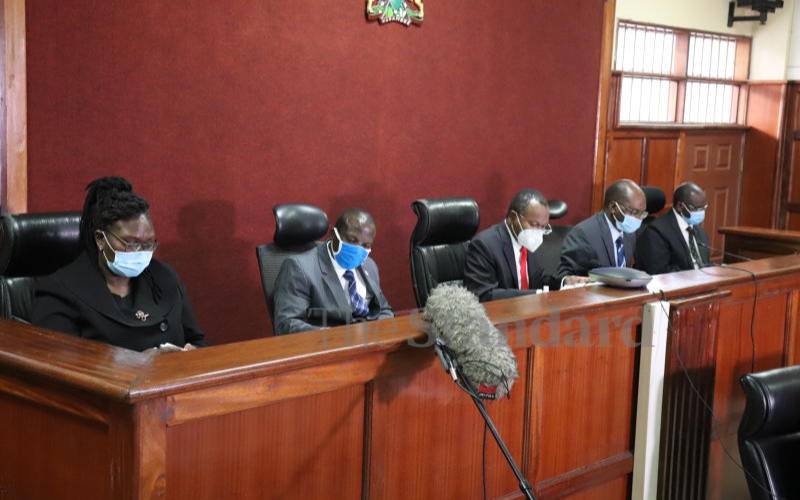 Meanwhile, Attorney General Kihara Kairuki vowed to challenge the verdict on the Building Bridges Initiative before the Court of Appeal.
In his application seeking to have the five-judge bench suspend the implementation of its judgment to allow him to appeal, Justice Kihara explained that he was aggrieved with the court's decision that the process was illegal, adding that public interest on the matter needed an interpretation by a higher court.
According to him, the Amendment Bill, which was challenged before Justices Prof Joel Ngugi, George Odunga, Jairus Ngaah, Teresiah Matheka and Chacha Mwita, was validated by 3 million Kenyans, passed by more than 24 counties, and subsequently passed by National Assembly and the Senate.
"It is in the public interest that pending the filing of the Appeal and to enable him to exercise his right of appeal, an interim stay of execution of the judgment be hereby stayed. It is critical to take judicial notice of the fact that the BBI process has been undertaken extensively, over 3 million signatures have been collected, to the critical constitutional processes such as consideration of the Bill by the county assemblies have been undertaken, the Amendment Bill has been passed by the majority members of the National Assembly and the Senate," argued Solicitor General Ken Ogeto.
"Second relates to that the judgment you have just rendered raises fundamental questions with far-reaching implications. The Hon AG is dissatisfied with the judgment in its entirety, and he has firm instructions to move to the court of Appeal to challenge this decision. The public interest is a serious consideration in considering a relief in a matter such as this. I urge your honor to grant a stay of your judgment."