Bunge Chronicles: Ngunjiri, Malala tongue-tied as they turn on their word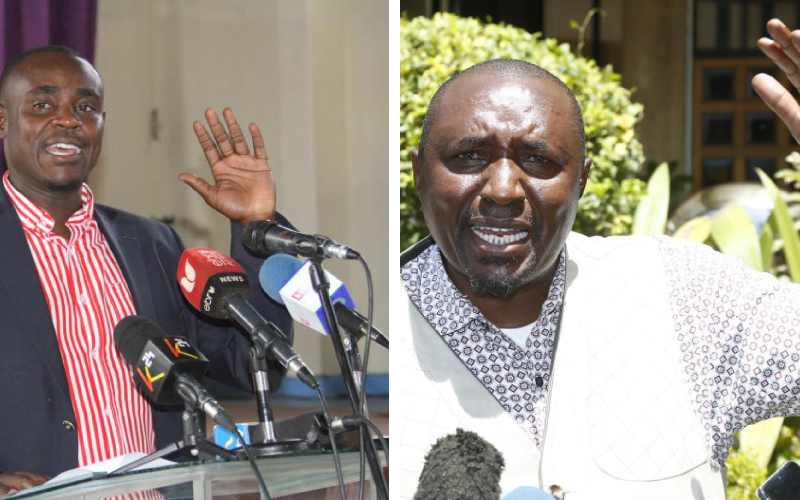 As Tanzania President Samia Suluhu exited the National Assembly on Wednesday, our beloved waheshimiwa stretched their hands out, hoping she would respond as sportspersons greet their fans.
That showed how deep the Tanzania president had touched them and how bad they were dying to touch her hands.
Suluhu's speech was the highlight and seemed that it would outdo any other event in Bunge last week. Her presence, it was expected, would be felt for days in our venerable august House.
That was until Bahati's mhesh, Kimani Ngunjiri, stepped up to audition for Bunge's premiere show, 10 seconds of fame. The show allows them to showcase bad behaviour in 10 seconds.
In Thursday's episode, Ngunjiri perfected the skill of going back on his word.
A fierce critic of the Building Bridges Initiative (BBI), many expected he would strike the snake dead with his famous white "fimbo". But people were not surprised with his change of heart.
An MP's mind changes constantly based on what the wahesh have fancifully referred to as "interests". It is no wonder that a significant number, while campaigning to be elected, promise, "nitajenga barabara", only to turn back and claim that was never their job.
So, Ngunjiri was bound to change his mind and, in effect, earned a permanent spot in the minds of political-savvy Kenyans, who find pleasure in rhetoric and who don't mind doublespeak.
But Ngunjiri's win did not come easy, as he had to put off competition in a grueling fight. Among those he had to battle with were nine other supporters of Deputy President William Ruto who had also made a U-turn on the BBI Bill.
And those were not the only challengers the Bahati mhesh faced. Earlier that day, Kakamega Senator Cleophas Malala had a go at trying to prove that he was the best at speaking from both sides of the mouth when he issued contradictory statements on his stand on the Bill.
On one hand, he lauded the benefits of BBI. On the other, he lamented over concerns that the Bill would not address some historical injustices.
He would have been the top contender for 'best act' had he not broken the rules by hogging the stage for more than 10 seconds. His actions handed his Nandi colleague, Samson Cherargei, the chance to see through him.
"He is giving us a kiss of Judas, Mr Speaker," Cherargei warned.
Embarrassed that his colleagues had found him out, Malala admitted that he had tried to emulate a colleague he claimed was a master of doublespeak.
"Mr Speaker, I'm just picking cue from my father, Senator (Moses) Wetang'ula, who speaks his mind and votes otherwise," he said.
On Friday, Majority Leader Amos Kimunya and Minority Whip Junet Mohamed displayed another talent waheshimiwa have – issuing empty threats. They began by warning senators against shooting down the Bill. When that did not work, they threatened to impeach William Ruto.
Brian Otieno