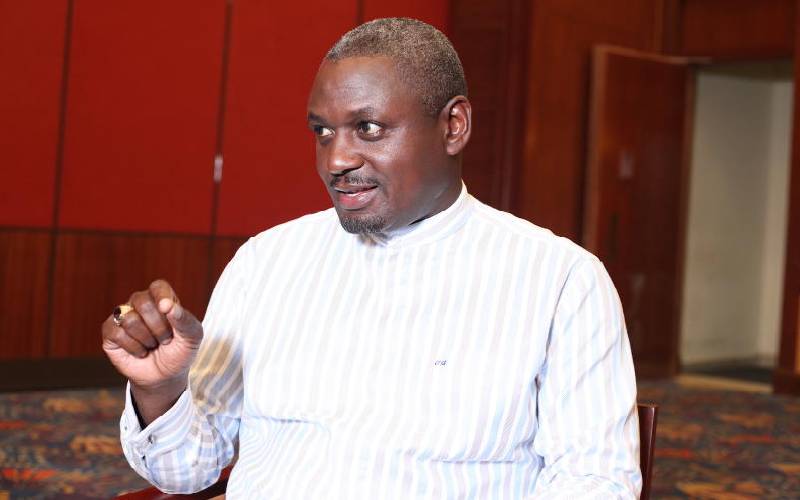 Rarieda MP Otiende Amollo has dismissed reports that he sent a text to ODM leader Raila Odinga threatening to resign as vice-chair of the National Assembly Justice and Legal Affairs Committee (JLAC).
Speaking on Citizen TV on Thursday, May 6, 2021, Otiende said Raila had nothing to do with his removal, adding that they frequently talk with the former PM.
"Other than being my party leader, Raila is my client so if I were to snub a meeting with him as the ODM leader, I will still go as a client," he added.
He challenged the media to ask ODM national chair John Mbadi to show them the text where he is reported to have threatened to resign.
"I don't want to be part of these lies being peddled by these spin masters who are out to run away from the actual issues."
Otiende also dismissed reports in the media showing that he was removed for opposing the Building Bridges Initiative (BBI) Bill saying his position on BBI is in the public.
Misreporting
He accused unnamed schemers behind his removal from the committee of feeding the media with lies that Raila sanctioned his removal and that it had everything to do with the BBI.
The lawmaker said if he was removed because of his position on BBI even the committee's chair Muturi Kigano could have been removed.
"We're 20 in JLAC and only two MPs allied to Tangatanga abstained, all the others including me signed that BBI should be adopted without amendment."
On the claims that his 'kizungu mingi' led to his removal, the Senior Council said he went to school to communicate in English and cannot revert to Dholuo when in Parliament.
He said those accusing him of speaking a lot of English are the same people who benefited from it during the 2017 presidential petition at the Supreme Court.
"Do they want me to use Dholuo in Parliament? It is unfair for the same people [ODM MPs] who relied on my 'kizungu mingi' during the 2017 presidential petition for us to win to blame me for it."
The MP said his removal was not discussed in party organs as should be the case, saying even Deputy Party leader Wycliffe Oparanya and senior party officials were not aware of it.
"My de-whipping has never been discussed in party organs and Governor Oparanya confirmed that," he said.
The legislator said they had a tiff with Mbadi in Parliament during the debate on the BBI Bill because the Suba South MP kept on shouting at him as he made his point, but it was not a disagreement.
Tiff with Mbadi
He said he was making a constitutional clarification in the House but Mbadi shouted at him prompting him to remind him he was not a lawyer.
"It is true we had a small tiff with Mbadi and that is normal he kept shouting me down and it was an argument," he added.
The MP, however, said there was nothing wrong or unusual with his removal, adding that such changes were normal in politics.
He said there is nothing one gets from being JLAC vice-chair but additional responsibilities to your party, parliament and the country.
"If the party feels I don't serve them well in the House committee like a few people have decided, then so be it. I am okay with that."
Otiende was on Wednesday kicked out as JLAC vice-chair less than a year after he assumed office.
The Rarieda MP, who was replaced by Ruaraka MP T.J Kajwang', appears to have rattled a section of the Orange party members not comfortable with his stance on the Building Bridges Initiative (BBI) Bill.
Mbadi said the decision to remove the Rarieda MP was in line with the aspirations of the ODM party and NASA.
"We have made changes in the JLAC to align with the aspirations of ODM and NASA coalition. Kajwang' is joining; he may not be a professor in law but he is the people's chief justice," said Mbadi.
Download the BBI Judgement by all seven Judges - Civil Appeal No. E291 of 2021