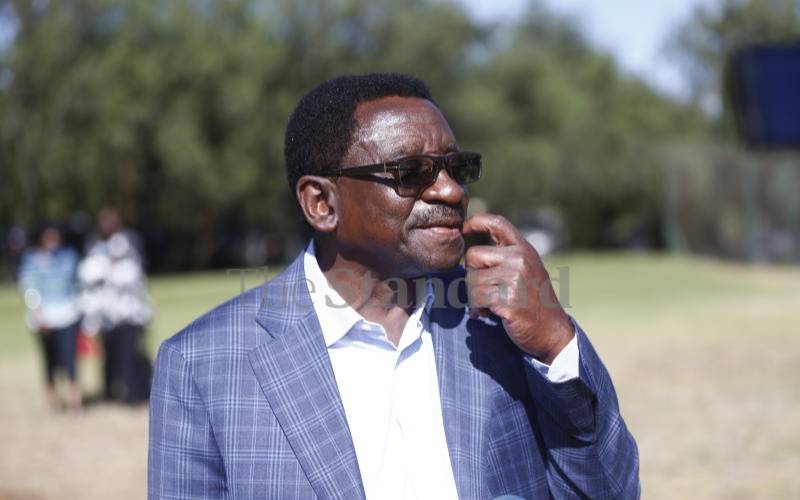 Local rivalry between two Siaya politicians turned a function attended by, among others, Siaya Senator James Orengo, Nyakach MP Aduma Owuor and his Rarieda counterpart Otiende Amollo, into a bitter stone-throwing and chair-hurling battle.
The lawmakers' bodyguards had to swing in action and whisk them to safety as the situation span out of control.
Orengo and other ODM MPs were forced to flee for safety on Friday after a fight erupted between mobs allied to Alego Usonga MP Sam Atandi and local politician Kut Ochogo.
The legislators had reportedly attended the installation ceremony of Bar Osimbo Sub-Location Assistant Chief Risper, South East Alego when youths allied to Ochogo demanded that he be allowed to address the gathering something that was opposed by Atandi.
According to sources, Atandi insisted that the function was not political hence there was no need for his rival to address it.
Trouble started when Ochogo stood to address the function as the rival camps shouted at each other.
Things turned ugly when they started throwing stones and chairs at each other, forcing the legislators' bodyguards to shoot in the air.
The angry youths charged at the MPs as they fled to the chopper.
The youths did not spare the chopper as they started pelting it with stones.
While speaking to The Standard on phone, Ochogo accused Atandi of trying to muzzle his opponents.
"People became angry after he insisted I could not address them, it is political intolerance," he said.
Attacked by goons
Atandi, however, denied there was a function, adding that they were attacked by goons hired by a local aspirant eying Alego Usonga parliamentary seat.
Atandi said Orengo, Otiende and Aduma had flown in a chopper to South East Alego on their way from a funeral in Nyatike when the goons started pelting the chopper with stones forcing his security officers to shoot in the air to scare them.
He said they all left the place unhurt, adding that police were pursuing the goons and they will soon be arrested.
"There was no function, known local goons hired by a local MP aspirant, rushed to the school where the chopper had landed and started pelting it with stones before we left," he said.