Uhuru submits Martha Koome's name to parliament for vetting as CJ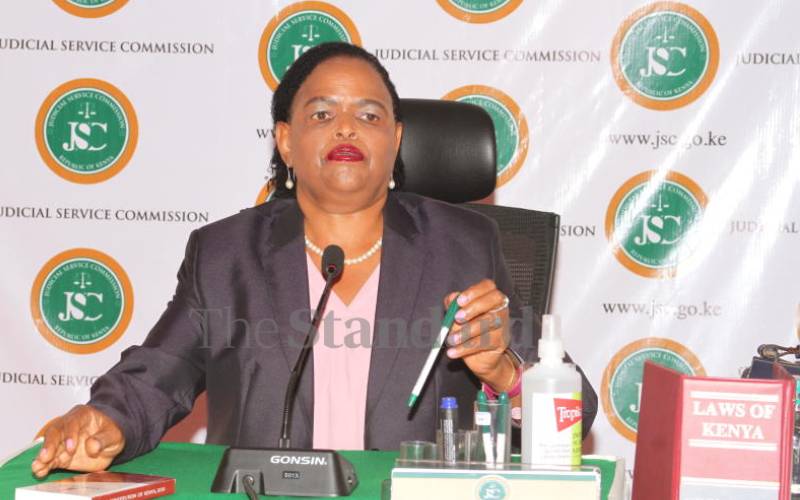 President Uhuru Kenyatta has submitted the name of Lady to Parliament for approval following JSC nomination.
This now paves the way for the National Assembly to begin vetting and approval for the appointment of Justice Martha Koome as Kenya's 15th Chief Justice.
Uhuru on Wednesday formally communicated to the House, Justice Koome's nomination for CJ and President of the Supreme Court.
While communicating to Members, Speaker Justin Muturi presented the certificate of presidential nomination, the judge's CV, testimonials and recommendation of the Judicial Service Commission on the recruitment and selection process for the Chief Justice.
Muturi said the head of state seeks the approval of the National Assembly on the said nomination.
As a result, Muturi directed the Justice and Legal Affairs Committee chaired by Kangema MP Muturi Kigano to conduct the vetting and report the findings to the House within 28 days.
"You should notify the nominee and the general public immediately of the date and place of the approval hearings," Muturi said.
"The committee should thereafter commence the necessary approval hearings and submit a report on or before May 25 for debate and decision by the House," he added.
The law provides that the President appoints the Chief Justice and deputy chief justice in accordance with the JSC recommendations and subject to the approval of the National Assembly.
Koome's mix of experience in private legal practice and Judiciary has won her the Chief Justice position.
Justice Koome's quest to become the first woman Chief Justice now lies in the hands of Parliament after the Judicial Service Commission (JSC) forwarded her name to President Uhuru Kenyatta for transmission to the legislators for vetting.
Although the commission declined to disclose why they settled on Justice Koome, acting JSC chairperson Olive Mugenda stated that it was a unanimous decision by the nine commissioners that she was the best of the 10 candidates interviewed for the position.
"After a long day's deliberations and evaluations of the candidates, the commission unanimously agreed that she is the best candidate and submitted her name to His Excellency the President for consideration and appointment," said Prof Mugenda.
Asked how they graded the other nine candidates, Mugenda stated that their role was only to select the best candidate and not other considerations.