Ben Githae still supports UhuRuto as Kenyans mock 'Tano Tena' slogan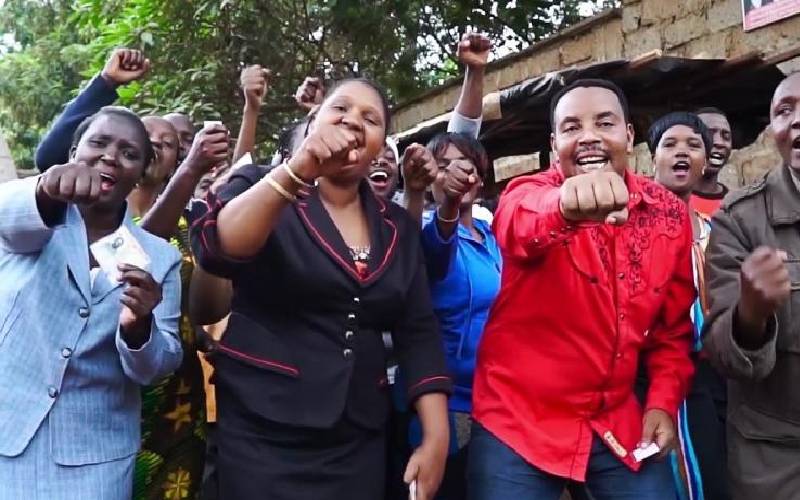 During the 2017 election campaigns, Jubilee supporters taunted their rivals with the popular 'Tano Tena' slogan and even composed songs praising President Uhuru Kenyatta and his deputy William Ruto.
The 'Tano Tena' catchphrase gained traction as the Jubilee duo wooed Kenyan voters to re-elect them and complete the work they had started in 2013.
Gospel musician Ben Githae composed the song Tano Tena, praising UhuRuto. The President and his deputy were able to marshal supporters to cast the ballot twice after the Supreme Court nullified the presidential election results.
They won on the platform of the Big Four agenda: food security, affordable housing, manufacturing, and affordable healthcare for all. However, three years down the line, the song is used to criticise Jubilee supporters who accuse the UhuRuto administration of giving them a raw deal, especially during the harsh economic times caused by Covid-19.
Twitter user Kaberia wa Kaberia said, "This song by Githae was a curse for this country".
But Githae, told The Standard he has no regret s. He said he was singing in praise for his candidate of choice and still supports his administration.
"I still support Uhuru to date and I still strongly believe in the lyrics of my song. Even with the backlash that I have received, I have no regrets," he said.
Kenyans are bitter with the Jubilee administration over unfulfilled election pledges.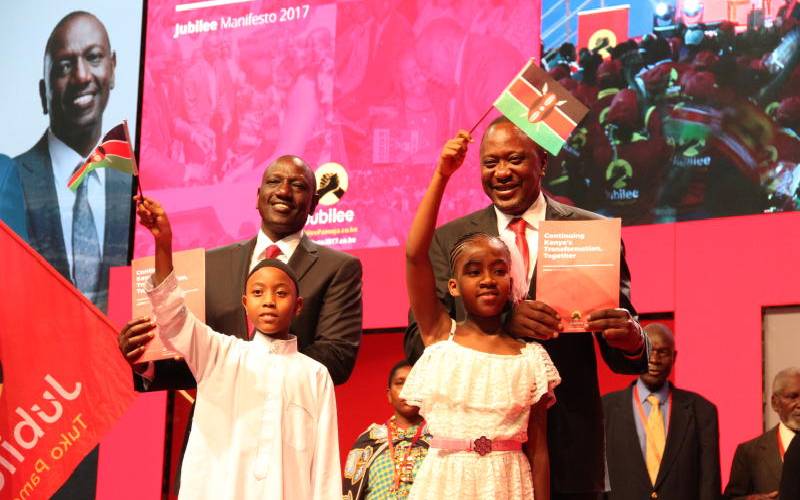 According to governance analyst Javas Bigambo, voters should be more informed and take their time to know the leaders seeking offices.
He said voters get themselves in a social-political agreement with the person they vote for and have a right to audit their performance.
Bigambo said most leaders have become cunning and take voters for granted because they know they will give them handouts to secure votes.
"Leaders know they did not earn a vote but bought it with handouts. What should be done is to familiarise themselves with their manifesto so that when it comes to questioning why they haven't delivered, you know the objectives, and are better placed to ask questions," he said.
He added: "Most leaders only pick specifics from their manifesto to sell and once they get to the office, they forget them."
The majority of Kenyans have regretted their choice in the vote even as the general election draws close.
But political analyst Prof Edward Kisiangani says Kenyans should move away from the thought of boycotting the vote as they will continue to suffer.
"Life is full of disappointments and Kenya is not a paradise. We must continue exercising our rights and keep voting with the hope that one day we will get it right," he said.
However, he said although Kenyans have a right to express disappointment in the Jubilee government they are partly to blame for voting them in office.
Political analyst Macharia Munene concurred with Kisiangani, saying, "People are now expressing emotions because they have been disappointed, but saying they will not vote is a tragic path and not the way to go."
Munene said Kenyans now know who is performing and who is not. "During Kibaki's government people were happy because they could see what was delivered but unfortunately for UhuRuto, the difference is clear."