Raila's Statehouse race application was a prank, says ODM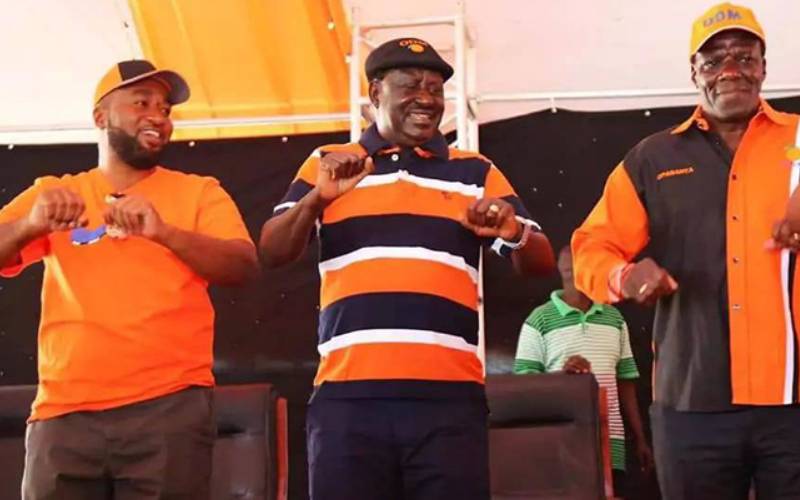 ODM Party Leader Raila Odinga's application to face-off with his two deputies for the Presidential ticket was a prank, Secretary-General Edwin Sifuna has stated.
A day after the National Elections Board (NEB) chairperson Prof Catherin Mumma made public the list of three aspirants seeking to contest on the party's ticket, Sifuna clarified that it was a prank being April Fool's' Day.
In a hard-hitting statement calling out the media for being fooled, Sifuna indicated that Raila did not apply by the close of the March 31 deadline set by NEB and instead only his deputies governors Hassan Joho (Mombasa) and Wycliffe Oparanya (Kakamega) had applied.
"So here is the position. Raila Odinga did not apply for the party's ticket. His long-held position is that he will not discuss 2022 until after the BBI process is done," read Sifuna's statement.
He argued, "We took the liberty of joining in the day's pranks with our communication yesterday knowing well our friends in media and politics would not know better."
The April Fools' Day ends at mid-day.
According to Sifuna, Raila has long held a position that he will not discuss the general election until after the Building Bridges Initiative (BBI) process is done.
"At the close of the application period, the party received only two applications from Joho and Oparanya. These will be processed in the usual manner by the NEB," said Sifuna.
He faulted, "We see many, especially our political opponents swallowed it hook line and sinker. They came out gun blazing, frothing at the mouth, at an April Fools' misdirection."
National Super Alliance (NASA) partner, ANC leader Musalia Mudavadi had faulted Raila, saying the pact they entered into was to ensure Raila does not contest in 2022.
Mudavadi accused Raila of perfecting the art of deceit to destroy coalitions for his own benefit.
"You need to lighten up, friends, it's never that serious," said Sifuna in reference to Mudavadi statement.
If at all Raila will be on the ballot, this will be his fifth-time stab at the presidency.
On Thursday, Prof Mumma released that statement informing party members that three aspirants had applied.
"The NEB shall scrutinize the three applications, vet the candidates as required by the ODM elections and Nominations Rules and subsequently thereto announce the next processes and time taken in accordance with the ODM constitution.