Didmus retreats, hat in hand, to the ground in search of elusive unity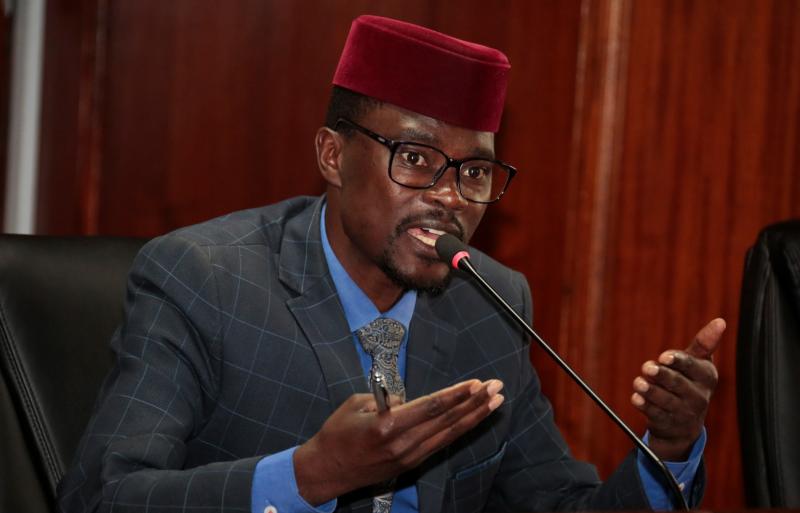 Didmus Barasa (Didi) may not be the most famous Mheshimiwa, but he is perhaps the most noticeable. Of course, it has a lot to do with his signature red hat that almost seems like part of his head.
Of all his belongings, the hat appears his most prized. He wears it on every occasion. Besides the hat, his towering height and symmetrical frame–seemingly made for suits–make him hard to miss in an event or media briefing. Then there is his impeccable jawline.
You would notice these physical attributes if the Mheshimiwa for Kimilili walks into a room. And in case you miss his entrance, you would notice him from his thick accent and the forceful manner through which he speaks, which make him the most conspicuous person in any crowd.
When he speaks, his jawline doesn't seem as impressive, distorting, courtesy of his aggressive speaking. And Didi knows that speaking as he does, he has a thing going for him.
For the longest time, Raila Odinga has had his name played from the speaker that is Didi's mouth. The Kimilili lawmaker has composed songs castigating Baba and vowed to do all within his power to block his ascension to the presidency.
Back to his hat. From his love for the accessory, it wouldn't be surprising to learn that he may take showers with it. That he keeps it at his bedside may be another revelation that wouldn't surprise anyone.
Curiously, whenever he has removed the hat, it was always as a result of some coercion occasioned by his presence in rather sacred grounds.
In Bunge, his fellow MPs are always ready to flag the presence of the 'unparliamentary' attire to the Speaker. His colleagues are, however, humane as they accord him the chance to remove his headgear by himself.
Others haven't been as kind. In 2019, the co-opted body part was spotted in Kibra, the sacred place referred to as Baba's bedroom.
Didi, alongside other Jubilee party members, thought they could sneak in the party's candidate in the constituency's by-election, McDonald Mariga, inside Baba's sleeping place in his absence.
As the Kimilili MP found out when he was roughed up by some goons, Baba is the only one allowed to wear a hat in his bedroom. Of all the things the goons could have obtained from him, they chose his most valuable possession.
Later, during an Orange Democratic Movement (ODM) party rally, the cap found itself on the unfamiliar head of Suna East MP Junet Mohamed, who confessed to having found it too precious to give back to the owner. That was after Didi had issued threats to whoever had stolen the hat to give it back.
But that is not the only hat Didi is known to wear. Elected into Bunge in 2017, the first-time lawmaker was among a handful of MPs who won as independent candidates.
He would soon learn that there was no fun in being independent and joined Jubilee before later settling into the splinter Tangatanga faction, where, just like his cap, he fit perfectly.
Until recently, he had been a vocal defender of the deputy president, telling off his opponents on various platforms. Last week, Didi announced that he would be taking a break from actively supporting the William Ruto-led faction. His reason? The unity of his community was more important than everything he had said for years now when he did the DP's bidding.
His move came on the heels of humiliating defeats of United Democratic Alliance party candidates in two by-elections in the western region.
And while Didi insists that his road to Damascus moment is as a result of fashioning unity, the defeats in Matungu and Kabuchai suggest that he had no choice but to align himself with what the ground was saying.
Just as he has been forced to take off his headgear in Bunge and Kibra, circumstances are seemingly forcing him to assess his allegiances and seek another strategy that would better fit his need for political survival.