Uasin Gishu ward reps abstain from voting on BBI Bill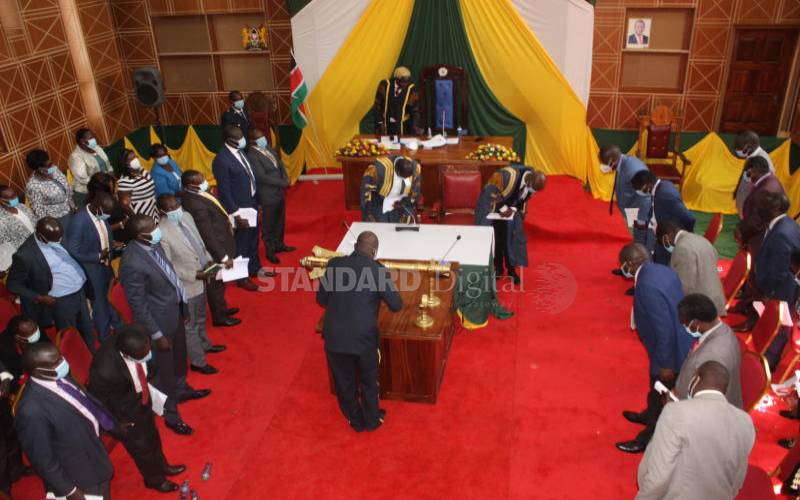 Uasin Gishu has become the first county assembly to abstain from voting on the Constitution of Kenya (Amendment) Bill, 2020.
The county assembly, which was the last to debate the BBI Bill, did not take a vote after a long and heated debate during proceedings chaired by Speaker David Kiplagat.
It is a unique stand taken by the county legislative body that was the first in 2019 to back 'Punguza Mizigo' initiative fronted by Thirdway Alliance leader Ekuru Aukot.
All 46 Members of the County Assembly were present during the debate that saw the first round of adopting a report by the committee on delegated legislation fail in acclamation.
The committee in its report, after public participation forums in 30 wards, recommended that the assembly abstains from voting, saying the region is highly cosmopolitan hence voting 'Yes' or 'No' for BBI would split the electorate.
Patrick Bundotich, the chair of the 12-member committee on delegated legislation, said the members were also split into two, hence the resolve to recommend that the county assembly abstains from voting on the BBI Bill.
"In view of the just-concluded public participation and the response received from members of the public, the Committee on Delegated County Legislation recommends to the assembly to adopt this report and consequently abstain from considering the BBI Bill," said Mr Bundotich while delivering the report.
He said the public noted that the proposals were good in principle but negate the basic foundation of political stability, which is the cornerstone of any democracy, especially in the cosmopolitan Uasin Gishu County.
"Some members of the public stated that the passage of the Bill would increase tax burden to the citizens as it seeks to increase representation in Parliament and in the Executive," said Bundotich.
The recommendation to abstain from voting irked several members who said the county should give its stand, noting that resources and time had been spent during public participation forums.
Jenny Too said the only negative issue raised in the report during public participation is that it will be costly to the taxpayer.
"If we are going for public participation for the people that we represent in Uasin Gishu County and are able to write a report, why do we abstain from it? We need to take a stand," said Too.
"By voting 'No' or 'Yes' this may cause division in the county," said Mr Josephat Lowoi, the assembly's Majority Leader.