Raila joins Joho to oppose Kingi's Coast party push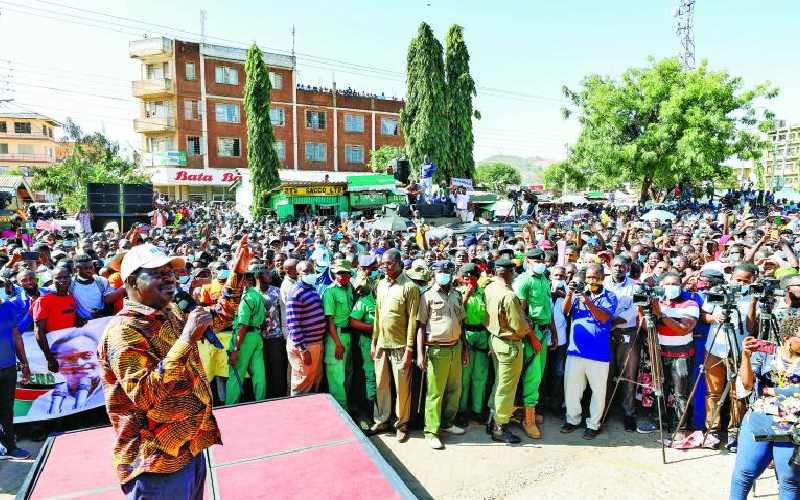 ODM leader Raila Odinga has asked Coast leaders to stop the clamour for a regional party at a time when they are working to unite the country through the Building Bridges Initiative (BBI).
Raila said the idea of regional parties has outlived its usefulness and urged those agitating for it to join other larger parties with a national outlook.
He said regional parties will dismember the country into tribal cocoons instead of the national unity espoused in the Constitution of Kenya (Amendment) Bill 2020.
"There is no need to form tribal regional parties. There were parties or associations like the Kikuyu Central Association, others belonging to the Luo, the Luyha, among other communities, formed before but they all died," said the former prime minister in Taita Taveta on Monday.
Raila's stand is supported by Mombasa Governor Hassan Joho who has promised never to desert ODM. He has already submitted his nomination papers to become the party's presidential flag-bearer in 2022.
The formation of the Coast-based political party is Kilifi Governor Amason Kingi's idea. Kingi and some Coast leaders have said they are in the process of forming a Coast party, which he said will be unveiled soon. He has also publicly declared that he is on his way out of ODM.
However, Raila urged him and his supporters to stay put, adding that the region's interest were well taken care of in the Orange party.
He said ODM as a democratic party welcomes Joho's decision to contest for the party's presidential ticket.
Today, Raila will hold five rallies in Kilifi, where he is expected to come face to face with Kingi.
Yesterday, Ganze MP Teddy Mwambire said MPs from Kilifi met at Kingi's residence and resolved to accompany Raila in all his rallies in the county to popularise the BBI Bill.
"He will come to popularise BBI and not to discuss party matters. We shall welcome him, all of us from various parties," said Mwambire.
He said the leaders who met under the chairmanship of Kingi made the decision to join Raila because his tours in Kilifi were not the 2022 politics.
Meanwhile, Raila shrugged off rising criticism against his party at the Coast and declared he was the right person to end the region's years of economic hardship. Raila said a promise he made to Coast residents in January last year that "no one can stop reggae" has come to pass after the BBI Bill sailed through the county assemblies.
He said the Building Bridges Initiative Bill will address the problem of economic marginalisation, inequity, youth unemployment and historical land problems that have bedevilled the region for decades.
"BBI is unstoppable as it will help strengthen devolution by increasing revenue to counties from the current 15 to 35 per cent and to even more in future. The current 15 per cent is a drop in the ocean and we will push for more resources to be allocated to counties in future," he said.
Speaking in Taita Taveta yesterday, Raila said BBI will address the problem of marginalisation of the Coast, which he said began with the adoption of Sessional Paper No 10 of 1965.
"Sessional Paper No 10 stipulated that the Government should invest in productive areas with higher rates of productivity. This left most parts of the Coast. BBI will address this," he said.
The former prime minister said Coast counties considered as arid and semi-arid areas and seen as less productive will receive maximum attention once the BBI Bill sails through the referendum.
He said BBI has factored in economic activities such as pastoralism and Blue Economy, which straddles Mombasa, Lamu, Kwale and Kilifi counties.
The Blue Economy is a concept that encourages states and its citizens to exploit marine resources. Kenya has a 142,400-square-kilometre Exclusive Economic Zone (EEZ) in the Indian Ocean.
He said BBI will also eradicate tribalism, adequately address the gender rule, bring equality among all Kenyans and strengthen devolution.
"In the current situation, many Kenyans are missing out job opportunities because of their tribe. Once one mentions his or her name and tribe, they are being locked out of employment," said Raila.
"Under the BBI all Kenyans will be treated equally in areas of employment opportunities because there will be a Youth Commission to look into the problems facing the youth."
Raila was last evening expected to depart from Taita Taveta for Kilifi and make a night stop in Watamu. Today, he will hold rallies in Malindi, Watamu, Ganze, Kilifi town and Mtwapa.
These are areas that Kingi has in the recent past been on a charm offensive to woo local leaders and the locals to join his push for the establishment of a political party.
In Taita Taveta, Raila also launched a broadside against Deputy President William Ruto, accusing him of being a "fence-sitter" on matters of national importance like constitutional amendments.
He said Ruto and his Tangatanga brigade's propaganda to hoodwink the public to turn hostile against the BBI report failed to work after the MCAs overwhelming voted for the Bill.
"The DP and his allies opposed the document, which they did not know its contents. He should know that nobody can stop reggae, which has now hit the ground running," Raila said in Mwatate town.
Others who accompanied Raila included Taita-Taveta Governor Granton Samboja, MPs Jones Mlolwa (Voi), Andrew Mwadime (Mwatate), Deputy Governor Majala Mlagui, former Woman Preventative Joyce Lay and several MCAs.
They also addressed rallies in Taveta, Msau, Mbololo and Voi town.
Raila further thanked MCAs in the Coast region for passing the BBI Bill and was optimistic that Parliament will quickly do the same.