Raila now changes tack, urges church to support BBI report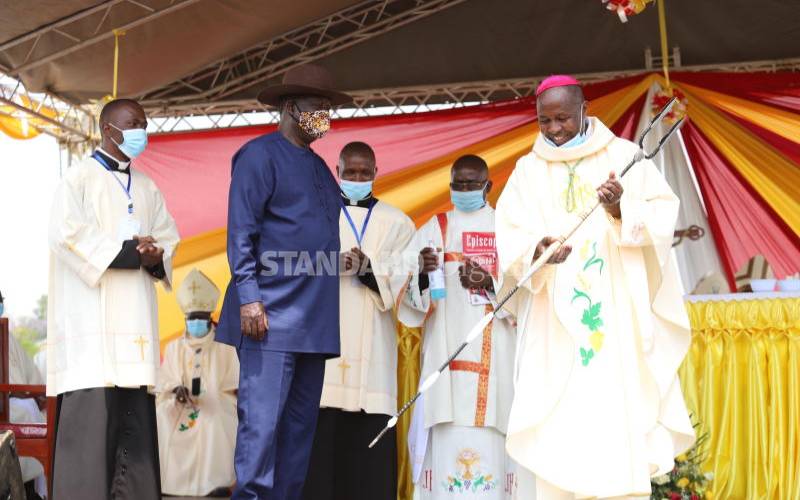 ODM leader Raila Odinga has asked the church to join the Building Bridges Initiative push as he sought to highlight the crucial role the institution plays in shaping public opinion.
He spoke as President Uhuru Kenyatta also appealed to the church to support "what is right," in a speech delivered by Raila during the consecration of the Catholic Homa Bay Bishop Michael Odiwa yesterday.
"We want to see the church on our side. When we did the handshake, you supported us," said Raila.
He said the church had been involved in the BBI process citing a section of the clergy appointed to the report's steering committee.
Raila recounted the role the church plays in enhancing political stability and questioned why some members are now opposing the quest to change the Constitution.
He highlighted the gains the BBI document will have for the country and sought to debunk what he termed as propaganda being spread by opposers to derail the process.
Recently, the ODM leader faulted the church after it raised concern about the BBI process saying it was given an opportunity to present views early enough but failed t do so. Raila is also on record criticising church leaders for what he termed as entertaining "proceeds of corruption" from politicians.
While recounting how the church helped him escape captivity and a political jail term in the past, Raila said the church plays an important role in revolutions and development.
"Catholic bishops helped me to escape to Uganda. They even disguised me as a bishop from Machakos to escape police officers," said the ODM chief.
President Kenyatta said his administration was ready to work with the Catholic church in promoting development. "Be ready to receive criticism from people who fear truth but do not fear," he said.
Bishop Odiwa was ordained by the Representative of Pope Francis in Kenya, Archbishop Hubertus van Megen at Homa Bay High School, taking over from Rev Philip Anyolo who was elevated to be the Archbishop of Kisumu.
The climax of the ordination ceremony was when Bishop Odiwa was installed as an elder for the Luo and Kuria communities in Homa Bay diocese, which includes Migori.
Rev Megen described Odiwa as a religious leader who demonstrated dedication to evangelism: "Odiwa never lobbied in order to be elected to this position, he earned it," Rev Megen said.
Download the BBI Judgement by all seven Judges - Civil Appeal No. E291 of 2021