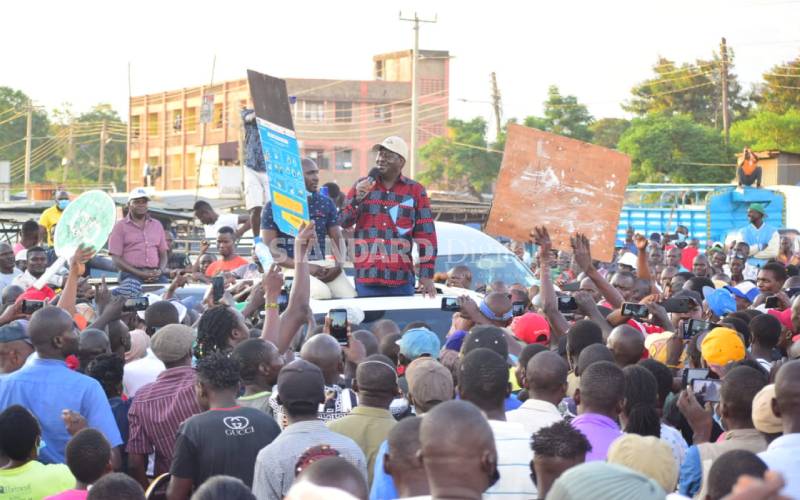 ODM leader Raila Odinga has asked Kenyans to support the Building Bridges Initiative (BBI), saying it presents a concrete plan for change and unity.
Raila said the 'deep ethnic divisions' in the country would end when BBI is implemented ahead of the 2022 general election.
"Kenya now has an opportunity, through BBI, to correct the past, which we have never been given before as a nation."
The ODM leader was with ODM minority chief whip Junet Mohammed, MPs Fred Ouda, Shakeel Shabbir and Kisumu Governor Prof Anyang' Nyong'o and local Kisumu Central BBI campaign coordinator Dr Joshua Oron.
Addressing crowds at Kondele trading centre on Saturday evening, Raila termed BBI as a great equaliser.
Read More
"Kenya has today reached a pivotal moment of change for posterity. I call upon each one of you to join the BBI bandwagon," said the AU envoy for infrastructure.
Raila declared that time is ripe for Kenyans to either continue on with the current ethnic chaos after every electioneering period or embrace unity for the common good of all citizens.
"I know what you people did here in Kondele in the fight for democracy. We are praying that BBI will rationalise such problems and that they won't happen again in 2022," he said.
But this would only happen if people come out in large numbers to support the BBI.
Raila went on, "We are destined to a new Kenya and to prosper, we have to change our mindset and free Kenya from ethnic divisions."
The ODM leader said the initiative presents a roadmap to a democratic Kenya that echoes Jomo Kenyatta and Jaramogi Oginga Odinga, who worked beyond their ethnic origins to unite the country.
"This is the new Kenya, that President Uhuru Kenyatta and I, and other like-minded leaders want."
Nyong'o said he is happy that Kenya has a President who is aware of the vast societal divisions in the country and is making effort with Raila to push for unity.
"I am in total support of the BBI discourse that is the fruit of this cohesive effort by Raila and Uhuru."