Kalonzo, DP Ruto lock horns over land grabbing claims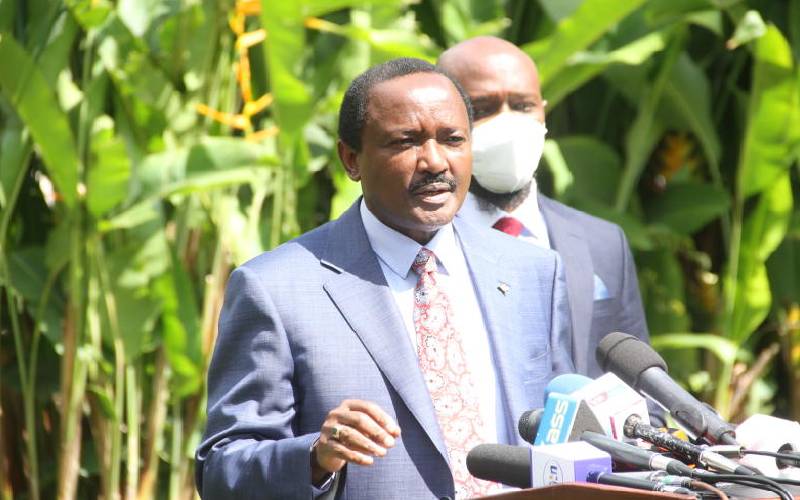 Wiper leader Kalonzo Musyoka yesterday came out to defend himself over claims that he illegally acquired 200 acres of land belonging to the National Youth Service in Yatta, Machakos County.
The Wiper leader instead turned his guns on Deputy President William Ruto, whom he accused of all manner of ills and demanded that the DP subjects himself to a lifestyle audit.
The Wiper leader was responding to claims by the DP on Friday that his (Kalonzo) stint in government was tainted by alleged grabbing of the Yatta land where his retirement home sits.
But Ruto, through his spokesman David Mugonyi, said Kalonzo was scared of losing the Machakos senatorial seat and was now resorting to using "ridiculous allegations" in an attempt to salvage his support base.
"Kalonzo does not have confidence in his (senatorial) candidate. In his panic, he has saddled himself with ridiculous allegations in pursuit of Deputy President William Ruto. The Machakos contest will be won or lost on the ground," said Mr Mugonyi.
He added, "But in public interest, Kalonzo must explain how NYS land legally became his private estate."
Addressing a press conference in Nairobi, Kalonzo termed the claims as wild and desperate propaganda, describing himself as a person of "high moral and ethical standards."
"I have nothing to hide and I today challenge the authorities to open an investigation into this matter. I am today presenting myself for a thorough investigation by the Directorate of Criminal Investigation as well as the Ethics and Anti-Corruption Commission," said Kalonzo.
He added, "In the same vein, I challenge DP Ruto to offer himself for investigation."
Kalonzo wants the Deputy President to be probed over at least 10 questionable cases.
Among the cases, the former vice president listed are the 100 acre land belonging to the late Adrian Muteshi, which was settled by court, the Lang'ata Road Primary School playground and the Weston Hotel land saga.
Muteshi emerged victorious when the court-ordered Ruto to return the land and pay him Sh5 million as compensation.
Kalonzo is one of the key leaders in the country eyeing the presidency in 2022 and has been upping public campaign for the Wiper candidate, Agnes Muthama, in the forthcoming Machakos by-election.
The seat was left vacant following the death of Senator Boniface Mutinda Kabaka.