Uhuru admits Big 4 Agenda will not be realised in his term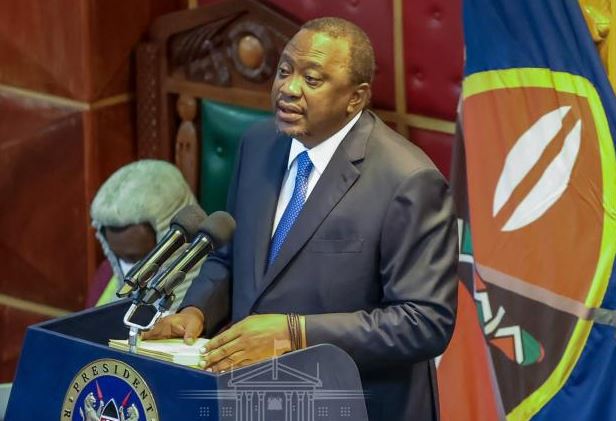 President Uhuru Kenyatta appears to have admitted that his administration may not fully deliver on its ambitious Big Four agenda by the time his term ends in 2022.
During the 2017 Jamhuri Day celebrations, Kenyatta (pictured) unveiled his legacy agenda by promising to build 500,000 low-cost houses, create jobs by revamping the manufacturing sector, provide access to healthcare services and to ensure the country is food secure.
Three years down the line, this week, President Kenyatta said it would be impossible to achieve the four pillar development plan.
"Even as we mooted the four intentions, we recognised then, as we still recognise now, they would not be completed in a single term of office," said Kenyatta in his State of the Nation address.
"We give our solemn vow that by the end of 2022, we would have laid an unshakable foundation for the realisation of this vision which is a shared aspiration for millions of Kenyans."
This remark was a slow-down, even a re-take, of his promise that "by the end of my term, 500,000 more Kenyans will own their homes" when he addressed the nation about a month after his re-election.
By January this year, the Jubilee administration had completed an inaugural phase of the project — 228 units ready for occupation at Park Road Nairobi. The project has 1,370 housing units.
"My administration's pilot project at Park Road, Nairobi, is the first beacon on this transformative journey.
"This was delivered ahead of schedule and within budget," Kenyatta said.
Despite the slow implementation of this project, Kenyatta indicated that his administration was on the right path in laying the foundation to sustain its implementation even after he retires.
His said his administration has concluded incorporation and capitalisation of the Kenya Mortgage Refinance Corporation that will facilitate Kenyans to acquire decent homes.
Kenyatta said the corporation would improve mortgage affordability, increase the number of qualifying borrowers, and result in the expansion of the primary mortgage market and home ownership in the country.
He also cited his administration's national land titling initiative where at least 4.5 million title deeds have been issued in the last seven years.
Private insurers
On Universal Healthcare, the Jubilee administration promised to ensure all Kenyans have access to quality and affordable medical cover by 2022.
"We will review the rules governing private insurers to bring the cost of cover within the reach of every Kenyan, to protect both government and Kenyans from fraud and abuse, and to let private insurers invest more in covering Kenyans," he said in 2017.
Currently, about 22 million people are covered by the National Health Insurance Fund (NHIF) according to the insurer's Chief Executive Officer Peter Kamunya who said there are at least 9.1 million households in the NHIF database.
In late 2018, Kenyatta piloted Universal Health Care (UHC) in four counties of Kisumu, Nyeri, Machakos and Isiolo that targeted three million people.
The pilot phase has since ended while the government plans for a nationwide rollout.
The cost of medical cover is still a challenge to many Kenyans who depend majorly on NHIF since private insurance is out of reach.
The Covid-19 pandemic has made the situation worse since its treatment is not covered by the national insurer.
But Kenyatta remains optimistic about far-reaching reforms instituted at NHIF and has planned to collaborate with the 47 counties.
Health is a devolved function but the national ministry has continued to hold a big chunk of the docket's budget at Afya House. Counties are struggling to provide health services and are under constant industrial action by medics because of low and delayed salaries.
Kenyatta said "challenges to our public health notwithstanding, I am confident that in partnership with county governments, we are on course to realise the aspiration of the Universal Health Coverage for all."
Implementation
On food security, Kenyatta cited the implementation of the Agricultural Sector Transformation and Growth Strategy, which he said is underway.
He further cited reforms in the agricultural inputs subsidy programme.
Farmers still face challenges in finding market for their produce, especially maize farmers, and that continues to hinder food security.
On the manufacturing sector, Kenyatta said his administration is focused on trainings that match the needs of the industry.
He cited the enrollment of 430,598 students in 182 technical and vocational training colleges, saying the objective was to shift the focus of young people from being 'earners of wages' to 'owners of capital'.
Despite this, companies have continued to close down, some due to bad business environment and unfavorable tax regimes as well as the current Covid-19 pandemic that has seen hundreds of people laid off.