Lawmakers go for a million signatures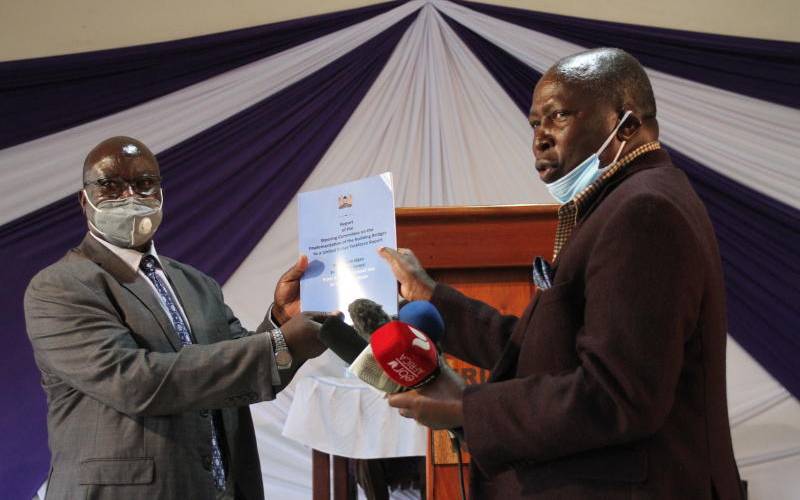 Allies of President Uhuru Kenyatta and ODM leader Raila Odinga have said the road to a referendum has just begun and the collection of a million signatures will kick off today.
A million signatures are needed so that the document can be taken to the 47 county assemblies for approval, after which it will be introduced to Parliament.
Yesterday, Nominated MP Maina Kamanda said: "From Monday we will start taking the one million signatures and get things over with. Let me assure you that we can even get these signatures in a day, just from Nairobi."
Speaking after attending service at the Friends Church Kabete, Mr Kamanda said despite the opposition against the Building Bridges Initiative (BBI) report, they were working hard to ensure the same is passed.
He accused allies of Deputy President William Ruto of fighting the report, saying they would be in for a rude shock.
The nominated MP maintained that the BBI task-force would not return to the drawing board as people had opportunity to give their views when the report was initially launched.
"Let it be known that nothing will be added or removed from the report. We are passing it as is. That is why we had the first draft so that people could read and give us their views. So if you did not see the need of giving your views then so why give them now it's too late," Kamanda said.
Westland's MP Timothy Wanyonyi said the BBI report would be passed with or without the support of Dr Ruto. Suba North MP Millie Odhiambo asked Kenyans to ignore propaganda around the BBI report and instead read it.