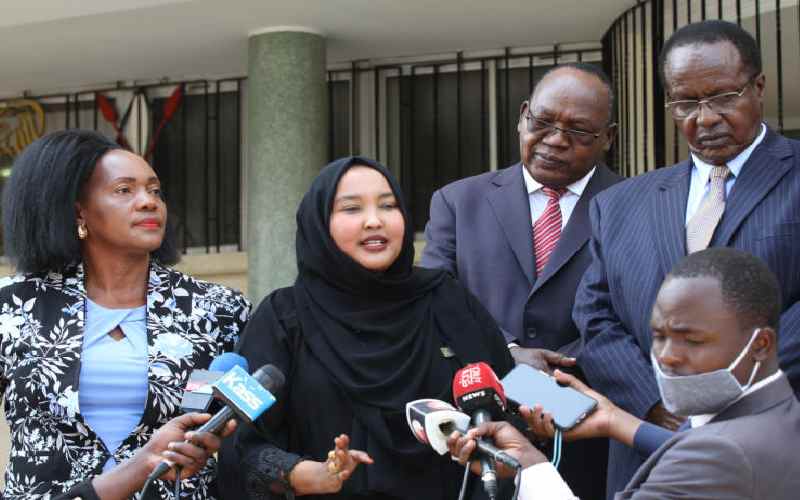 A parliamentary committee has accused Deputy President William Ruto of inciting Kenyans against State projects through MPs allied to him.
Members of the Administration and National Security committee in the National Assembly cited recent attacks on the issuance of Huduma Namba by legislators allied to Ruto as one of the acts of incitement.
The legislators asked Ruto to quit the government instead of rocking it from within.
"The latest Huduma Namba queries raised by Ruto allies did not come as a surprise. Indeed, hypocrisy and doublespeak have been the trademark of the DP," said committee chairman Paul Koinange.
Read More
Koinange, who was flanked by some committee members, hit out at some of the MPs allied to Ruto who take the lead in criticising the government, especially on corruption, instead of channelling the same through the committees they sit in.
"The Huduma Namba is not a Jubilee administration project, it is a State project which was created by Parliament through the amendment of the Registration of Persons Act of 2018," Koinange said.
Koinange, the Kiambaa MP, said the Huduma Namba idea was mooted by the Kibaki administration way back in 2005, through the Inter-Ministerial Taskforce on Integration of Population Register Systems (IPRS).
"This followed the National Economic and Social Council (NESC) recommendation on the fast-tracking of integration of the registration systems," said Koinange.
The committee noted that the Huduma Namba is meant to make it easier for the government to offer services to the people and stop corruption and wastage of public resources.
"The Huduma Numba is also meant to help ensure that money meant for Wanjiku reaches her and that population is not inflated in future. Those fighting it lost at the High Court and the project was given a go-ahead," said committee vice chairperson Fatuma Gedi.
The committee asked those with evidence that the Huduma Namba project was fraudulently done, to produce the same to the investigating agencies instead of using it as a campaign tool.
On claims that the Huduma Namba will be used to rig elections, as alleged by MPs allied to Ruto, the committee stated that it is an open secret that elections are not won on computers and servers but by wooing voters.
Winning strategy
"The allegations being peddled by the Ruto team are signs of people who do not have a winning strategy," Koinange said.
Last week, some the DP's allies claimed there was a scheme to politically-manipulate data in the Huduma Namba system as the country heads to the 2022 polls.
The legislators claimed an expatriate had been procured to steer the second phase of the registration exercise.
"Why is the National Intelligence Service (NIS) being involved in the proposed registration rather than the parent ministry?" posed Nakuru Senator Susan Kihika.
Kimilili MP Didmus Barasa stated the country could not continue losing money during the tough economic times.