Another Ruto ally booted from helm of parliamentary caucus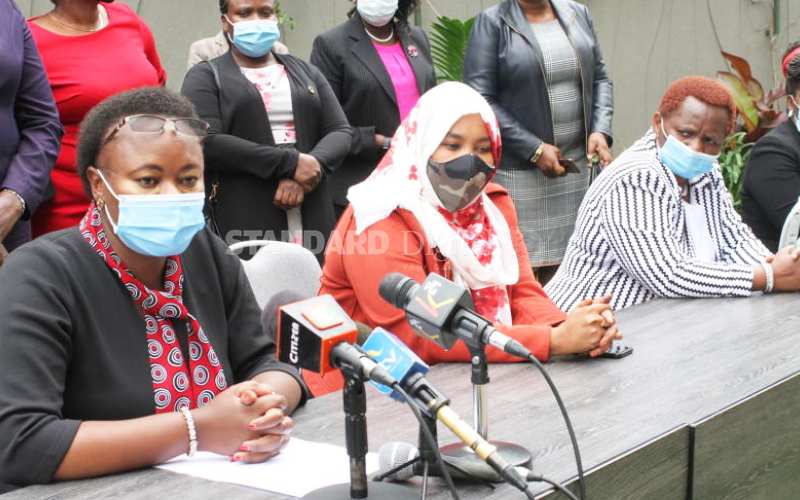 Yet another ally of Deputy President William Ruto was booted yesterday from a top parliamentary caucus on account of alleged failure to offer visionary leadership.
Purity Ngirici, the Kirinyaga Women Representative and chair of the Kenya Women Parliamentarians Association (Kewopa), was removed by her colleagues, weeks after other Ruto allies, including herself, were cleared off parliamentary committee leadership.
Special sitting
In a special general meeting, women MPs allied to President Uhuru Kenyatta and ODM leader Raila Odinga, and who have been lobbying for the Building Bridges Initiative (BBI) under the Embrace banner, met in Nairobi, booted Ngirici and replaced her with Kiambu Woman Rep Gathoni Wamuchomba.
They claimed that she had failed the association, and that 65 out of the 97 members of the association had no faith in her leadership. They said they had beaten the 61-member threshold to effect changes, and that they had given advance notice of the meeting.
At the meeting, Ngirici, a staunch member of the Inua mama faction that rivals Team Embrace, came under attack for leading a divisive Kewopa, with the MPs arguing that her failure to unite the two factions had led to the slow death of the caucus.
"I want a more vibrant and robust Kewopa. It is a shame that under her leadership, the association has fragmented and now we have Inua Mama and Embrace teams," said Murang'a Woman Representative Sabina Chege who moved the motion to oust Ngirici.
Homa Bay Women Rep Gladys Wanga said Ngirici's tenure started on a wrong footing after the divisive 2017 elections that pitted two camps.
"The rain started beating us when we went to Naivasha and divided ourselves in camps. We want the new chair to reach out to all women MPs, irrespective of their political persuasions," Wanga said.
Wamuchomba said that under Ngirici, Kewopa had lost its glory, promising to re-ignite the association and make it more vibrant and pro-active to issues affecting the gender.
"We are facing a crisis in teenage pregnancy which we must address as women leaders. We also must champion Bills that support children and women, which has been lacking during Ngirici's tenure," said Wamuchomba.
She said her team will oppose the proposed merger of the National Gender Commission and the Kenya National Human Rights Commission through the BBI as they wanted an independent gender commission.
But in a swift rejoinder, Ngirici dismissed her ouster, terming yesterday's meeting as having been improperly convened.
She insisted that she remains the leader of the caucus and urged other members to ignore her purported removal.
Fight-back
"The Kewopa constitution requires that members must be given a seven-day notice prior to a special general meeting. This was not done. Without the said notice, about 20 MPs cannot secretly sit and announce removal of an official," Ngirici said.
"They can have their Kewopa of the 20 or so who attended, but our association still stands as recognised in the Standing Orders. I am sure even the Speaker cannot have such nonsense," she said.