Atandi hits out at Wetang'ula over his burial attack rumours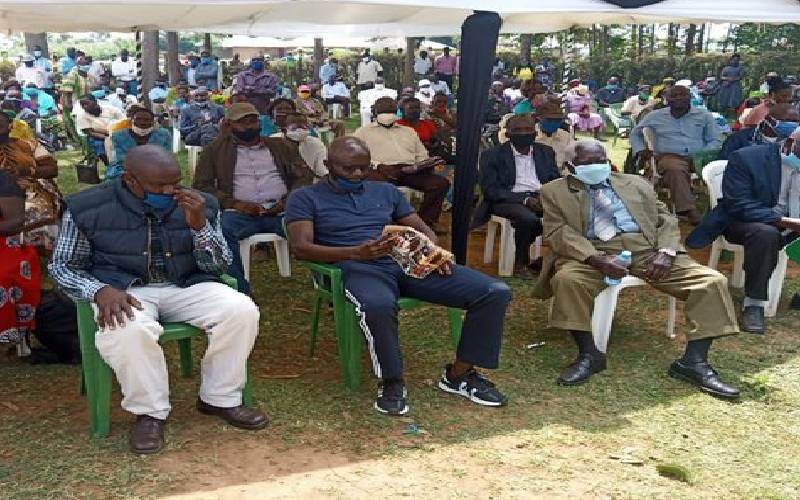 Alego Usonga MP Samuel Atandi has dismissed reports doing rounds on social media that he was attacked by mourners during the burial of Luanda MP Chris Omulele's mother, Sophia Monyo.
Atandi said the reports are propaganda peddled by supporters of Ford Kenya leader Moses Wetang'ula to paint him and ODM unpopular in the area.
"I have seen social media reports that I was beaten up and injured at the burial of Hon Omulele's mother in Luanda by Ford Kenya supporters for telling off Wetang'ula. Let it be known to all that Luanda is an ODM zone and Ford K cowards have no say," Atandi tweeted.
Speaking to Standard Digital on Sunday, Atandi hits out at Ford Kenya sympathisers for spreading lies on social media that he was attacked and stopped from addressing mourners in Luanda.
"Why are Ford Kenya propagandists yelling on social media that I was beaten and injured? Who can beat me in Luanda an ODM zone?" the MP posed.
The outspoken MP said contrary to reports being peddled, he attended the burial of his colleague's mother in peace, gave out his speech and left in peace.
"I arrive late, but was given a chance to make my speech, which I did amid cheers from mourners before I left," said Atandi.
The MP, however, said he met a handful of goons while on his way out of the burial heckling but did not bother to find out why they were complaining.
"I met the handful youths at the gate while leaving the burial, they were murmuring as we walked past with my bodyguards, I don't know why," he said.
Witnesses told the Standard Digital that youths who had accompanied Wetang'ula to the burial were incensed by remarks made by the ODM MP when he rose to speak.
"They were not happy with some of his remarks made by the MP when he rose to speak hence the heckling at the gate when they saw him leave."
Remarks
The youths were, however, not part of the mourners and had camped outside the compound waiting for Wetang'ula to leave.
Atandi had attacked Wetang'ula for linking ODM leader Raila Odinga to Ford Kenya leadership wrangles.
"Why is Wetang'ula whining and blaming our party leader when it is the same Raila who help him to win the Senate seat before making him Senate Minority Leader, let him be a man and stop whining," the MP said.
Atandi also accused the Bungoma senator of being used by Deputy President William Ruto to divide the Luhya community.
He cautioned the Mulembe nation to be wary of leaders being used to divide them, adding that the future of the country cannot be left in the hands of corrupt individuals.
"You people must be careful with leaders being bought to divide here, you must stick with other Kenyans," he said.
Mama Monyo, a former had previously served as a councillor in the now-defunct local government.
She died on June 12, 2020.