Rival faction escalate bid to oust Mudavadi from ANC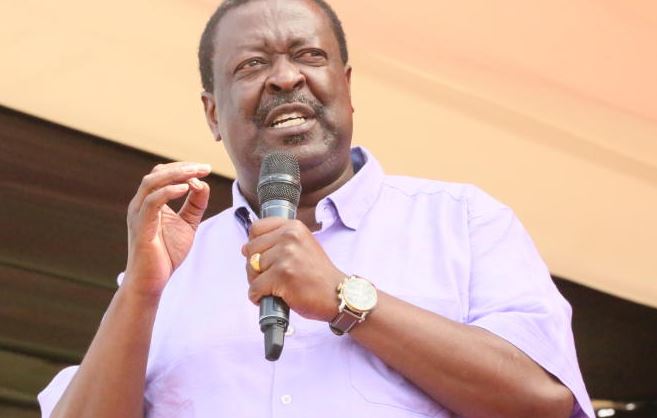 A rival faction within Amani National Congress (ANC) has escalated its bid to dethrone party leader Musalia Mudavadi (pictured).
Angela Gathoni, a founder member of the party, has written to the Registrar of Political Parties Anne Nderitu accusing Mudavadi of being in office illegally, claiming that his term as party leader had expired.
Gathoni claims that Mudavadi's term in office ended on Monday, June 15.
In a petition filed through Kisilu, Wandati and Co Advocates, Ms Gathoni is seeking to compel the party to hold elections to vote in new officials ahead of 2022 polls.
"In the circumstances, we are instructed to write to you and request you to order the party to conduct elections for all party offices in strict conformity with the party constitution, the Political Parties Act, the Constitution of Kenya and the party's election rules and procedures as soon as it is practically possible," the petition states.
Gathoni claims that ANC has not shown intention of holding elections even after the terms of its leaders expired.
"The party has not issued any notice of elections as contemplated by Article 2.2 of the Party Nomination and Election rules and procedures that requires a public notice of at least 21 days. The party has not sought extension of time to conduct the elections as per the established practice," states Gathoni's petition.
She further claims that both the National Executive Council (NEC) and National Elections Board (NEB) were illegally constituted, citing nepotism.
"The party does not have a functional, credible and lawfully constituted NEC and NEB, which are supposed to liaise in the planning, organising and coordination of all party elections in line with the party constitution," claims the petitioner.
She claims that the positions in the NEC were filled in a manner that contravened the party's constitution as this was not done in a democratic and competitive manner.
Yesterday, ANC Secretary General Barrack Muluka dismissed Gathoni's claims, saying NEC was properly constituted and that the term of its members was yet to expire.
He said the party was surprised by the petitioner's decision to proceed to the Registrar of Parties before seeking redress through internal mechanism.
Muluka also disowned Gathoni, saying she ceased being a NEC member after she failed to appear for meetings for three straight years.
"She extracted herself from NEC, because our constitution says that if you absent yourself for three years from meetings you stop being a member. The current NEC's life will elapse on July 13," he said.
Gathoni's petition comes after ANC nominated MP Godfrey Osotsi demanded that the party holds elections, citing its constitution which provides that leaders hold office for five years.
In response to the latest development, ANC deputy party leader Ayub Savula yesterday accused the National Super Alliance (NASA) of fomenting dissent in the party.
Savula claimed the push to oust Mudavadi was being orchestrated by political figures keen to block Mudavadi from running for the presidency in 2022. He said the party had begun the process of holding grassroots elections, but was disrupted by the Covid-19 pandemic.