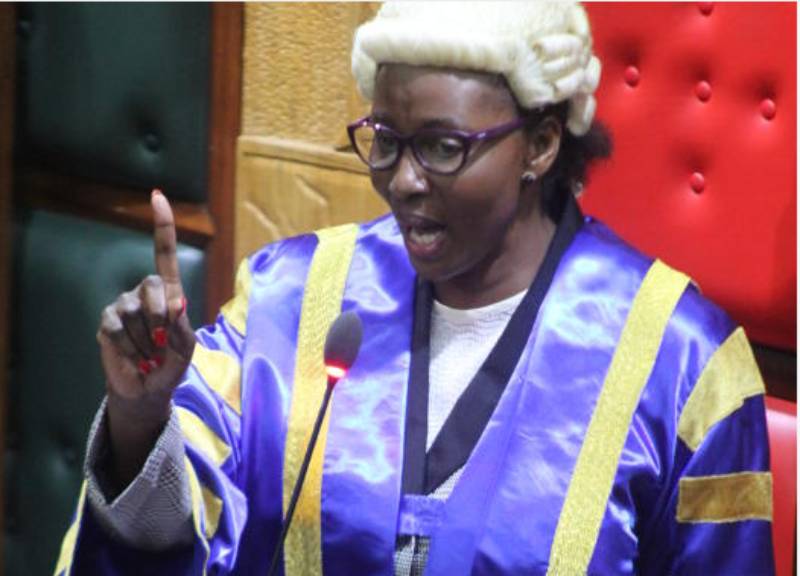 The gloves are off in the Jubilee party leadership wrangles at the Nairobi County Assembly with Speaker Beatrice Elachi (pictured) now taking on Jubilee Secretary General Raphael Tuju.
Elachi said she will not effect leadership changes communicated by Mr Tuju following a consultative meeting between all 66 Jubilee MCAs and the party leadership at the party headquarters on Wednesday.
On the day of the meeting, Tuju had reiterated that the leadership changes made in April reinstating Abdi Hassan Guyo as the majority leader, appointing MCAs Peter Wanyoike as the deputy majority leader, Paul Kados as the majority whip and Waithera Chege as the deputy majority whip are final and warned that Elachi could face disciplinary action if she failed to implement them.
But the speaker ruled that the communicated changes were not in tandem with requirements of provisions of the laws governing the assembly.
She also stated that the interim leadership of MCAs Charles Thuo (Dandora Phase Three), June Ndegwa (nominated), Millicent Mugadi (Ziwani) and Abdikadir Mohamed (California) will continue serving in the House.
While giving her communication to the House on Thursday, Elachi noted that the mandate of communicating leadership changes lies with the majority whip and not the party's secretary general.
Removal process
Elachi noted that Tuju's communication did not abide by the assembly's Standing Order.
According to the Standing Orders, the largest party or coalition of parties in the County Assembly shall designate a member of the assembly belonging to the party or coalition of parties to be the leader of the majority party.
The designated member may be removed by the party or coalition of parties that designated him or her by two-thirds of votes of all members of the largest party or coalition of parties in the County Assembly.
The whip of the largest party or coalition of parties in the County Assembly shall forthwith, upon a decision being made under this Standing Order, communicate to the Speaker, in writing, the decision together with the minutes of the meeting at which the decision was made.
The removal of a member from office shall be followed by the designation of another member in his place in the manner provided for in the Standing Order within 48 hours.
Elachi was also opposed to the reinstatement of Guyo as the majority leader, saying he was not fit to hold office since he was currently under suspension for missing more than eight consecutive plenary sittings.
At the same time, a section of MCAs is calling for the amendment of Standing Orders in order to prevent outside interference of political parties in the affairs of the assembly.
Led by Ngara MCA Chege Mwaura, the ward legislators argued that interference from political parties in House affairs had brought confusion.
Imara Daima MCA Kennedy Obuya urged members from both sides of the political divide to stop the in-fighting and focus on service delivery in the remaining two years to the general election.