Curse of parties that preach democracy but practise none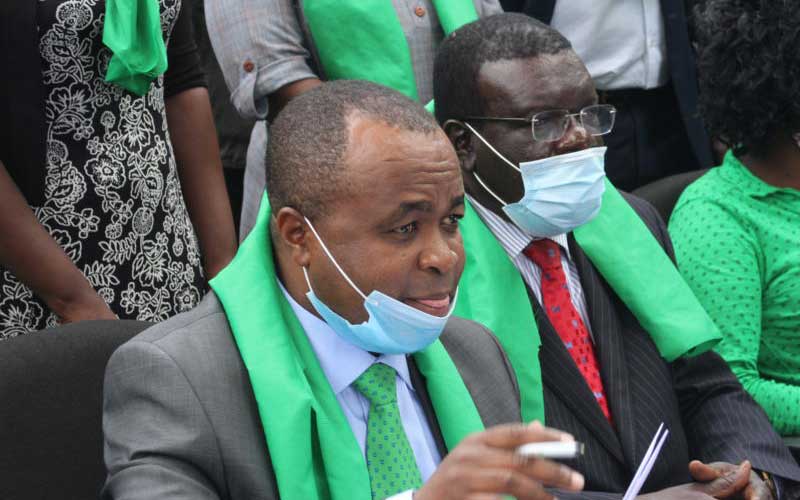 The turmoil in Jubilee and Ford-Kenya parties follows a historical pattern mainly blamed on ethnicity and personality-centred politics.
While Jubilee is in the middle of internecine wars pitting allies of President Uhuru Kenyatta against his deputy, William Ruto, Ford-Kenya is going through historical "curse" that has seen the Lion Party stand out for its propensity for internal conflict.
The party is a product of wrangling within the original Ford that split into two, followed by multiple violent takeovers, including the 1995 attempted grab by current Orange Democratic Movement leader Raila Odinga.
This episode was immortalised in images of Mr Odinga cowering under a table at a party delegates meeting at Thika stadium, amid roars of gunfire, exploding tear gas canisters and cries from injured delegates.
Ironically, Moses Wetangu'la, who was overthrown in a coup last week, had snatched the party from former chair Musikari Kombo in another internal coup that triggered a protest walkout into another party off-shoot, New Ford-Kenya.
Prior to the 2007 General Election, Raila found himself partyless after Kalonzo Musyoka ran away with ODM-Kenya, a scenario borrowed from Charity Ngilu's form book when she took off with Narc certificate in 2006.
The turmoil in Kenya's political parties is a product of several factors, among them personal interest, the ethnic nature of Kenya's politics and a general lack of morality in the conduct of the country's political affairs.
Chair of Centre of Multi-party Democracy (CMD), Senator Abshiro Halakhe, identified patronage and a lack of political goodwill as part of the problem in managing the country's political parties. "…this has created suspicion that the political class is unwilling to and is not very comfortable with adherence to the rule of law that would force strict adherence to management of and conduct by political parties," she said.
Although political parties have internal dispute resolution mechanisms, these matter little, even as the registrar is forced to arbitrate matters that should be resolved internally.
The disputes are often preceded by night meetings, suspicion and backstabbing like in the current Ford-Kenya case where delegates are said to have been transported at night in readiness for the morning coup.
Buying delegates
A similar story is told of how after the 2007 elections, then party leader Musikari Kombo decided to hand over the reins of the party, but before he could do so, Wetang'ula went for the kill.
"Kombo had appointed a number of elders to oversee the transition. Wetangu'la and Eugene Wamalwa were among those who had expressed interest in the position and they endorsed the elders. However, Wetangu'la later said he was not interested and went around buying delegates who then executed the coup that installed him as chair," a source at the centre of the happenings, recounted.
Makueni MP Daniel Maanzo, who helped Kalonzo run away with ODM-Kenya, said Raila's decision to run for president despite opinion polls showing Kalonzo as a favourite, led to an emergency meeting to "teach Raila a lesson".
"At the time, I could not give the certificate to Raila because we believed that Kalonzo was the most popular candidate...," said Mr Maanzo, who at the time was party chair.
Former Kwanza MP Noah Wekesa blamed the situation on personalisation of political parties and remembered a day he told off President Kenyatta and DP Ruto over the running of Jubilee Party.
"I told them that Jubilee appears to belong to Uhuru, Ruto and Secretary General Raphael Tuju. People at the grassroots also need to be leaders....," Wekesa told The Standard.
Prof Peter Kagwanja, a political scientist, attributes chaos in political parties to the desire to create multi-ethnic coalitions to win elections.
"We're dealing with an entrenched colonial legacy that created ethnic grouping as a tool for political mobilisation… After 1962, colonialists began dividing Kenyans into minority and majority tribes, leading to the formation of Kanu and Kadu. The paradox of our politics is that no single ethnic community can win an election," he said.