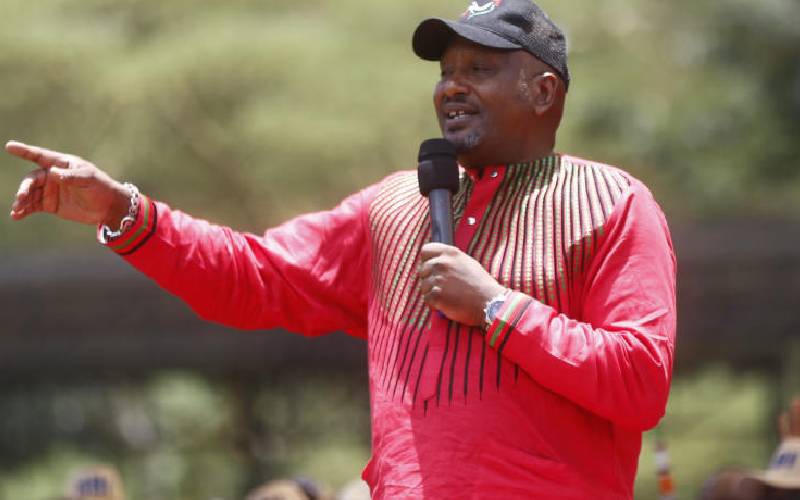 Independence party Kanu says it has formalised its coalition with the ruling Jubilee Party in order to take the relationship "to the next level."
Party Secretary General Nick Salat (pictured) confirmed to The Standard that the party had belatedly deposited a coalition agreement between Kanu and Jubilee with the Registrar of Political Parties.
He said the question of timing and details of the agreement were "in-house matters" which should only interest party membership.
He likened the formal communication of the coalition agreement to a delayed message which has long been sent but which hangs in the process of execution.
"It is an open secret that we have been working with Jubilee. You remember that the Jubilee Party leader, His Excellency President Uhuru Kenyatta came to our convention in 2017 na tukasema tuko ndaaani ndani, and we have never wavered ever since then," Salat said.
He said the record of the party in terms of support for Jubilee speaks for itself.
"We were concerned that our coalition agreement had not yet been deposited with the right office and this is what we have done. For us, it is not a big deal because we have been at it. It is probably a big deal to others out there who may feel threatened by our resolve," he added.
Asked whether the formalisation of the relationship has something to do with anticipated changes in Jubilee parliamentary leadership, Salat said that was not the objective but there is nothing wrong with it.
"If opportunity arises why not? This is a political process and political parties are formed for purposes of getting power. We are not reinventing the wheel, really," he said.
He said the formalisation of the agreement will now enable Kanu and Jubilee to "totally work together" and support each other.
According to a letter dated May 8, Registrar of Political Parties Ann Nderitu confirmed that the two parties have deposited the coalition agreement under Section 10 of the Political Parties Act.
Another letter in our possession shows Kanu submitted a declaration showing the rules and procedures of the party were followed in forming the coalition.
According to the coalition agreement seen by The Standard, it binds the two parties to "at all times faithfully and vigorously campaign for the coalition", to "respect and defend the coalition positions in and out of the executive, the legislature or any other public or state office."
The coalition can be dissolved by the respective parties' highest decision making organs but will automatically expire at the expiry of the term of the current parliament. It can also be terminated on grounds of breach and frustration.
The agreement was signed by Kanu national chairman Gideon Moi and Salat for independence party and Jubilee chairman Nelson Dzuiya and Secretary General Raphael Tuju for ruling party. Lawyer Stephen Wandeto certified the agreement.