Party of Economic Democracy to field candidates in by-elections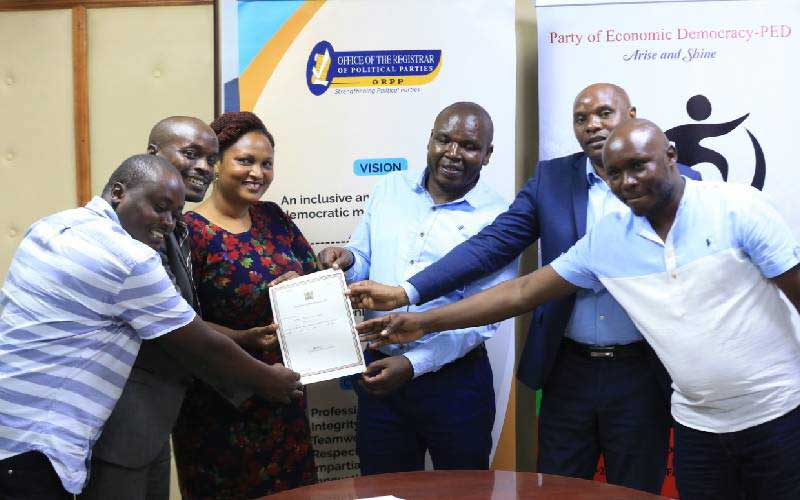 The race to fill Msambweni and Kahawa Wendani Ward seats intensified after a newly registered Party of Economic Democracy (PED) vowed to field candidates and test their popularity.
Kahawa Wendani residents will go to the polls to choose a new Member of County Assembly (MCAs) following the demise of Cyrus Omondi while Msambweni constituents will pick a new representative to the August House after the sudden death of Suleiman Dori.
Dori passed on, on March 9 while Omondi was found dead in his hotel room in Mumbai, India on February 12.
According to the 2017 poll register, there are about 15,928 registered voters in Kahawa Wendani spread in 24 polling stations while in Msambweni there are 68,621 registered voters.
Party officials, who received registration certificate last Thursday, told The Standard that several aspirants have expressed interest in getting the party's nomination certificate to contest for the seats.
PED Chairperson Eliki Tom Musamali said the party will test its popularity in the two by-elections.
"The party was formed by youthful professionals. We are expecting young people to come out in large numbers to support us," he said.
The officials received the registration certificate from the Registrar of Political Parties setting ground for recruitment exercise that they say will be delayed by the coronavirus pandemic that is spreading fast.
PED was formed by youth from vote rich regions of Central, Eastern, Coast, Western, Nyanza and Rift Valley.
Musamali claimed that although they are ready to flex their political muscle with other political parties, they have been receiving calls from some senior government officials and politicians who want to 'take over the ownership of the party' ahead of the 2022 polls.
"Senior state officials are already giving us a headache. There are some powerful from in government, and politicians from Central Kenya and Nyanza who want this party," Musamali claimed without giving the names.
PED Central and Eastern Region Coordinator Joseph Karuri also further claimed that some senior politicians and government officials who want to take over the party and are keen to use the party to get the support of youths and women.
"We expected such things to happen when we were forming this party. We will however remain focused and we will not be swayed by cheap politics. We are aware of the schemes to take over this party but we will stay strong and put," he assured.
Other officials are Martin Mutua (Vice Chair), Enock Ombuna (Organising Secretary), Hellen Kanario (Secretary General/ Eastern Region Coordinator) and Benfred Obino (Executive Director).
The new outfit has presence in 27 counties and managed to recruit over 1000 members in each of those devolved units as required by law.
"It has been a long journey following the strict requirement by the Registrar of Political Parties. It has taken us almost three years before getting where we are today," said Musamali.
The Independent Electoral and Boundaries Commission (IEBC) is yet to gazette the date of the two by elections.