Women demand 50:50 share of all elective seats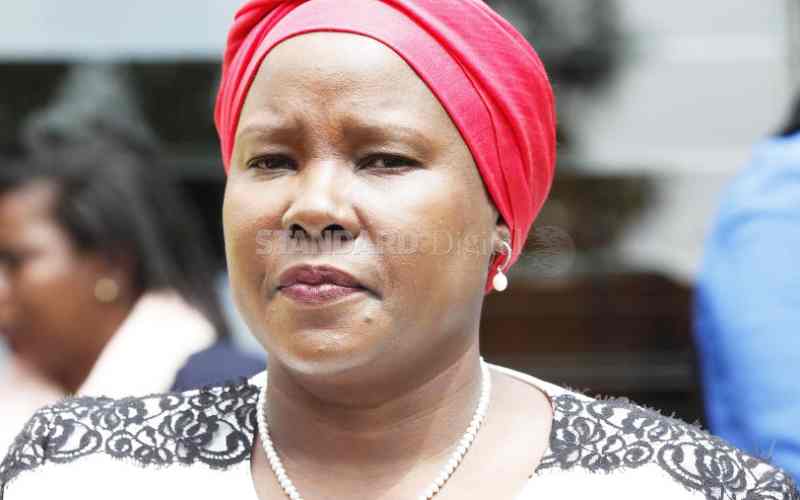 Kenyan women from different sectors want the Building Bridges Initiative proposal on equal gender representation in counties be replicated in all governance structures.
The Common Women Agenda wants a 50:50 representation in all governance forums.
The women made the proposals when they presented their views before the Garissa Senator Yusuf Haji-led implementation team at a Nairobi Hotel today.
Wiper Secretary-General Judith Sijeny said there is need to develop a draft bill if the discourse takes a parliamentary route.
It is vital to include prescriptive mechanisms to entrench the formula for electoral reforms for 50:50 representation in elective positions, she said.
Sijeny added, "If the governor is a man, the deputy governor should be a woman. This will enable the women to be in a position to contribute too."
The group added that both men and women should hold positions at Parliament, Judiciary and other public agencies.
The women further want a criteria entrenched in law to compel political parties to be consistent in complying with the gender principle.
"The proposal about proportional representation through party lists is progressive in the quest for equality in party nominations."
The group added that women are the main victims in the increased cases of femicide, sexual and gender-based violence, and domestic abuse.
"Sexual and Gender-Based Violence (SGBV) should be recognised as a serious criminal offence and a national security concern to be addressed by the National Security Council," said Sijeny.
The women urged male leaders in the national and county governments to help reduce political and electoral violence, FGM, child marriage, femicide, rape, child prostitution and sexual harassment.
Earlier, Olomal Loo Ntomonok (Maa women) chairperson Angeline Siparo said harmful cultural practices that have afflicted the Maa women need to be addressed.
"Access to rape kits is limited especially in marginalised areas, which results in victims not finding justice in addition to the stigmatisation the victim has to go through," she said.
Siparo called for allocation of adequate resources for distribution and access to quality services to improve healthcare, reproductive health and rights, access to clean water, education and social security.
Olamal loo Ntomonok represents Maa women beyond political, religious, social, technological and economic spheres.
The women's network is composed of representatives from Baringo, Kajiado, Laikipia, Marsabit, Nakuru, Narok and Samburu.
The women also proposed governments at the national and county levels provide equitable access to financial resources, land and technology.
"Provide business incubation and tax rebates to start ups by women, youth and persons with disability as a strategy of enhancing their capacity for income generation," a statement in response to the BBI report noted in part.
The 14-member Implementation Task-force of the BBI Report is currently collecting views through presentations from Kenyans in validating the 156 paged BBI report launched in November last year.