Kanu's jogoo to keep crowing, vows Salat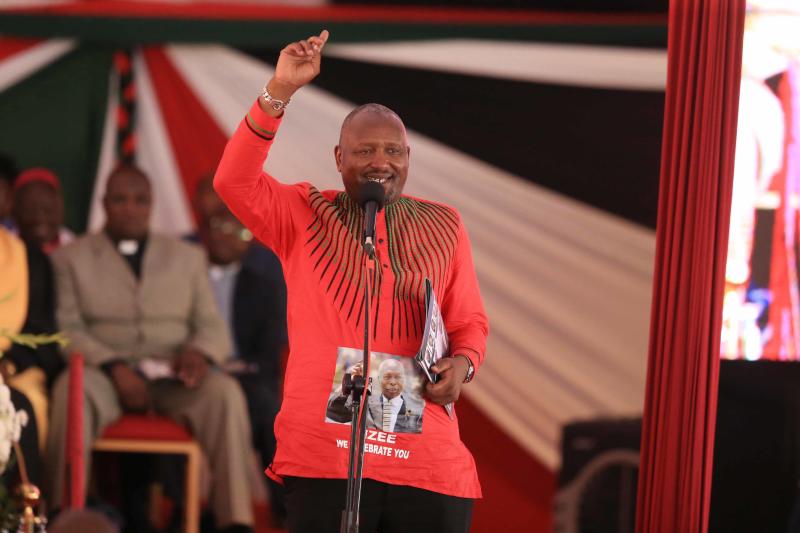 Kanu supporters yesterday turned up in large numbers for former President Daniel arap Moi's funeral service at his home in Kabarak.
Dressed in party colours, the mourners joined the more than 60,000 members of the public and dignitaries that keenly followed the State funeral service held at Kabarak University grounds.
Led by Kanu Secretary General Nick Salat (pictured), donning a shirt in the party's colours of red, green and black, the supporters vowed to strengthen the Grand Old Party (GOP), which Moi took pride in for 24 years when he served as president.
"Hata kama Mzee amelala hapa, tingiza... tingiza (Even as Mzee Moi's body lies here, let us acknowledge the role he played in Kanu by obeying the Kanu salute)," said Salat, who welcomed political leaders that gave their speeches at the service.
Salat said even though Moi was gone, the GOP supporters and Kenyans celebrated him for his politics that united the country.
"I would like us to celebrate Mzee, his politics was good politics, not divisive," he said, glowingly elogising Moi and heaping praise on him for the 24 years he led as president and 11 as the Vice President.
During yesterday's send-off service at Kabarak, Salat said Kanu will give Moi's family seven days to mourn the icon.
But once the period is over, Kanu will hang around Kabarak for 40 days, welcoming more mourners to pay their last respects.
"Moi was a dedicated member of Kanu. This is the only party that has had representation in parliament since independence," he bragged.
Tiaty MP William Kamket, another Kanu die-hard, described Moi as a rare leader, who even after quitting active politics remained a great pillar for upcoming politicians who sought his wise counsel.
"Personally I believe Mzee Moi was the greatest thing that happened to Kenya. He always advised us to safeguard interests of the people we represent," said Kamket.
"Moi's legacy in the education sector is unrivaled to date. A giant tree has fallen, but I am comforted that a seedling from the same tree has blossomed and that is none other than Senator Gideon Moi," he said.
The legislator called on President Uhuru Kenyatta to give orders that there be a university at Chemeron, where Egerton University has established its constituent college.
Kamket said Moi's legacy on education was the biggest ever and made a passionate appeal to Uhuru to name the University Daniel arap Moi in honour of the departed icon.
"Mzee Moi's legacy in education is the biggest ever. In respect to Mzee Moi, there is a university at Chemeron constituent College of Egerton University that should be named after him. We have been engaged as leaders in push and pull. If possible, give your orders that as per Mzee's wish the university be established," said Kamket.
He noted that through the support of late president, Kanu remained strong and stable under his leadership and is still going strong.
"Kanu is very stable. As youths who have been elected we shall make sure the party stands out. We shall support others in the course for unity. We shall join the bandwagon in the Building Bridges Initiative that was started by President Uhuru and Raila Odinga," he added.
Former speaker of the National Assembly Francis ole Kaparo hailed Moi as a man of principles, who ensured he had facts before taking action.
"He never entertained rumour mongers. He would listen to informers and would not make a comment. He would then seek clarification from an accused person before taking action," said Kaparo.
Kaparo said minority tribes owed much to Moi as he ensured they were equally represented in government.
"Some of the minority groups whose numbers would never propel them to serious government positions were lucky in Moi's government. He was a man who understood the need for equality," said Kaparo.