Last minute about turn by Judiciary halts Kiambu Deputy Governor James Nyoro Swearing in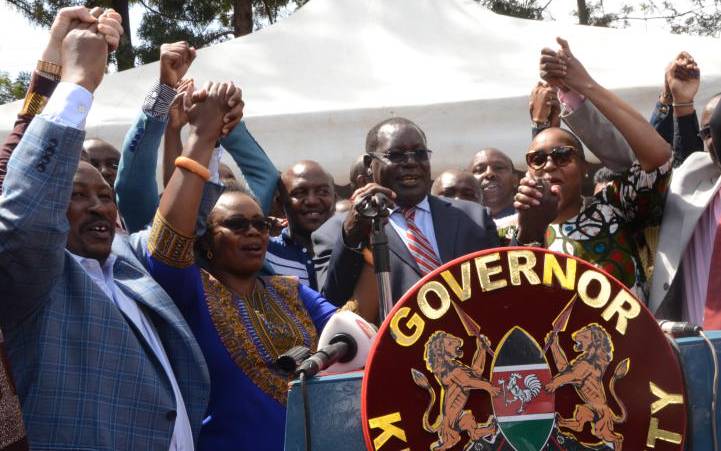 Governor Ferdinand Waititu's successor, James Nyoro will be sworn in today after yesterday's dramatic postponement.
Ferdinand Waititu's impeachment on Wednesday night was followed by a swift gazette notice minutes later.
The gazette notice announcing the Senate resolution to remove Waititu from the office that surfaced on Wednesday night appeared to set the pace for a quick change of guard at one of the country's most populous counties.
However, plans for a speedy swearing-in of his deputy as governor collapsed yesterday and dozens of Dr James Nyoro supporters, who had gathered at the county headquarters in Kiambu town from as early as 8 am to witness the ceremony, walked away disappointed.
It was not immediately clear what scuttled the ceremony, but some observers blamed it on the conflicting interpretations of the Assumption of Office of Governor Act, which was recently passed by the Senate.
Specifically, the interpretation of section 16 (1) that states: "The provisions of this Act relating to the swearing-in ceremony of a County Governor-elect shall apply, with the necessary modifications— (a) to the swearing-in ceremony of a Deputy Governor who assumes the office of the County Governor...."
Referred section
The section it refers to for modification stipulates: "The County Governor-elect shall be sworn-in on the first Thursday after the 10th day following the declaration of the final results of the election of the County Governor by the Commission."
Nyoro will be the first deputy governor to take over as governor under the Act.
His swearing-in was postponed after legal experts questioned its legality before the expiry of 10 days as required by law, to enable any dissatisfied party to lodge a complaint in court.
The postponement came even after a dais had been set up at the swearing-in venue and a red carpet rolled out in readiness for the event.
Ward reps had arrived early for the occasion, as did the county commissioner, county police commander, and politicians. Pro-Nyoro supporters danced and sang in anticipation of what would have been the swearing-in of Kiambu county's third governor.
The postponement disappointed many, with Kiambu Speaker Stephen Ndicho claiming he had information from a reliable source, that Chief Justice David Maraga had directed High Court Judge John Onyiego to avail himself for the swearing-in ceremony through a phone call at 11 pm.
Ndicho said the Assembly had sought an advisory opinion from Attorney General Paul Kihara, who advised that although it was lawful to swear in Nyoro, the legal timeline of between 10 am and 2 pm had lapsed.