Don't be tempted to go for PM post, Karua tells Uhuru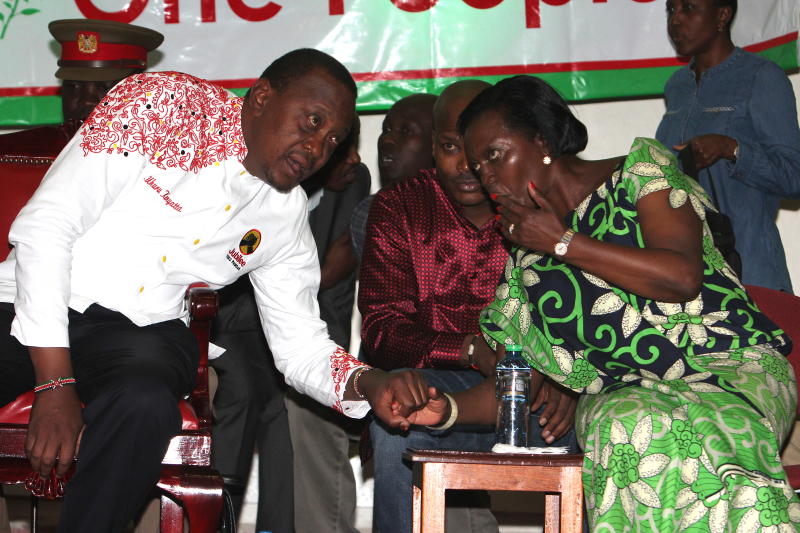 Former presidential candidate Martha Karua has warned President Uhuru Kenyatta not to accept a premiership position after the 2022 elections.
While terming the move as unconstitutional, Karua said the two term limit set by the 2010 Constitution was passed to ensure that no leader stays in government for more than ten years.
"As a good friend I am telling the president to not be tempted to preside over an unconstitutional post. Finish your term and let somebody else take the mantle," Karua added. At the same time, she hinted at making a comeback to national politics in 2022.
She was speaking at a women's conference in Nairobi on Tuesday that brought together over 200 leaders including MPs, Senators, MCAs, and student leaders under the umbrella #WomenAgendaKe.
"I have heard people saying that I will deputize someone but I want to tell them my middle name is not deputy and there is no seat reserved for specific people," said Karua.
"Let us come together and say what our irreducible minimums as women are. Let us begin by fulfilling our promises even as we play our favorite clubs. We do not need two groups of women throwing palms at each other at the expense of men," she added.
Various speakers at the conference organised by the Centre for Multiparty Democracy urged warring women splinter groups in the 'Tangatanga' and 'Embrace' fronts to end divisive politics and unitedly focus on championing for women rights.
Rachel Shebesh, Chief Administrative Secretary in the ministry of Public Service, Youth and Gender advised women leaders to practice mature politics and avoid unnecessarily throwing of words at each other.
"Competing against each other does not mean we have to abuse each other. Let us all learn to practice healthy competitions," she said.
Among other leaders who attended the conference are embattled Nairobi Speaker Beatrice Elachi, former nominated senator Zipporah Kittony, Naivasha MP Jane Kihara, Registrar of Political Parties Anne Nderitu, Kisumu women representative Rosa Akinyi among others.
The women pointed out issues of rampant abuse and violence against women, corruption, and marginalized youth in terms of opportunities as major challenges to be addressed in their agenda.