Tough diplomatic math after Uhuru, Farmajo truce aborts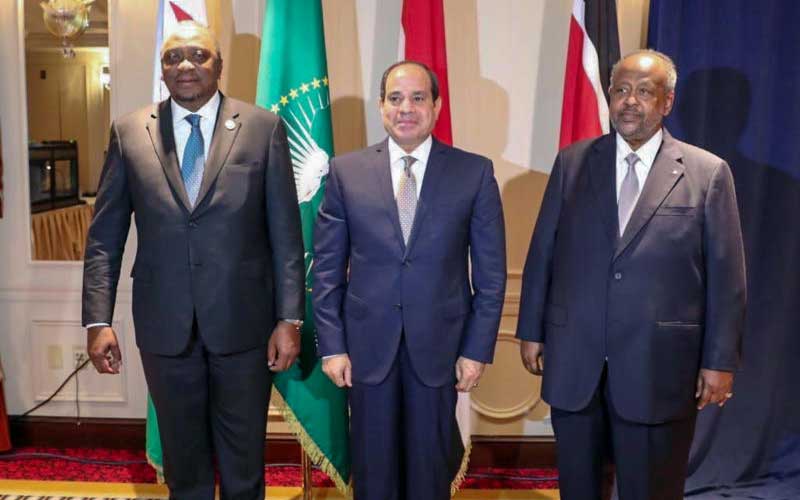 Last week, a beaming President Uhuru Kenyatta stood alongside Egypt's Abdel Fattah al-Sisi as he held aloft the right hand of Somalia's President Mohamed Abdullahi Mohamed Farmajo.
Foreign Affairs Cabinet Secretary Monica Juma termed the meeting "a step in the right direction" towards the restoration of the relationship between Nairobi and Mogadishu.
Two days later, the warm handshakes, bear hugs and smiles notwithstanding, Farmajo reiterated before the UN General Assembly that the maritime boundary row with Kenya must proceed at the International Court of Justice in The Hague.
"Somalia, as a member of the United Nations and a party to the statue of the court, is committed to see(ing) this judicial settlement process through to its end," President Farmajo said in his remarks.
He reminded the audience that an African Union Peace and Security Council concluded on September 3 that it had no role in the case at the ICJ.
Analysts are now drawing parallels between the efforts by President al-Sisi, the current chairman of the African Union, to end the two neighbours' diplomatic row to the doomed mission on March 5 by Ethiopian Prime Minister Abiy Ahmed, the chairman of the Intergovernmental Authority on Development (IGAD).
"It's unlikely that they (Egyptians) can completely resolve the underlying issue," said Murithi Mutiga, director of the Horn of Africa Project at the International Crisis Group, referring to the maritime boundary dispute.
However, Mutiga said "it's encouraging" to see Uhuru and Farmajo talking, as there were few direct channels of communications between the two leaders. Al Sisi, Mutiga said, could "help lower the tensions".
On the surface, the New York meeting was a win for President Kenyatta and a big boost to Kenya's top diplomat, Juma, who has been tenacious in her push to persuade foreign countries to take up the role of mediator.
Juma had approached Egypt, Qatar and Djibouti, among other countries, pleading with them to step in, according to a source familiar with her diplomatic initiatives. Juma also played her part. Just last month alone, she made two requests to her counterpart, Ahmed Isse Awad, to visit Mogadishu, without any success.
The reason behind Kenya's sense of urgency is easy to understand. The final hearing of the ICJ case is expected to resume next month, leaving Nairobi with only a few weeks to cajole Mogadishu into withdrawing the case. A Somali source told the Sunday Standard that Kenya had already returned to the ICJ to seek more time, as it did earlier this month when the court granted Nairobi two more months to recruit a new defence team.
Economic zone
If the court's verdict favours Somalia, Kenya will lose 85 per cent or 95,320 square kilometres of the continental shelf beyond the 200 nautical miles and 26 per cent or 51,105 square kilometres of its exclusive economic zone.
"The ICJ case is a do-or-die for both leaders because it touches on each nation's territorial integrity," Somali lawmaker Zakaria Mohamud Haji Abdi told the Sunday Standard. "President al Sisi did a noble job when he brought the two leaders together, but he can't force them into making a deal."
Since February 16, when Kenya expelled the Somali Ambassador to Nairobi and recalled its envoy to Mogadishu, Nairobi has been blowing hot and cold, at one time dangling a carrot, such as allowing the return of the Somali ambassador to his duty station, and the other time brandishing a stick, like when on May 20 it denied Somali ministers access to its country to attend an international conference in Nairobi.
That gambit proved futile as Somalia's position only hardened and President Farmajo became more resistant to calls for dialogue.
On Tuesday, al Sisi's spokesman, Bassam Radi, said that Kenya and Somalia agreed to form a trust-building joint committee so they can eventually normalise their relations. President Farmajo said the September 24 meeting was "fruitful," but emphasised that he and Uhuru "agreed to leave the maritime dispute between the two countries to be resolved by the International Court of Justice."
Besides the dispute, the matter of Kismayo's Chief Administrator Ahmed Mohamed Islama aka Madobe has also played in the background. While Kenya has been rooting for Madobe, including during the recent elections, Farmajo is determined to get him out.
And now there is talk of pressure being brought to bear on Madobe to secede from Somalia if Farmajo refuses to recognise his recent election victory.