Jubilee leaders worry over party impending death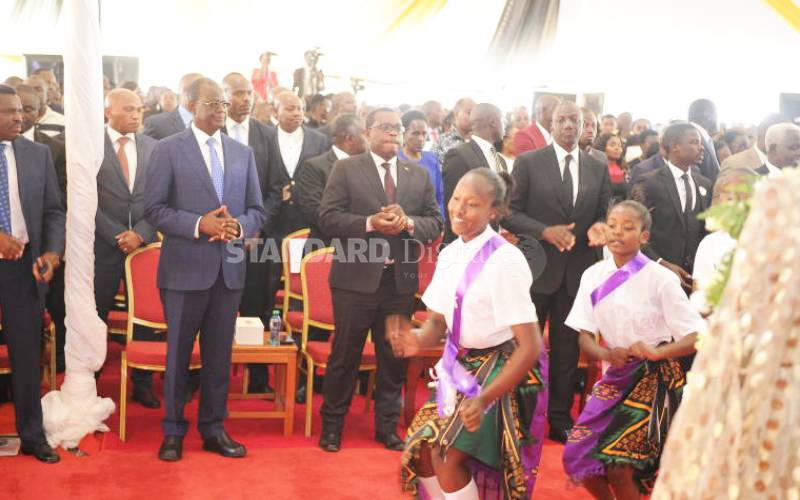 President Uhuru Kenyatta and his deputy William Ruto have been accused of failing to offer leadership, leading to the infighting that threatens to kill Jubilee Party.
Several Mt Kenya leaders challenged Dr Ruto to implore the President to steer the rescue of the ruling party that they warned faced imminent collapse due to internal wars.
And Meru Governor Kiraitu Murungi, who oversaw the merger of 13 parties to form Jubilee Party in the lead up to the 2017 elections, said he was pained that the party he helped midwife was now in the Intensive Care Unit (ICU).
Making a passionate appeal to Uhuru and Ruto, the leaders called for urgent intervention to rescue the party with majority of seats in both Senate and National Assembly.
They spoke at the funeral of Peter Linturi in Athi Primary, Igembe South. The 74-year-old former teacher was the father of Meru Senator Mithika Linturi.
"Tell the President that we are pained to see this party die when we have put so much on it. Tell him the party belongs to all stakeholders and not the two of you," said Mr Linturi.
The Meru Senator said Kenyans would never forgive party leaders if Jubilee folded.
But it was Mr Kiraitu who made the most passionate plea about rescue of the ruling party.
"You gave us a job to merge the parties and 13 of them folded into a great entity," he said at the burial.
"If you have observed, I have been quiet because I'm pained. I am perplexed because we are like strangers in the house we built," the Meru Governor said.
He blamed the two top party leaders "for failing to offer leadership", saying they should urgently call a meeting to give direction.
He also condemned the slow progress of national Government projects in the county, noting of the 130 launched by Jubilee, none was completed.
Ruto allies at the service also criticised the Building Bridges Initiative, with Tharaka Nithi Governor Muthomi Njuki saying Kenyans should question why clamour for constitutional reform had become a 10-year cycle every time there was political succession.
South Imenti MP Kathuri Murungi called for unity of Mt Kenya East leaders for a better bargaining power.
The DP, however, downplayed the alleged JP crisis, saying it would be ironed out amicably and that the ruling party would emerge stronger.
But he blamed some leaders "for creating confusion" in the party, in a veiled attack on the Opposition leader Raila Odinga.
"Whereas we in Jubilee excel in development projects such as infrastructure development, provisions of healthcare and electricity connections, there is another fraction of leaders in this country whose primary concern is creating political shortcuts," he said.
He said Kenyans should weigh all reform proposals and reject those without any benefits to the country.
All the leaders at the ceremony supported Ruto's 2022 bid, describing him as being friendly to their regions.
MPs present included John Paul Mwirigi (Igembe South), Halima Mucheke (nominated), Fabian Kyule (Kangundo), Nimrod Mbai (Kitui East), Moses Kirima (Central Imenti), Mugambi Rindikiri (Buuri), Josephat Kabeabea (Tigania East) and Kubai Kiringo (Igembe North).