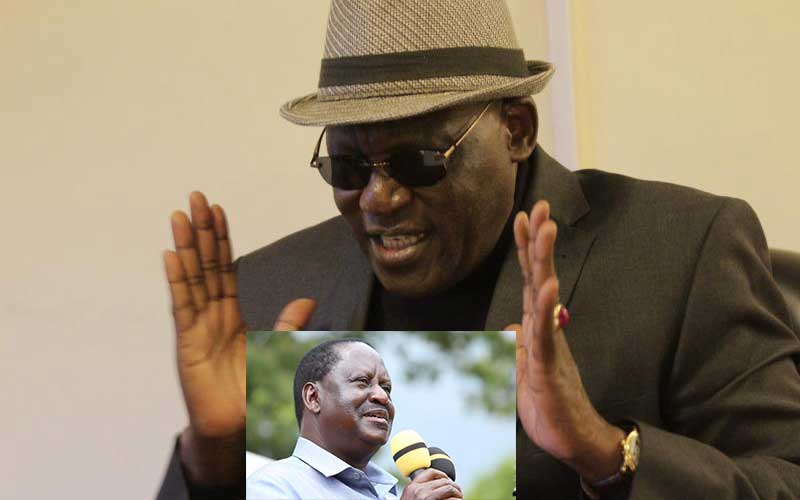 The political cold he is experiencing notwithstanding, former Machakos Senator Johnstone Muthama still believes ODM leader Raila Odinga is best suited to lead the country, not his own party leader Kalonzo Musyoka. In an interview with the
Sunday Standard,
Muthama spoke on his future and gave a character-reference of the country's top politicians, including Raila, Kalonzo, President Uhuru Kenyatta, Deputy President William Ruto and ANC leader Musalia Mudavadi. He describes Kalonzo as a man who does not know the value of money, a safe bet and custodian of the Kenyan shilling, but weak in decision-making. He however says Raila is a "leader Kenya has always missed". Muthama says President Kenyatta is too much of a gentleman and not tough enough to run the country effectively, while Ruto is a more focused, results-driven leader but too overbearing and vindictive.
SEE ALSO: Edgar Obare to be charged for linking media personality to Joho's trip
For all the measured words he has for Raila and President Kenyatta, Muthama is opposed to their politically sanctioned constitutional referendum. He says it will not cure Kenya's problems, including runaway graft, joblessness and disunity. "We need to concentrate on redeeming the country from the yoke of corruption and stop obsessing with power and creation of more centres of power," he says. The former legislator nowadays comes across as a calm, jovial and contented man, totally different from the fierce, brusque and hard-talking politician who used to tell it as it is. He believes the referendum will divert people's attention from facing their real challenges. "If we got only two million Kenyans, and had each create jobs for 10 people, we will have 20 million people in employment easily. What the government needs to do is provide a conducive environment for business and agriculture sectors," he says. Interestingly, Muthama, a staunch National Super Alliance (NASA) politician, hopes the ruling Jubilee Party does not disintegrate as it is facing challenges at the moment.
SEE ALSO: How Raila's absence exposed ODM party
"Big parties are good for the country, they kill tribalism and become issue-based. I deeply supported the merger of Jubilee and I hope it remains formidable and intact," he says.
Governor seat
He says other parties should emulate the spirit of Jubilee, including his NASA coalition. "I called for the making of our coalition into a single party and whereas the coalition did not pick, Jubilee stole the idea and ran with it," he says. Muthama, who refused to defend his Machakos senatorial seat principle after a disagreement with his party leader, recently got a degree and is said to be eyeing the county's governor seat.
SEE ALSO: Provide true leadership to achieve real equity
Although he refused to comment on it, everything points towards that direction, including an ongoing refurbishment of one of his Machakos residences into a centre of his political activities. "I am a leader who does not need an office to lead. I have my residence and that is where I will bring together the region's political leadership. We cannot afford to be divided as a people." He says he is not preoccupied with political seats and that the time for election will come. He has been mobilising the people of Ukambani region to turn out for the census that starts tonight. He believes the region has the numbers and can negotiate for a big national seat.