We'll work with Gideon to end graft, Rift leaders say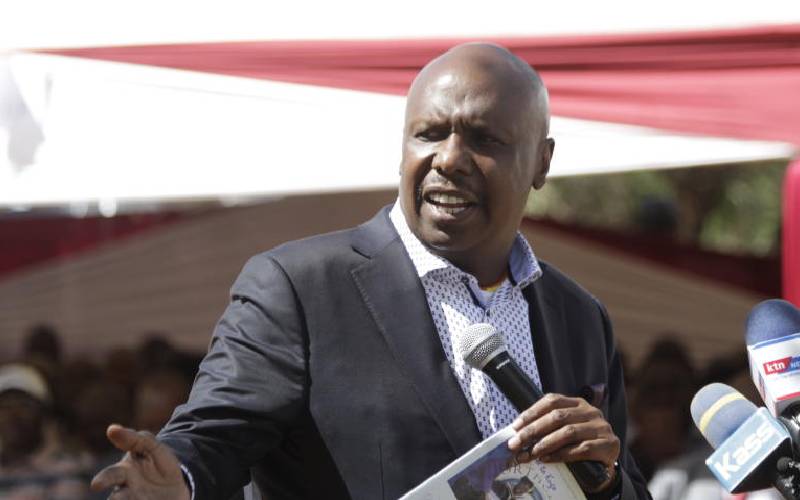 Elgeyo Marakwet Governor Alex Tolgos and Moiben MP Silas Tiren said they owe no one apologies over their association with Kanu.
They also called on leaders to stop early campaigns ahead of the 2022 elections and concentrate on development.
They said they will not stop associating with Kanu and other parties and accused some Jubilee leaders of engaging in premature campaigns.
Tolgos said he has no regrets about working with Kanu leaders, led by chairman Gideon Moi (pictured).
"Some people are saying I have joined Kanu but I have no problem with that," Tolgos said during a fundraising presided over by African Inland Church Bishop Silas Yego in Kabiemit, Elgeyo Marakwet, on Sunday.
Early campaigns
The governor said he would continue to work with Kanu officials and other independent-minded leaders from Rift Valley to stop the culture of early campaigns and corruption, which he reasoned had derailed development.
The handshake between President Uhuru Kenyatta and ODM leader Raila Odinga showed us we should work with leaders across the board, said Tolgos.
"Uhuru is working with Raila to develop the country. Even opposition MPs who opposed Uhuru are today his greatest supporters. I don't know why my decision to work with Kanu, which is affiliated to Jubilee, is annoying some people," he said.
Mr Tiren told the early campaigners to stop threatening leaders who have chosen to work with the President in the fight against corruption.
"It is annoying that some leaders are only thinking about the next election and not about the next generation that will suffer if corruption is not tamed," Tiren said.