Egos, succession politics stir fresh tiff in Governor Joho's camp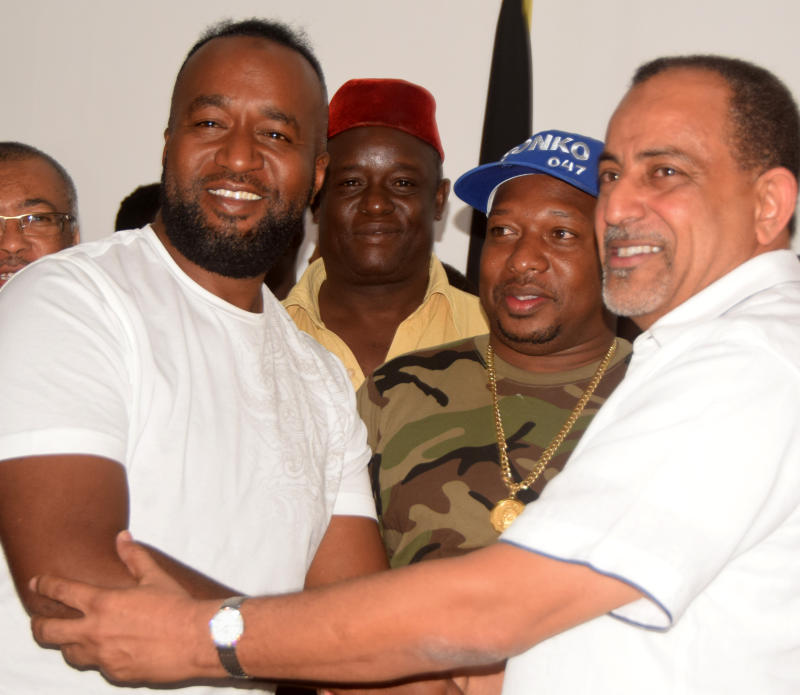 The resolution by a majority of MCAs to impeach three members of County Executive committee may have started a battle that now threatens the existence of the County Assembly.
Governor Hassan Joho's close aides now say he "would not mind" if the assembly was dissolved.
Recently, 36 out of 42 MCAs signed a petition to oust executives Tawfiq Balala (Transport), Edward Nyale (Lands) and Kevin Kyalo (Sports), accusing them of disrespect, arrogance and under-performance. The MCAs say the executives have failed to honour their summonses.
After weeks of silence, Joho came out in support of the embattled executives.
"I support all my executives and I will protect them. You elected me and I chose the executives to serve you. If for any reason wrangles occur, there ought to be amicable solutions to end them," he told a rally in Kisauni recently.
But Mombasa Senator Mohamed Faki shot back, saying the Senate will protect the County Assembly.
While on the surface the scheme against the executives appears to be about their performance, Joho's allies have blamed County Assembly Speaker Ibrahim Kharti, a hitherto ally of the governor.
Joho supported Kharti's election as the speaker, months after he was briefly arrested at the height of the 2017 elections. He was a long time friend and business associate of the Joho family and last year, there were allegations he was being groomed to succeed the governor in 2022.
But now, this appears not to be the case and the war within the Joho administration is spreading fast and sucking in many people. Until recently, the assembly was considered the governor's rubber stamp.
Joho's key ally Mohamed Hatimy, who is the county ODM chairman and nominated MCA, says the Speaker is behind the anti-Joho rebellion. He claims Kharti orchestrated the petition against the executives.
Joho's troubles with some County Assembly functionaries started after he made peace with Tourism Cabinet Secretary Najib Balala and 2017 Jubilee gubernatorial loser Suleiman Shahbal. These two have not hidden their desire to succeed Joho.
One of the targeted executives, Tawfiq Balala, is the Tourism CS's nephew and a close ally of the governor. The MCAs launched the petition to oust Tawfiq when he was abroad with the governor.
"It is our job to make sure the taxpayers' money is spent prudently. We will do this work despite increased threats and intimidation," Jomvu Kuu MCA Shebe Athuman says.
We asked Kharti whether he is still close to Joho and whether he is undermining him.
"I have no problem with the governor but he is being misled by the likes of Hatimy," he said.
The Speaker claims Hatimy is trying to control the assembly. "As long as I am Speaker I will not not allow Hatimy to turn the County Assembly into a rubber stamp," Kharti said.
Hatimy denies the allegations and says Kharti is behaving suspiciously of late. "The County Assembly is a house of laws and I always insist on following the law. The speaker is entitled to his own opinion but he should produce evidence to prove the assembly is being used as a rubber stamp," Hatimy said.
He said Kharti should not blame anyone for the problems facing the assembly because he chairs the House Business Committee.
Call for unity
Hatimy said the speaker is angry with him for refusing to append his signature to the impeachment petition.
"I respect the speaker's opinion but he is supposed to serve as a referee and therefore should not take sides. He should not mislead the House," he said.
In the last assembly, the first Finance executive, Walid Khalid, and speaker Thadius Rajwayi were impeached by MCAS.
It is not clear how Joho's allies hope to turn the tide in the assembly, but already civil rights groups have launched a campaign to call for unity and even warned anti-Joho's forces that they will support calls to dissolve the assembly.
In a petition to the county government on Wednesday, the activists under the banner 'Operation Fagia' depicted a majority of th MCAs as saboteurs. Kharti refused to declare his political ambition although his allies say he appears to be making new friends because he feels frustrated by the governor.
"My focus is to make sure we deliver for our people first," he said, adding that he supports the MCAs in their oversight role.
"House committees have powers to summon and question any official. People should not read politics when MCAs are doing what they were elected to do."
In recent months, Shahbal has stated that Joho remains an influential politician in the Coast by virtue of his being in ODM and on the basis of his immense wealth. In a recent opinion piece in The Standard, Shahbal even dismissed ethnic Mijikenda politicians of being incapable of uniting the Coast.
"Joho's influence is his willingness and capacity to finance ODM. Money talks," Shahbal said. He suggested that Giriama politicians harbour a sense of entitlement when it comes to talks about Coast unity.
According to Prof Hassan Mwakimako of Pwani University, the war between the assembly and the executive has been initiated by forces that want to have influence in the post-Joho administration.
Craving support
"I do not want to mention names but some people who believe they can influence post-Joho's reign are behind the standoff between the assembly and executive," Mwakimako said.
He suggests that Balala and other leaders are stridently trying to court Joho for 2022.
"It is clear Balala is craving for Joho support for the 2022 Mombasa governorship contest, but I think it will be hard to sell Balala in Mombasa," Prof Mwakimako said.
The blossoming relationship between Joho and Balala was evident a month ago during the launch of the construction of the Mama Ngina Waterfront project in Mombasa.
Joho enthusiastically hailed Balala's past reign as Mombasa mayor.
Last week, Balala told a National Assembly Committee that an ongoing investigation on him over an alleged Sh100 million scam was sparked by fears he want to become Mombasa's next governor.
Now, some rebellious MCAs claim they have received threats from one of Joho's aides in the wake of the impeachment petition.
They claim they are being harassed for questioning the county government's expenditure. "It is sad that we continue to get threats because of carrying out our oversight role which is our job," Jomvu Kuu MCA Shebe Athuman said.