How Uhuru's Visit exposed political undercurrents in Gusii land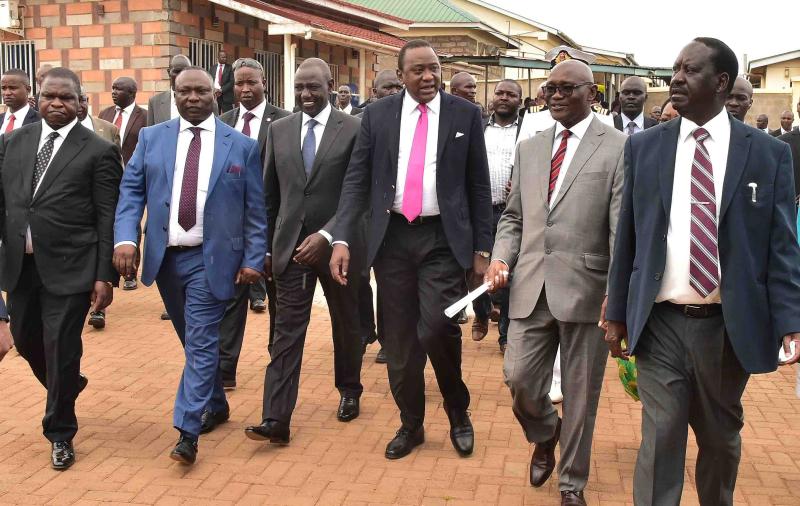 The recent visit to Kisii by President Uhuru Kenyatta, his Deputy William Ruto and ODM leader Raila Odinga has exposed the political under currents and mistrusts among local leaders.
It has now emerged that fights, political supremacy and suspicion between some politicians and senior government technocrats from the Abagusii community resulted in tensions ahead of the visit.
In one instance, MPs from Nyamira County had resolved to boycott the President's high profile visit after an earlier scheduled tour of their county was left out of the programme.
Sunday Standard has reliably learnt that the MPs had agreed to skip the event, but some of them later decided to attend.
Unmet pledges
On Thursday, West Mugirango MP Vincent Kemosi said they had agreed not to attend the functions in Kisii but claimed his colleagues betrayed him and turned up for the meeting.
According to Kemosi, a first-time MP, the plan was occasioned by a last-minute change of the President's itinerary by some political forces.
Over the weekend, he said, Governor John Nyagarama, Senator Eric Okong'o, MPs Shadrack Mose (Kitutu Masaba), Ben Momanyi (Borabu), Jerusha Momanyi (Woman Representative) and himself met at a hotel in Kisii town where the idea to boycott the tour was mooted.
Take a quick survey and help us improve our website!
Take a survey
He also cited political aggression from a section of politicians from Kisii County, which he said would not allow them to present their views in the "neighbour's land".
"How could we go to Kisii to tell Uhuru what we want him to do for Nyamira people when he has all the convenience of coming to the county to witness by himself what we need?" Kemosi asked.
The MP blamed the President for allegedly not honouring pledges he made to residents, including construction of Bondeni-Makairo-Magombo Road and a school bus he promised to Nyachogochogo Secondary School in his constituency in 2017.
Kemosi accused his counterparts of betraying him by attending the President's event. It was only him and (Borabu MP) Momanyi that skipped the visit.
But the Chairman of Gusii MPs caucus Joash Nyamoko blamed Kemosi for not being keen on what the other leaders from Gusii were up to.
Nyamoko confirmed that there was a plan to boycott Uhuru's meeting, but the idea was shelved after the President apologised to the angered legislators.
"We came to learn that the President had a busy schedule that could not allow him to visit both Nyamira and Kisii counties. But even so, we met again and deliberated that we should attend the meeting irrespective of any demerits," Nyamoko said.
He accused Kemosi of failing to attend the last meeting in which they adopted a resolution to attend the presidential event and serve Uhuru with a memorandum of the needs of Nyamira people.
"We invited Kemosi but he never showed up. We still presented his ideas to the President through the memorandum," Nyamoko said.
It has also emerged that the trip could have left sharp differences between the local politicians and technocrats led by Interior Cabinet Secretary Fred Matiang'i.
Matiang'i's star
Dr Matiangi used the visit to publicly thank the President for his recent elevation to oversee the work of other Cabinet Secretaries.
"I have no reason to sleep over my job. The responsibilities bestowed are a sign of trust that I can deliver for the sake of our people. We have no reason not to support what the President is doing," said Matiang'i.
The CS has been leading senior government officials from the region working on several development and social functions in the area.
On Wednesday, close to 50 senior government officials from the community were in attendance to welcome the President. A number of MPs from the region were unhappy that they were denied the opportunity the address the crowd at Kisii Capital roundabout.
Some boycotted the day's main function at the refurbished Kisii Referral Hospital and chose not to comment when contacted by Sunday Standard.
Kitutu Chache MP Richard Onyonka told a leaders' meeting chaired by President Kenyatta that he was the chairman of the Tanga Tanga movement in Kisii.
"Today I want you to tell us what you want. Do you want a referendum or not? We don't want this confusion where the DP is saying this and you saying that. Tell us."
Political analysts Dismas Mokua said the grumbling by some MPs from the area was due to tension between them and Matiangi, who they believe was over shadowing them.
[Stanley Ongwae, Edwin Nyarangi and Eric Abuga]