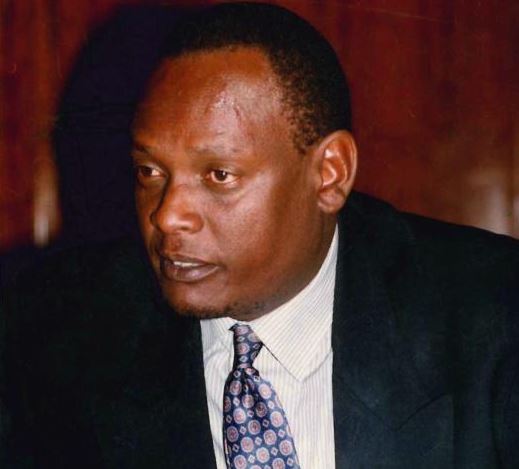 David Murathe, the Jubilee Party Vice Chairman, is a politician who attracts admiration and hate in equal measure in the way he handles and comments on issues concerning his party, governance of the country and political affairs.
The former Gatanga MP, who won on Social Democratic Party (SDP) in 1997 and represented the constituency for one term, is a man who does not mince his words.
His temerity to speak his mind, sometimes rubbing shoulders with his fellow party members, has put him on the receiving end of Deputy President William Ruto's allies, who once blamed him of being against Ruto's 2022 presidential ambition.
In July this year, Senate Majority Leader Kipchumba Murkomen said Murathe, Head of Public Service Joseph Kinyua, among others were working behind the scenes to frustrate Ruto's bid to take over from President Uhuru Kenyatta.
Murathe is a man who speaks about Jubilee's internal wrangles to the media to the detriment of his boss, the President.
Read More
While the Jubilee Party tried as much as possible, for instance, in July to conceal the boiling divisions within, Murathe spilled the beans by saying there are divisions at the amazement of many.
"You will be surprised some of the voices that should be discordant are from Mt Kenya. We are having issues with some of our own MPs from Mt Kenya. We are having issues with some from the DP's backyard," Murathe said on KTN on a Monday night interview in July.
Murathe, a close associate of the first family, said early campaigns are a distraction to the President's mission of delivering his campaign pledges.
"When you go to an area and all you speak about is 2022, it is upsetting some of us because it will distract the President from achieving his promises to Kenyans," he said.
Murathe plainly told Ruto's camp that he does not know who will be the Jubilee Party presidential candidate despite there being an agreement that Uhuru will back Ruto for presidency when he finishes his second term.
Loyalty
"We don't know who from other parties will be running and Kenyans will be free to choose. Other people will come out in 2022. But when they (Ruto's men) go around the country, what they call kutangatanga (roaming), whom are they racing against? Who else has started talking about 2022?" he said.
"The President has, not once or twice, promised to support the Deputy President in 2022. You don't expect that he will be waking up every morning to pledge loyalty to the DP."
Murathe, in another TV interview in June, said there might be other people who might emerge to challenge the Deputy President and should that happen, the party will settle on whoever wins. This, according to Ruto's supporters, is contrary to the agreement that led to the merger United Republican Party (URP) and The National Alliance (TNA) to form Jubilee Party, a deal spearhead by Murathe himself.
But Murathe was left with an egg on his face recently when President Kenyatta said in Kapsabet that his pact with Ruto still stands.
Second term
In June 2017, just two months to the last General Election, Murathe said Kenyans should brace for a tough, lethal, brutal and ruthless President Kenyatta should he win a second term in office.
And true to his words, the President has declared war on corruption, with big names being charged with graft and several buildings on riparian and road reserves being brought down.
And when it came to lifestyle audit order by Kenyatta on public servants, another war erupted between Murathe and Ruto generals such as Murkomen, who opposed the audit on the DP.
"Lifestyle audit was a pronouncement by the President in the presence of the Deputy President. The DP is on record that he supports the lifestyle audit. I don't think Murkomen understands where we are going with this thing," said Murathe.
When Opposition leader Raila Odinga was appointed Africa Union (AU) Special Representative for Infrastructure and Development, most Jubilee leaders asked him to quit local politics and concentrate on his new posting.
But Murathe ironically asked Raila not to quit local politics. Murathe instead said Raila's appointment could only raise his stature and increase his relevance in local politics.
"How many people have taken advantage of these international jobs to vie for local posts? What can stop Raila from running for any elective seat?" asked Murathe.
Unity deal
"If Raila uses the unity deal between him and the President to run for leadership that is none of our business. We must, however, say we are proud as a country because one of our own is now in charge of infrastructure development in Africa."
Murathe lost his seat in 2002 and only came back to the limelight when Kenyatta won the presidency in 2013. He once filed for bankruptcy in 2005 after being unable to pay Sh50 million debts.
His tenure in Parliament was never short of drama. In April 1998, when Speaker Francis ole Kaparo received a letter purportedly conveying Murathe's resignation, the MP disowned the letter, saying it was a forgery.
"I have a letter purportedly written by a member to resign. I also have a letter by that member saying he did not resign and that the letter is a forgery," Mr Kaparo told Parliament on April 7, 1998.
Murathe had allegedly been paid Sh10 million by Royal Media Services chairman SK Macharia to resign and pave way for him to contest the Gatanga seat.