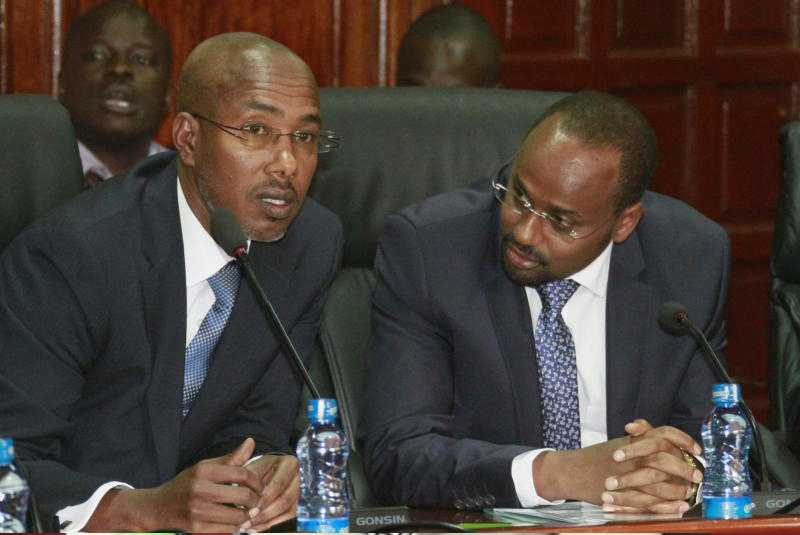 The ghost of procurement continue to haunt fired electoral agency chief Ezra Chiloba.
The agency yesterday told Parliament that he single-handedly sanctioned questionable tenders worth Sh6.6 billion.
Independent Electoral and Boundaries Commission (IEBC) Acting Chief Executive Officer Marjan Hussein and Commissioner Boya Molu told MPs that Mr Chiloba handed OT-Morpho the tender to supply the Integrated Electoral Management System (KIEMS) for last year's polls without competitive bidding.
The commission spent Sh4,196,300,000 for the 45,000 KIEMS kits used in the August 8, 2018 polls and another Sh2.5 billion for the repeat presidential elections on October 26.
Documents tabled by the commission before the Public Accounts Committee showed that the it spent Sh2.024 million for the supply of matchboxes to the 45,000 polling stations, Sh3.93 million for marker pens and Sh43.9 million for supply and delivery of calculators.
Read More
Other expenditures included Sh7.6 million for the supply and delivery of polling day diaries, Sh6 million on rubber bands, packaging tapes Sh178,350, rubber stamp pads Sh10.8 million, posters 4.8 million. Others are stamp pad ink Sh1.9 million, hacksaw blades Sh3.6 million, masking tapes Sh1.8 million, box files Sh2.3 million, car stickers Sh900,000 and reflective jackets Sh21.7 million. The documents further showed that the commission spent another Sh1.8 billion on procurement of various goods and services at exorbitant prices.
Auditor General Edward Ouko's latest report shows that taxpayers lost at least Sh9.5 billion in the procurement of goods and service for the General Election and the repeat presidential election.
The committee chairman, Opiyo Wandayi, directed that Chiloba appear before it on a date to be communicated later. MPs expressed shock at the procurement latitude the officer enjoyed at IEBC.
The committee further ordered that IEBC Chairman Wafula Chebukati appear before it as he was better-placed to respond to some of the queries.
Suna East MP Junet Mohamed questioned whether Chilaba had "the latitude to order contracts worth billions of shillings without referring to the commissioners."
His Molo colleague, Kuria Kimani, questioned how one officer can approve procurement deals worth Sh6 billion without the involvement of the entire commission.
Mr Hussein said the commissioners' role was limited to providing procurement plans and they were not involved in the process directly.
IEBC records show that the contract for the supply of 45,000 KIEMS kits was awarded to the firm on March 31, 2017 at a contract sum of Sh4,196,300,000 through direct procurement.
"The use of the direct procurement method was duly approved by the accounting officer. The commission did not give approval that we go to direct procurement," Hussein told the committee.
He added: "All the procurements were sanctioned by the then CEO. There was no resolution of the commission." He cited legal timelines and avoiding vendor wars as some of the reasons for direct procurement.